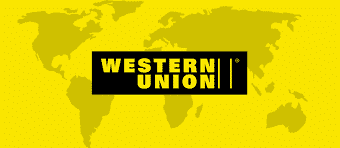 Have you ever gotten a phone call from a friend or family member in a jam that needs you to send money right away? Luckily there's some great places that let you do just that, quickly and safety. Western Union is the one of the best ways to transfer money online, in person, through bank accounts, or on the phone, to anyone in the world. 24/7.
This money transferring service is very easy to use. Log onto Western Union's website, click the "send online now" button, choose the bank account to transfer from, verify the bank account and transfer the money. You'll even receive a confirmation email once it's done. All transfers done through Western Union are fraud protected so you'll always be assured that your money is safe.
Western Union is the most well-known money transfer company in the world but did you know there are other reputable ones too? We've scoured the web and found the safest and best Western Union alternatives for you to use the next time you have to send money domestically or internationally.
Transferwise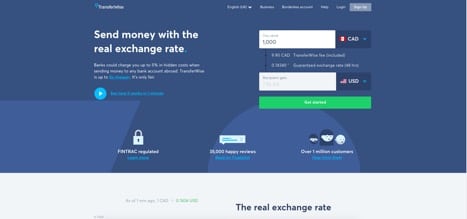 Official Site
Transferwise must be added to our list of services like Western Union. This website that helps you send money is honest about the amount you'll need to deposit. On Transferwise's homepage you'll find a simple to use converter that tells you exactly how much of your currency you'll need for the exchange rate of the other country. Transferwise even guarantees the exchange rate. This is great because there are no hidden fees or costs once you decide to make the transfer. You get the mid-market exchange rate, and they offer a low, transparent fee structure. The fee, however, differs based on amount and currency involved. This article about TransferWise review  nicely illustarts the fee calulation when tranfering money using TransferWise. Also the money transfer is very simple. Only two things are needed to use Transferwise, access to your bank account and access to their website. Its that easy to use, see for yourself by clicking on the link above.
---
back to menu ↑
MoneyGram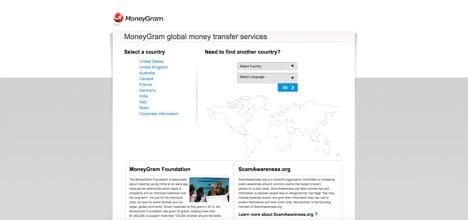 Official Site
Moneygram is very similar to Western Union, so much that its rated the second most popular money transfer service in the world. With Moneygram you can transfer money quickly to over 200 countries and territories in the world. With more than 350,000 locations, you might even have a Moneygram walk-in down the street from your own home. Most of the many locations available for a transfer can be sent and processed within the day, compared to some of the other websites that require 2-3 days for processing. Consider Moneygram the next time you have to wire money.
---
back to menu ↑
PayPal 
Official Site
Is someone's birthday coming up or do you have to split a check or pay the dog walker? With PayPal you can easily transfer money just by using a person's email address or phone number. If the receiver has a PayPal account, the money will be instantly deposited into their own PayPal account. If for some reason the person your sending money to doesn't already have a PayPal account, don't worry, it only takes a few seconds to set up. All they need is a verifiable email address or phone number. If you use this website to transfer money you'll always do it stress free. PayPal is one of the safest Western Union alternatives and they even guarantee the transfers. If something goes wrong, PayPal has you covered.
---
back to menu ↑
OFX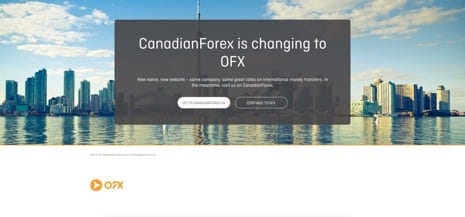 Official Site
With OFX you'll be using one of the smartest sites like Western Union to send money online. OFX starts by having you select the amount and currency of the transfer. Once that is done you simply add your bank account. There are no checks, cash, or credit cards needed for OFX. When this money transferring, website has received the funds, they will notify you and the person you are sending the money to. Only when the other person replies, does the money go through. This ensures a safe transfer without any unnecessary complications. OFX even offers some of the best rates so check it out next time you need to wire money across the globe.
---
back to menu ↑
World First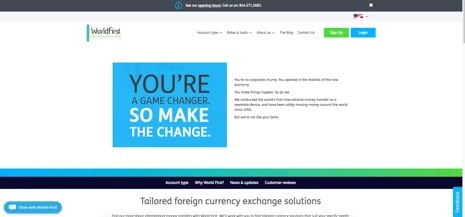 Official Site
World First was founded in the United Kingdom but it's been used by people around the world. Since 2004, World First has helped people transfer over $56 billion dollars. That's a lot of safe and secure transfers! World First has a lot of different services that keeps their clients happy and gives them a reason to come back. Some of these perks are, competitive rates, updated rates, and a high maximum transfer. There's a lot more to discover with this addition to sites like Western Union, check it out for yourself.
---
back to menu ↑
TorFx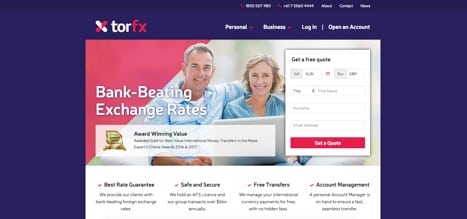 Official Site
TorFx can be found worldwide. It has offices in the U.K., South Africa, Australia, Europe, and the U.S.A. TorFx has one goal, to give you the best exchange rates, expert guidance, and friendly service. You'll always get the best service with TorFx. Another great thing about this place to send money online is that there are no commissions, no charges, and no hidden fees. All the costs you see are the ones you'll pay, there's no surprises with TorFx. If you're in one of the available transfer locations, take a look at everything TorFx has to offer, you might decide to make them your first choice with your money wiring needs.