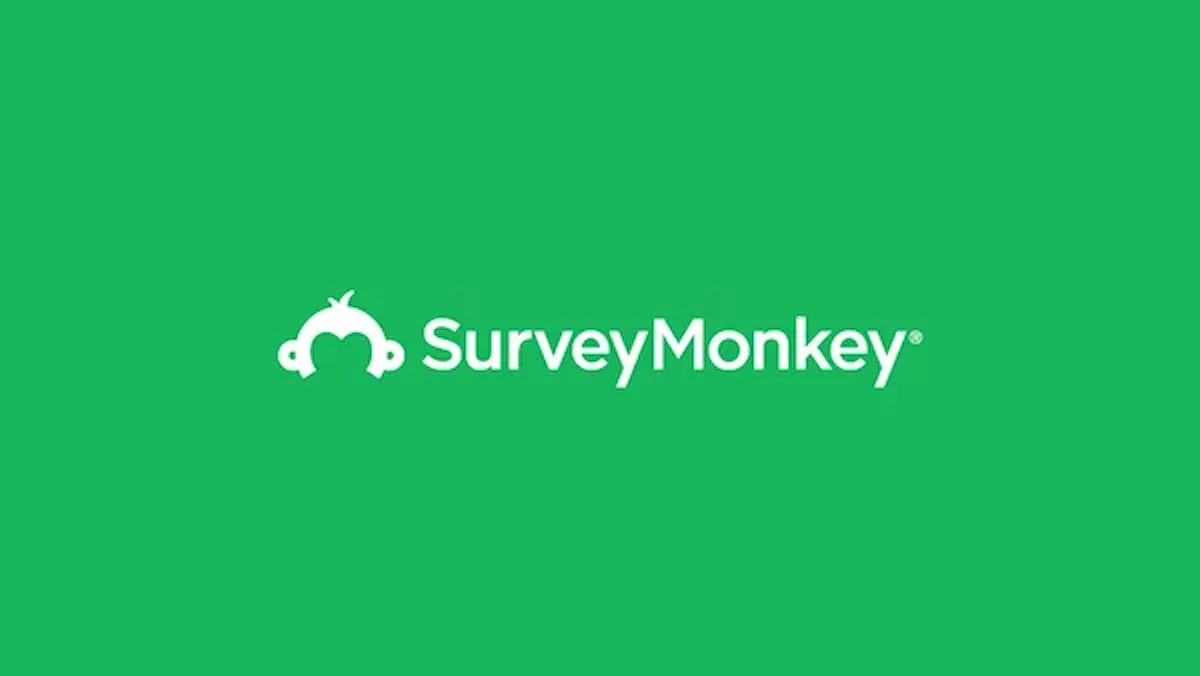 There are plenty of reasons why you may need to create surveys online. Whether you need to make a survey for your business or even if you're building a poll for your next classroom's outing, tools like SurveyMonkey can always come in handy.
SurveyMonkey is a free online survey creation platform that allows you to build surveys with ease and within minutes of opening up their website. This free tool allows you to present surveys in absolute beauty. If you're looking for professional quality results and want to display a survey worthy of your company, SurveyMonkey is certainly a top option worth considering.
While their platform comes with a lot of benefits such as being free and absolutely easy to use, there are also some downsides. We searched for better alternatives to SurveyMonkey in order to provide you with even more choice. Make sure to browse our list of SurveyMonkey alternatives below to instantly compare features, perks and benefits available on other similar platforms.
PollAnimal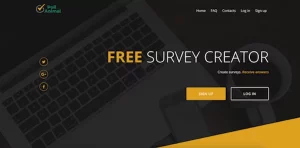 Official Site
PollAnimal is a free resource that allows you to build surveys online. This free tool is simple to use and the surveys created are absolutely stunning. One of the really cool things about PollAnimal is that you can get respondents to actually answer your polls/surveys if you can't find enough people to answer them. To achieve this, you'll need to answer other peoples' surveys yourself and for each one you answer, you get a point for a respondent to answer your own survey. Another really great thing about PollAnimal is the way the answers are displayed – you can generate the stats in charts, graphs and various types of reports so you can present them in a professional manner without any additional work needed.
---
TypeForm
Official Site
Whether you want to know how you can improve your business or even if you want to gather information for a new class project, TypeForm is the way to go. They allow you to make beautiful surveys with multiple choice answers, checkboxes, dropdown menus and all sorts of poll design variations. They provide you with numerous templates so you can hit the ground running with beautiful designs. Additionally, they provide you with all sorts of excellent tips on how to prevent dropouts and get the most out of your survey's results.
---
SurveyPlanet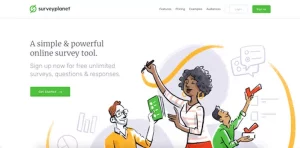 Official Site
One of the really cool survey tools like SurveyMonkey online is SurveyPlanet. It allows you to really customize surveys to make them stand out and look truly unique. SurveyPlanet allows you to upload images into your polls, you can upload custom themes, you can choose from pre-written questions and you can even enjoy responsive themes so they look good on all devices. Question branching allows you to ask questions within questions and one of the really nice things about SurveyPlanet is the fact that you can make surveys in multiple languages. If you're looking for a creative survey creation tool, you're going to love SurveyPlanet.
---
SurveyCrest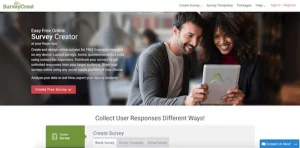 Official Site
SurveyCrest is one of the top rated SurveyMonkey alternatives that you're going to enjoy using. This survey creator is easy to use and it's absolutely free, just like all of the other similar tools in this list. You can start off with a blank canvas or you can choose one of their ready-made templates to get started with bang. One of the features that makes SurveyCrest stand out is their selection of email survey templates, which allow you to build surveys that look specifically great within email messages. You can also use SurveyCrest to create quizzes, forms, polls and invoices.
---
SurveyHero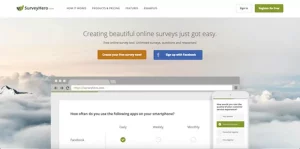 Official Site
SurveyHero is another easy option that you'll actually have a blast using. Their drag and drop dashboard allows you to easily slide options into the survey creation area so you can quickly build stunning surveys with ease. We tried to present you with SurveyMonkey alternatives that all have something unique to offer and with SurveyHero, that's being able to enjoy real-time reporting. You can see charts and graphs adapt to your real-time results. SurveyHero also takes continuous backups so you never lose any of your data – no matter what!