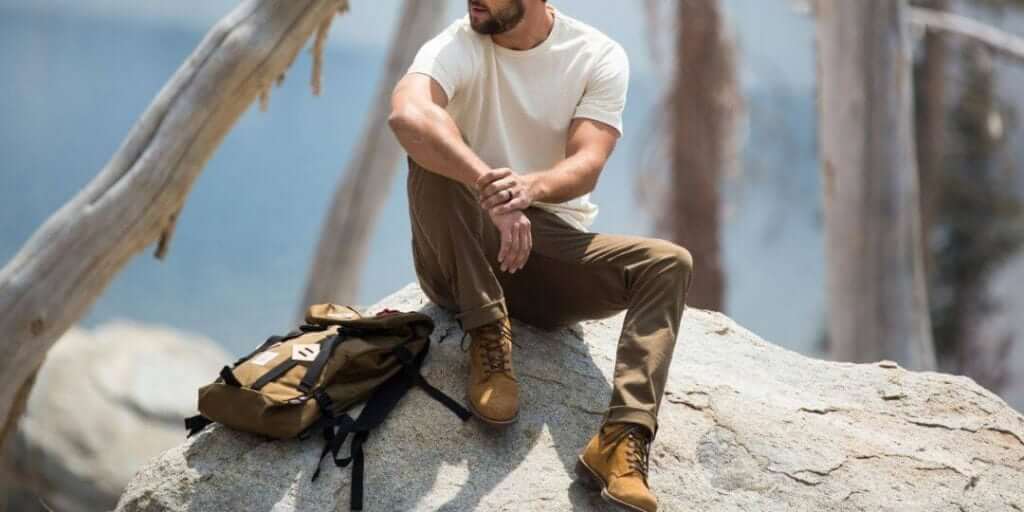 The story and history behind Huckberry is amazing and a huge encouragement for entrepreneurs, but more than it, it's a website that has helped mold how ecommerce operates and has become a staple for men's fashion shopping. What two young men have been able to brainstorm and grow with hard work has become a recognizable and innovative brand that designers crave to be featured on.
What Huckberry Does
Opening the doors to a laid-back, high-class online buying experience is what Huckberry specializes in. The website carries clothing, shoes, accessories, and more with a strong focus on active outdoor gear for men. You'll find both well-known brands and up-and-coming designers picked by the owners, as well as home goods lines and everything that a man could need.
How has Huckberry become such a desirable place for men to shop? They've made the most of these key aspects of their brand:
The rustic aesthetic: Huckberry caters to a specific style, strippded down but still stylish, and offering plenty of mobility in their clothes. Comfort, practicality, and style are all combined in the clothes Huckberry chooses to sell in their store.
House brands: While Huckberry hosts items for all sorts of different brands, they have two exclusive brands that only their store will ever offer. Flint & Tinder and Proof are beautifully exquisite pieces for men that are stunning and best-sellers.
Competitive prices: If you check through the brands and compare prices, you'll find that Huckberry oftens has some of the lowest to be found. They're very competitive with their prices, and offer tons of deals and exclusive pricing.
The Journal: The Huckberry Journal is an on-site blog that creates listicles of the best brands of items, suggestions for activities, and even fashion advice or more. They produce incredible content that is regularly updated and offer solid articles to browse.
Returns: Another great selling point for Huckberry that similar sites take after is their free returns policy. Even if what you want to return is a gift, they'll accept it and give you a free shipping label.
A lot of what makes Huckberry so special is their unique aesthetic and dedicated brand story, but there is plenty of other online shops that carry the same feel and welcoming nature. To find more of the best online men's retailers and get connected with more brands and options, check out these 7 sites like Huckberry.
More Sites Like Huckberry
Kai D Utility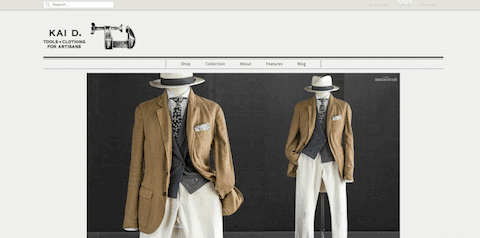 Official Site
Kai D. Fan, the creator and designer of Kai D Utility, has a rich background in fashion as well as a passion for functional vintage. The clothes have a bit of the same aesthetic as Huckberry, which makes this website a very popular favorite with fans from there, but it's more than that with the Kat D Fan brand.
The prices are steep and it isn't a typical retailer site that features multiple brands, but instead is a great spot to get exclusive designer pieces to shine in your wardrobe. It's for fashion conscious men who need mobility and practicality woven into their fine strands. Like Huckberry, Kai D Utility has a online magazine, returns are accepted within 7 days, and insured shipping.
---
Todd Snyder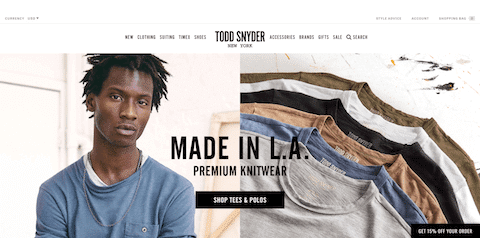 Official Site
As a beautiful combination of Kai D Utility and Huckberry, Todd Snyder's online store is full of luxury, classic men's clothing choices. It hosts the exclusive Todd Snyder brand and clothing lines as well as features the best items from several other established designers. Things are even taken a step further on this platform by including "odds & ends" such as books, miniature tool sets, and more.
It's the ultimate stop for luxury men's items online and has a lot of similar features to Huckberry, even if it lacks a bit of the outdoorsy, rustic aesthetic. With frequent sales up to 70% off, it can be an affordable stop, as well as featuring great offers like free shipping and returns on orders over $100. The brand even has associated salons and stylists available for booking from the website.
---
Mr Porter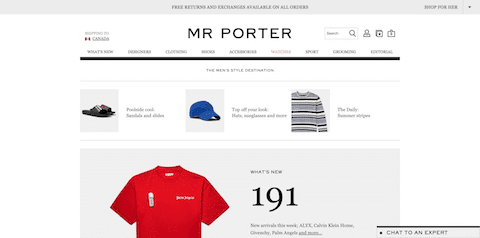 Official Site
Free shipping & returns, excellent customer service, and a beautiful edited magazine & newspaper are what make Mr Porter an excellent choice for men's online fashion. It's a major retailer carrying over 450 different brands internationally. Again, like Mr Porter, it focuses on a more "high class" style and less on the rustic design that Huckberry has, but it matches with functionality and long-lasting wear life.
Mr Porter is also unique in the fact that it carries skincare products as well as other grooming niches like hair and teeth care. It's an all-around one-stop-shop for all things masculine without having to leave your home, and it comes very highly reviewed. Consider it a refined Huckberry with an equally rich backstory.
---
Need Supply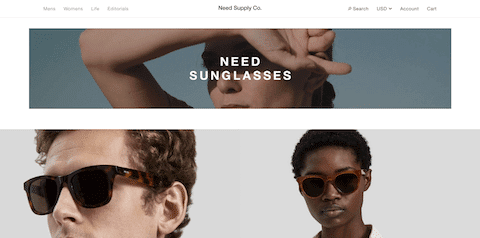 Official Site
Need Supply is a mix of everything from rustic outdoorsy apparel to hip, edgy clothing for youth. It has both men's and women's sections. What makes Need Supply even greater is that it isn't just a retailer, but also a lifestyle website packed with informative articles and highlights for your needs. Brands featured on Need Supply reach a good mix from known to up-and-coming, making it a very versatile experience.
You get free shipping on orders $100 or more as well as free returns within 14 days of the order arriving at your door. Additionally, you can enjoy seasonal sales and prolonged clearance times on Need Supply for amazing rates that can be even better than the exclusive Huckberry deals.
---
UnionMade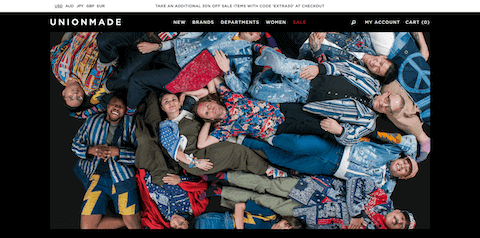 Official Site
We're back to the Huckberry basics with a more laid back sense of fashion, with articles that speak to the city man who craves the adventures of the woods. UnionMade clothes have a strong, appealing mission statement that promises to elevate your fashion with hard-to-find items and the most desirable styles.
Brands on UnionMade may not be as luxurious as a few others on this list, but they promise comfort and functionality with every day you wear the clothes. Their on-site blog has brilliant writing, great photography, and plenty of advice and information. In-store pick-up is free and they have tracking on every package.
---
Uncrate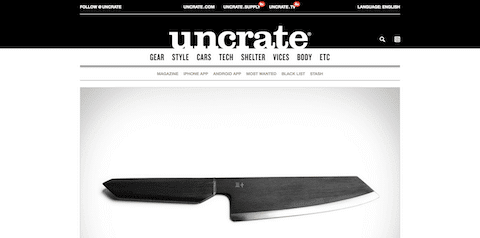 Official Site
Uncrate is the most diverse option on the list, and the most unlike the others. This is because it features not on men's clothing specifically, but general gear that men need. From shoes to tech to cars and more, Uncrate has anything you'll need as a man shopping online. The best part? They are speedy and alert to your needs.
The longest and best returns deal is also offered on Uncrate with up to 20 days to return your item for free. They also have free shipping on every order, making Uncrate the best deal for your budget at any time before or after your paycheck.
---
Taylor Stitch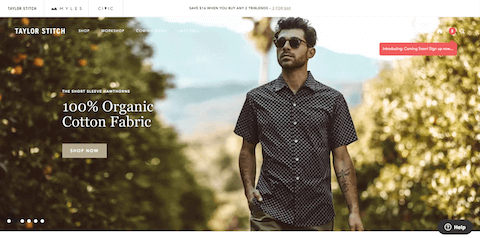 Official Site
"Classic men's clothing" is the Taylor Stitch slogan, and it's actually a popularly featured brand on Huckberry itself. If you like the style, check out the whole official Taylor Stitch brand on the polished website. Their "refer a friend" program gives you amazing dollar rewards and you can get great deals on this exclusive clothing line.
Free returns, free shipping, and free anytime customer service makes Taylor Stitch arguably the best deal closest to Huckberry. The feel of the clothing is the same, the morals and values are the same, and everything is lowkey and extremely timeless in presentation.