Stores like Fingerhut allow you to immediately own quality products that would normally take many months of cash savings to purchase. With in-house financing, you'll be able to buy now, pay later. Fingerhut has been around for a long time – it was founded in 1948, making it over 80 years old. Their headquarters are located in Eden Prairie, Minnesota, USA and in 2018, they had over 9,500 employees. This massively popular company was among the first to offer mainstream financing for all sorts of products including furniture, electronics, apparel and even automotive parts.
– Have you considered an Elastic line of credit?
Main Shopping Categories at Fingerhut: 
Home, Furniture & Patio
Clothing, Shoes & Jewelry
Health & Beauty
Sports, Fitness & Outdoors
Tools & Home Improvement
Baby & Kids
Toys & Video Games
Electronics & Office
Automotive
Gifts, Crafts & Holidays
Covering a broad range of product lines, Fingerhut allows you to get just about anything. This type of business model was unprecedented before companies like Fingerhut came around, but it rapidly caught on. Today, buy now, pay later sites are incredibly popular. With the falling economy and unemployment rates at an all-time high, sites like Fingerhut for bad credit are regaining in popularity.
How Stores Like Fingerhut Work
At its core, Fingerhut is a catalog store. This means they display their products for sale via printed catalogs. This was very popular before the internet and Fingerhut decided to stick with this business model even though users can purchase all the items they want directly from their online platform. You can choose to receive a printed Fingerhut catalog by mail if you prefer being able to flip through pages in search of cool products.
Catalogs with Credit Financing
Fingerhut catalogs have a unique touch – you can purchase their items using the in-house financing. Best of all, Fingerhut credit is available to people with good and bad credit scores alike.
Applying for Fingerhut credit is easy – just fill out their online form and you'll be made aware of their decision within minutes. The process is automatic, so you don't have to wait around for manual approval. They have a very steep approval rate, so most people get approved. In some cases, you may have to speak with a representative, but this rarely occurs.
Once approved, you'll most likely be asked to pay a down payment (a first-time payment of $30). The remaining balance will then be split into equal monthly payments. Usually, Fingerhut credit lasts 12 months, but this can vary according to the price of the item you are purchasing along with the choices you make during the application process. Fingerhut reports to credit bureaus, so making payments on-time and in full can have a positive effect on your credit score.
More Websites Like Fingerhut
Our list of other sites like Fingerhut should make it even easier for you to get financing online. Our goal isn't to replace Fingerhut, but instead, we want to provide you with more choice. While they have a large selection of excellent products, they may not always have the exact item you are looking for. With more websites like Fingerhut, you will be able to browse more products and compare prices to get the best deals and loan rates.
Click N Go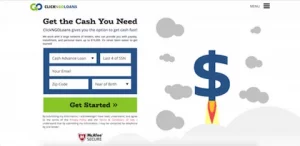 Visit Click N Go
Click N Go loans are among the best for bad credit financing online. Regardless of your credit score, you could borrow as much as $15,000 in installment loans. This means you can use those funds to pay for items now and only repay them with equal monthly payments. It's one of the top alternatives to Fingerhut because Click N Go specializes in helping you get approved even if you have poor credit or no credit history at all. The process is simple – just fill out their online application form and within minutes you will be provided with approval decision. If approved (most people are), you will also be shown the maximum amount of money you can borrow. If you choose to accept the loan, you can sign everything electronically online and the funds get wired to your bank's checking account in as little as one day. Click N Go loans are simple, large and very useful.
Loans from $100 to $15,000
Receive funds in as little as 24 hours
Approval decision takes minutes
Use the money at any store of your choice
100% secure & compliant
APR ranges from 4.99% to 450%
Completely online application with electronic signatures
---
QVC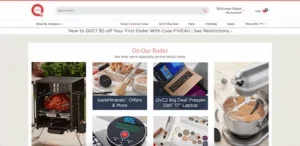 Visit QVC
QVC is one of the legendary online shopping networks. It's been around for quite some time now – QVC was founded in West Chest, Pennsylvania in 1986. It started out as a shopping channel on television, but with the internet boom, it grew into an incredibly popular online shopping network as well. If you've ever watched Shark Tank on ABC, you'll probably remember Lori Grenier, also known as "The Queen of QVC" for all of the business she has brought to the network over the past couple of decades. When surfing this platform, you'll find all sorts of awesome goodies including exclusive new inventions, home goods and products for the whole family. The reason we've listed QVC as one of the top stores like Fingerhut is due to their financing program called QVC Easy Pay. This buy now pay later program is simple to apply for and allows you to get your hands on their great products without spending anything upfront.
First payment is due when item is shipped
Equal payments are due every 30 days
Most items qualify for 3 easy payments
Pay sooner without any penalties
No interest fees when choosing Easy Pay
---
HSN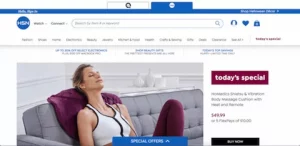 Visit HSN
Home Shopping Network (HSN) is one of the great websites like Fingerhut that is actually associated with QVC. While it's in a direct partnership with QVC, it remains its very own entity with its very own financing plan. At Home Shopping Network, you will be able to browse all sorts of great products including electronics, beauty products, apparel, jewelry, kitchen products and so much more. They offer daily deals that come with really major savings, plus – new products are added on a regular basis, so you will always have new and exciting items to explore. Their financing program is called FlexPay and allows you to split the cost of any given product over several equal payments. Different products get split into different amount of payments – the higher the cost, the more payments you will get to make. Most people are approved for FlexPay, making HSN a really great Fingerhut alternative for bad credit scores.
Split the cost over numerous payments using FlexPay
Numerous categories including Jewelry, Home Products, Tools & Electronics
Daily specials allow you to save even more
Get the HSN Card for even larger savings
---
Overstock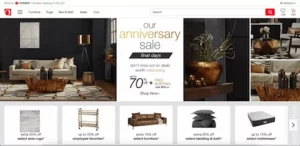 Visit Overstock
Overstock is an incredibly popular marketplace for buying furniture online. In fact, Overstock has all sorts of great product lines available including kitchenware, home decor, garden furniture, bedding products and more. They specialize in bringing you all-time low prices due to their sources – they gather overstocked items and resell those same items to you for cheaper than the original retail price. Overstock isn't just about savings, it's also about being able to get the products you want now without having to pay until later. Similar to Fingerhut, you can finance the items you want and pay on a monthly basis. Overstock's financing plan is called BillMeLater. BillMeLater allows you to get your hands on the products now and you don't have to pay a dime for the first 6 months. Better yet, you won't have to pay any interest for those 6 months.
Don't pay anything including no interest for 6 months
Bad credit scores are approved
Most items already have massive savings
Shop furniture, home decor, patio & garden and more
---
MDG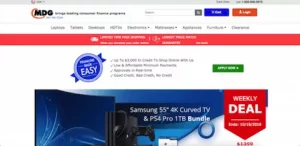 Visit MDG
MDG is one of the few sites like Fingerhut that allows you to get high quality electronics without having to spend any money upfront. They have excellent items including 4K televisions, curved TVs, gaming consoles including the PS4 and Xbox One, tablets and more. MDG even has a nice selection of furniture and appliances with local delivery by your nearby furniture stores. MDG is available in USA and Canada and they can allow you to get financing up to $3,000 that you can spend online in their store at any time. Best of all, as you pay off your loan, that money becomes available again so you can reuse it. If you're looking for quick and simple financing on electronics, you'll enjoy MDG.
Instant decision for financing
Get approved for up to $3,000 in-store credit
Pay over several years
Regain the credit as you pay it back
Available in USA & Canada
---
Afterpay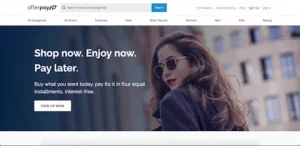 Visit Afterpay
Afterpay isn't an actual online store – instead it's a financing solution that many online retailers have begun adding as a payment option. It's worth taking the time to sign up for an account with Afterpay if you often see their logo next to the checkout option when shopping online. However, Afterpay is mostly featured as a payment option for apparel stores online, so don't expect to see this option all over the place. Some major stores they are featured in include Anthropologie, Hello Molly, Urban Outfitters, Revolve and more. The great thing about Afterpay is that you get to enjoy the products right now without having to spend any money upfront. It's among our top websites like Fingerhut because you can spread the payments out in 4 equal payments – spread out over 2-week periods.
Pay in 4 equal payments over 2-week periods
Featured in many big brand stores including Rebecca Minkoff, Revolve & Showpo
Don't pay interest unless you miss payments
Mobile app lets you find all stores featuring the Afterpay payment method