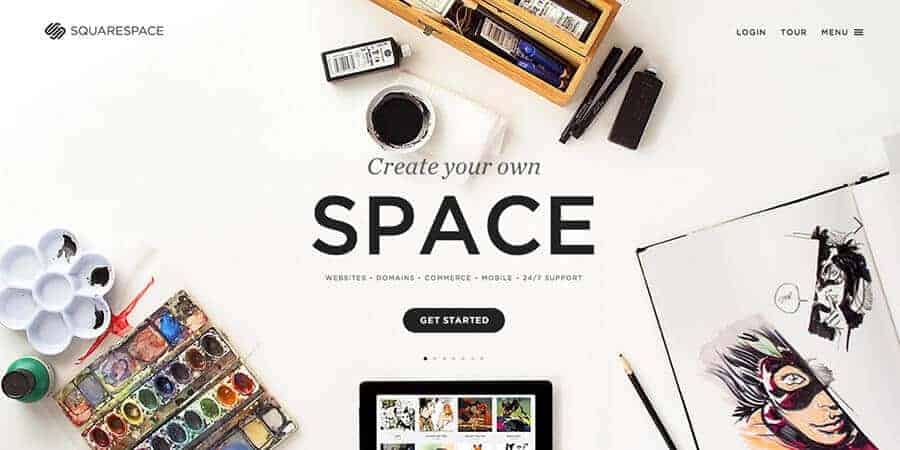 If you want to start your own website, you've come to the right place with our list of website creators. Squarespace lets your website look expertly made with only a few clicks. All the templates you can start with are beautiful and thought out. They were designed to truly present your ideas and concepts.
You will stand out from the crowd with a website, portfolio, or store created on Squarespace. Every page is customizable. You can drag and drop your images and ideas to make something completely unique. You can even delete pre-made sections you don't want. Every choice on your new webpage is up to you.
Get inspired with all the colors, fonts, and page configurations Squarespace has to offer.
The best thing about Squarespace is that it's mobile friendly, you can work on it anywhere you go. For more of the best website builders that all let you release your inner creativity, browse our amazing list of sites like Squarespace.
iPage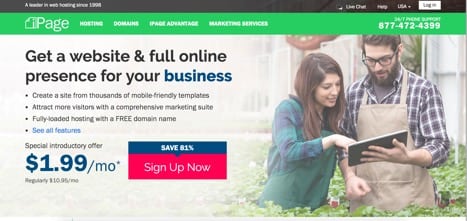 Official Site
If you want to give a body to your business, start using iPage. iPage gives you access to thousands of templates, a free domain name, unlimited space, secure FTP, and more. You even get free listings and access to marketing guides with iPage. If you want a simple and quick webpage, you should choose iPage. Like most of the other sites like Squarespace, everything is drag and drop and easy to setup. Your finished website will instantly attract more visitors because of its professional look. Don't take our word for it, click on the link above to see for yourself.
---
back to menu ↑
Carrd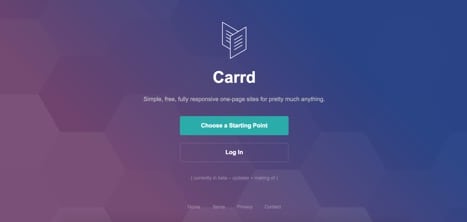 Official Site
Carrd is one of the free sites found among our list of Squarespace alternatives. This website creator won't have all the frills and extra touches the other sites like Squarespace have but it does let you make a beautiful website or blog in minutes. When you begin, you'll be given the option to choose a starting point then you can add as much as you want from there. You can add a landing page or multi-sections, there's also a lot more options. Choose from the collections of pictures included or upload your own. Check out Carrd and see how creative you can be.
---
back to menu ↑
Weebly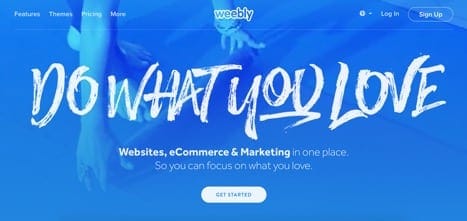 Official Site
With Weebly you can focus on what you love, all in one place. This easy to use creator lets you make top-of-the-line websites, blogs, and eCommerce sites with only a few clicks. The drag and drop features are powerful and quick to use. You don't even need to know anything about coding, it's all done for you with Weebly. If you want to showcase your products, manage your inventory, and use all the specialized tools this addition to websites like Squarespace has to offer, click on the link above.
---
back to menu ↑
Wix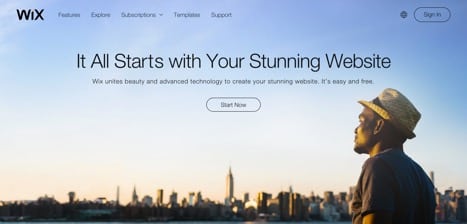 Official Site
Another free website creator found on the list of Squarespace competitors is Wix. With Wix you'll have a stunning website in minutes. Wix uses advanced technology to make something beautiful. This free and easy to use website has a lot of templates and features to explore. You'll never run out of ideas with the all the options Wix has to offer. Everything you might need to promote your business or personal blog can be found here. With its secure hosting, SEO advantages, and 24/7 support you'll love Wix.
---
back to menu ↑
Strikingly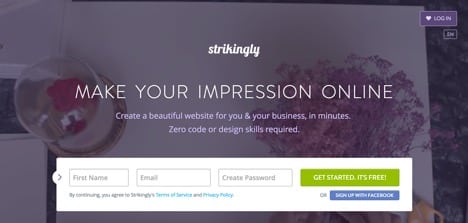 Official Site
Strikingly can even be called better than Squarespace. With Strikingly you can make a huge impression online. You don't need any design or coding skills to start using this free creator. Within minutes you'll have something that'll make you proud. Millions of entrepreneurs and creatives are already using Strikingly, you should be too. If you want to launch your website quickly with an elegant look, check out this addition to sites like Squarespace immediately.
---
back to menu ↑
Verst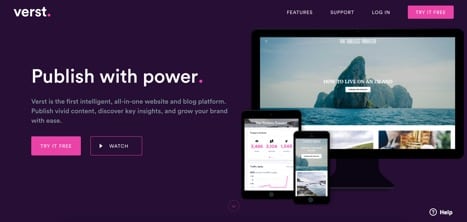 Official Site
If you want a professional looking website that doesn't require the fuss of coding and hours of preparation, use this creator similar to Squarespace. Verst lets you publish with power and helps you grow your brand with ease. This website designer is an all-in-one platform for your blog or business. Your content will always be eye-catching and vivid and there's a ton of key insights for you to discover with Verst. If you want to take the pain out of publishing, use this addition to sites like Squarespace.
---
back to menu ↑
1&1 MyWebsite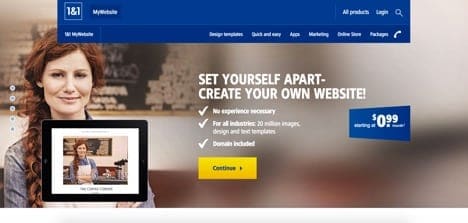 Official Site
1&1 MyWebsite buider tool is the only thing you'll ever need to make an amazing website. Set yourself apart from the millions of ones already found on the internet with this website creator recommendation. Everyone who uses 1&1 gets access to design and text templates and over 20 million free images to add to your design. With that many choices, your possibilities are endless. You also get a domain name with your setup. Sites like Squarespace let you personalize your website to your own personality, 1&1 does too. Take a look for yourself, this might be the perfect one for you.