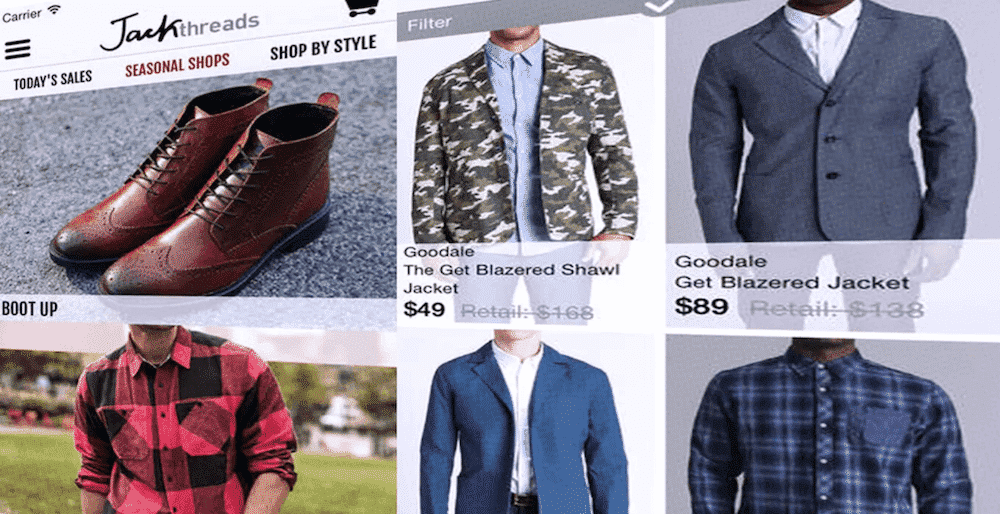 JackThreads is a website where you can find full outfits for guys without spending every cent in your wallet. This online store has a large collection of stylish clothing for men, all sold for very affordable prices. If your style is relaxed and comfortable, JackThreads is the site for you.
The clothes found on this site are for men who like to live a comfortable life. Jeans, t-shirts, sneakers, and jerseys are curated from the best brands to please any man with a laidback style. JackThreads is a play on words from "Jack-of-all-trades", meaning that there's something for every man, on this website.
Clothing for women can be found in a lot of different online shops and stores, but a man always has a difficult time in finding a great place to shop. That's why we've created this list of websites like JackThreads to help any man who wants to look his best without spending a fortune. Enjoy!
Karmaloop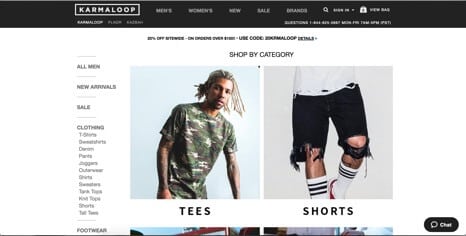 Official Site
Men's fashion sites on this list must include Karmaloop. This online shop has a vast array of streetwear to make any man look cool and stylish. Some of the best brands like Adidas, Converse, and Timberland, can be found on this great website. If you're a man who likes joggers, classic kicks, and branded jackets, you should take a look at Karmaloop's amazing discounts. With the outfit and accessory choices found on this addition to sites like Jack Threads, you're sure to stand out in the crowd while you wear the gear you found on Karmaloop.
---
back to menu ↑
Topman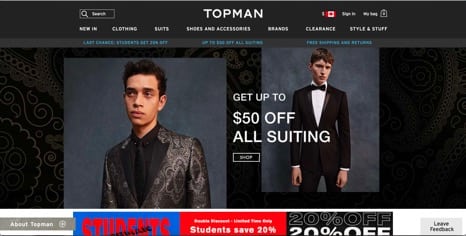 Official Site
Topman is the British addition to stores like JackThreads. This site has everything a man needs for any occasion. The clothing on this site varies from chinos to suits and everything in between. This site always has exclusive items with low prices, but the items are limited. If you find something you want, snag it before it's gone. Another thing to remember with Topman is that its sizes run smaller than American fashion. Always take a few minutes to measure yourself before ordering. The clothing and accessories come from "across the pond" so expect shipping to take a little longer than usual, but Topman tries hard to get you your order within 5 working days. Click on the link above to start browsing their fashionable collections before the best stuff is sold out.
---
back to menu ↑
J Crew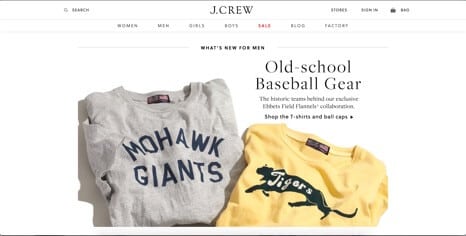 Official Site
J Crew is one of the best online clothing stores for men that carries a large assortment of casual clothing. The fashion on this site is perfect for everyday wear and weekend retreats. If you're looking for a cool outfit to wear to the gym or if you're a sneakerhead, you will be surprised with the items you can find on J Crew's online store. This addition to sites like JackThreads also has a lot of clothing choices for women and children making it a one-stop shop for the entire family. If you like to dress casually and still look stylish take a look at J Crew, you won't be disappointed.
---
back to menu ↑
Jos A Bank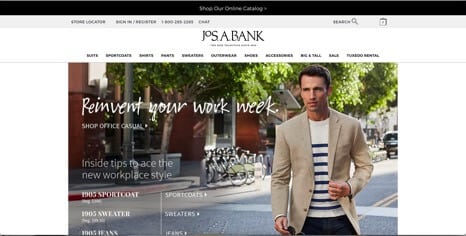 Official Site
Jos A Bank is one of the oldest retailers for men on this list. It's been around since 1905. A lot of mens complete outfits can be found on this website found among sites like JackThreads. Jos A Bank will help you dress to perfection and look your best for any event. Polo shirts, dress shirts, sports coats, and more can be found on Jos A Bank's website. Everything in between is also available. Be sure to keep a look out for the amazing discounts and deals that will encourage you to come back and shop for more trendy clothing items made just for men.
---
back to menu ↑
PacSun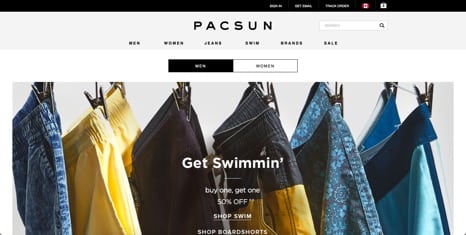 Official Site
PacSun is a leading fashion website for men and women based out of Los Angeles. Their style is a blend of streetwear and contemporary fashion. PacSun is one of the trendiest online shops for any man that lives an active lifestyle and shares a passion for fashion. On this alternative to JackThreads, you can find daily deals like 2 t-shirts for 30$ or discounted prices on everything from belts to coats. Nike and Vans are just two of the brands found on this site. If comfortable, trendy, streetwear is your style, start shopping at PacSun now.
---
back to menu ↑
6pm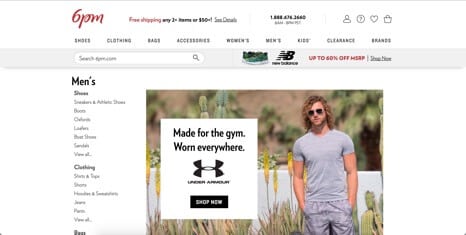 Official Site
The clothing found on this awesome site is known to be made for the gym but can be worn every day. This means that 6pm knows that comfort and quality is a priority in your life. This makes 6pm a great addition to websites like JackThreads. This site also has a grand variety of brands such as Calvin Klein, Oakley, and Kenneth Cole. With 6pm you'll always have a classic and trendy look from head to toe. There's even looks for guys nights out or first dates. Check out 6pm for a fashionable shopping experience and great savings.
---
back to menu ↑
Last Call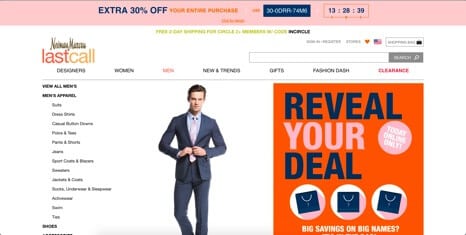 Official Site
If you're a guy who loves designer clothes but you don't want to spend every penny you've got, Last Call is the best suggestion to sites like JackThreads for you. This site has big name designers like Magnanni, Jared Lang, and English Laundry waiting for you on its pages. On Last Call, you can find everything from underwear, to cologne, to suits, and all the pieces each have their own designer label. The best thing about Last Call is the prices. For a fraction of the cost you'd pay in a big department store, you can own multiple items from this men's clothing shop.