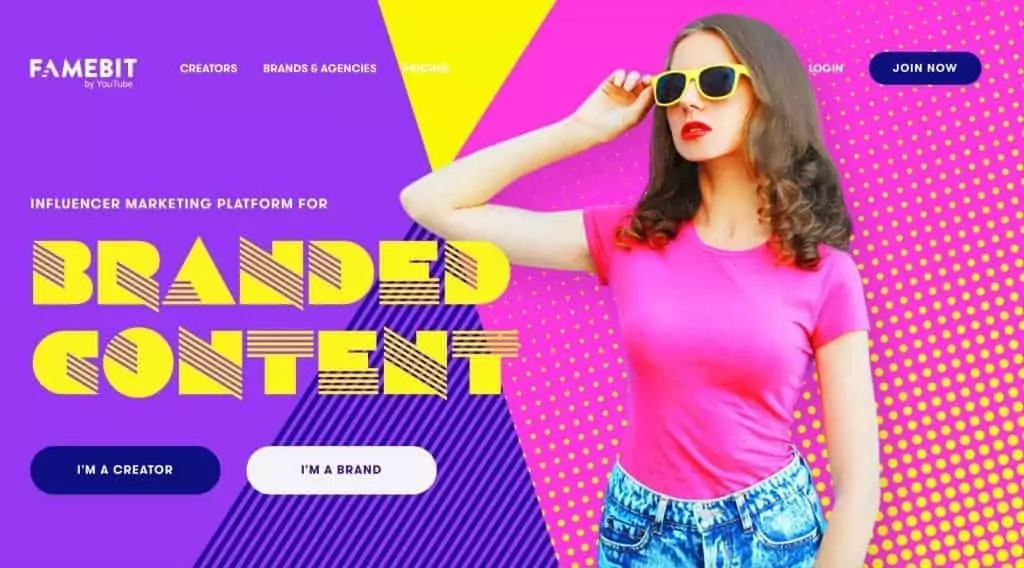 Famebit is the easiest way to grow your brand and show off your awesome product or idea. There are two tabs on the Famebit homepage, one for content creators and one for brands. Pick one and the rest is pretty straightforward. If you're signing up a brand you will be able to choose from a variety of social platforms and decide on what content you want to customize. After all that is done, you will be able to provide your campaign details.
Once your campaign is ready, you can start accepting bids. Freelancers and featured influencers will contact you with their offers. There are over 56,000 creators to choose from. You can narrow down your search by gender, age, reach, creators, country, and category. This influencer marketing platform will keep 20% of every transaction that goes through. Famebit supports YouTube and Instagram.
There are no monthly fees with Famebit if you have a brand you want to grow, you only pay for the bids you accept. If you're a creator, you must have at least 5,000 followers on social media to qualify. You can start searching through the thousands of creators to find someone who fits with your brand, or you can just wait for them to come to you. If you're searching for a way to make money online or you're looking for an ambassador for your brand, you'll find it on this site. For more sites like Famebit, check out the list below.
Brandbacker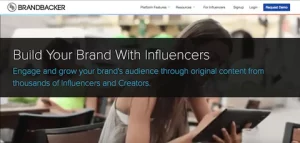 Brandbacker has over 10,000 brands and influencer and more than 350 million followers. This addition to our list of websites like Famebit is massive. Brandbacker was founded in 2001 and it's still going strong today. This website is available worldwide and in several languages. Brandbacker is simple to use for both brands and influencers. Depending on your niche, you will receive cash payments, discounts, or free samples. A unique feature found on the Brandbacker website is their content showcase. This showcase is a tool that will collect all the relevant content for your brand, using a powerful algorithm. It will then tell you who is talking about your product and where. Brandbacker supports Facebook, Twitter, Pinterest, and Instagram.
---
Content BLVD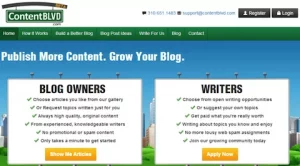 Content BLVD is a YouTube influencer marketing and review service. Content BLVD doesn't believe in buying popularity. This company uses the old fashioned way to gain followers. There are no monetary influences with Content BLVD, only real reviews and real followers who are truly interested in your brand or idea. You can send out free products for reviews to your followers but they must disclose it in their YouTube opinion or blog review. If you're looking for reviews, you will have to choose a plan that reflects how many authentic mentions you want. Plans start at $200. Content BLVD has over 40 million views, so you're guaranteed to get noticed. The best thing about this addition to our list of sites like Famebit is the fact that once you sign up and pick a plan, you can set it and forget it, Content BLVD will do all the work for you.
---
Revfluence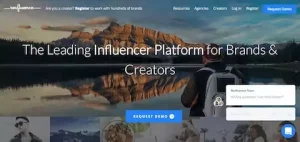 On the Revfluence website, you can find some of the best YouTube and Instagram influencers on the internet. This company is one of the top destinations for endorsements and sponsorships. Revfluence has an expansive network of over 200,000 influencers and it uses highly detailed analytics to find the perfect match for each niche. Use the Revfluence search tool to find what you're looking for, industry, location, demographics, keywords, and quality are a few options. If you're having cold feet about adding an influencer to your brand, you can read the thousands of real reviews to put you at ease. This site similar to Famebit is YouTube and Instagram exclusive and it has a huge database to work with, you can't go wrong with Revfluence.
---
Influenster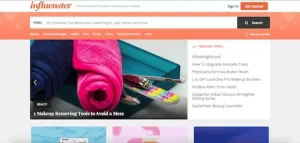 Our list of sites like Famebit must include Influenster. With its earned credibility, Influenster is one of the top product review sites. You can use Influenster to discover, review, and share new brands, and you can add your own to be introduced to the market. Influenster has over 2 million active users waiting to review your product or idea. With Influenster, you can get free sponsorship and send out free products for review, but like Content BLVD, the blogger must disclose all this information. Influenster works with Facebook YouTube, Instagram, Pinterest, Google+, and Twitter, making it one of the biggest influences on our list. Reviews weight the pros and cons. This is a great way to know what to change or fix with your products. Influenster is also available on mobile so people can review anywhere they go.
---
Traackr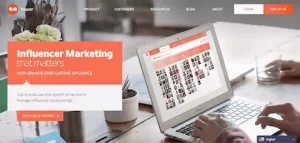 Build impactful relationships, know your influencers, and make your business better than it already is, with Traackr. This alternative to Famebit operates primarily as a marketing campaign. Traackr helps facilitate dialogue between companies and influencers. This sculpts real relationships on social media. Traackr works on a multitude of platforms. Use it with Facebook, Twitter, YouTube, Instagram, Pinterest, LinkedIn, and Google+. With Traackr you will be able to access a ton of communication, email, and marketing tools and be able to follow all of your influencers with detailed profiles. Traackr is a great way to remove the fakes and keep only the people who are truly interested in your product or idea.
---
Izea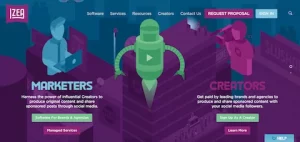 Izea believes that bigger is better and most of us do too. This addition to our list of sites like Famebit has become one of the largest marketplaces for online influencers. Izea has even absorbed other content websites like Ebyline. On this website, you can search a database that has over 250,000 influencers that work across multiple social media platforms which include Twitter, YouTube, Instagram, Facebook, Pinterest, Vine, and Snapchat. Izea has three payment plans which range from free to $299 a month depending on your needs. This influencer platform also has analytic tools, URL shares, and hashtag popularity to help you grow your brand or business. Izea has everything from market research data to investor information.
---
Niche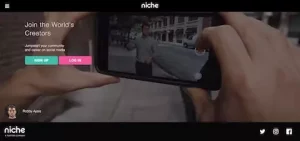 Niche has only been available since 2013 but since then, it has become quite a social media pedigree. This recommendation for our list of sites similar to Famebit found its early success with Vine, using their campaigns to help brands grow in film and retail. Nowadays, Niche has branched out. This online influencer is now available on a ton of platforms which include Facebook, Twitter, YouTube, Instagram, Tumblr, and last but not least, Vine. On this website, you can view their leaderboard which tells you which influencers are the most engaged and which ones should be avoided. You can also view a comprehensive profile about each influencer to know exactly what you're getting. Niche has over 30,000 content creators to help you grow your brand, start searching now to find the ones that work best for you.
---
Octoly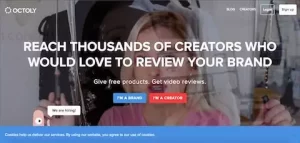 Octoly is the only free sponsorship site on our list of alternatives to Famebit. This is an automated platform that connects brands and vlog personalities. Octoly only requires a few steps before you can begin using their service. Octoly works exclusively with YouTube and this site has over 800,000 channels in its collection. Some of the clients who are using Octoly right now include Sally Hansen, Rimmel, SexyHair, Birchbox, and Miss Jessie's. Most of the channels on this site are beauty YouTubers but this marketing company is slowing branching out into video games. Like most of the sites above, Octoly relies on honest reviews by real people, there are no fakes on Octoly. Influencers are never paid for their reviews.