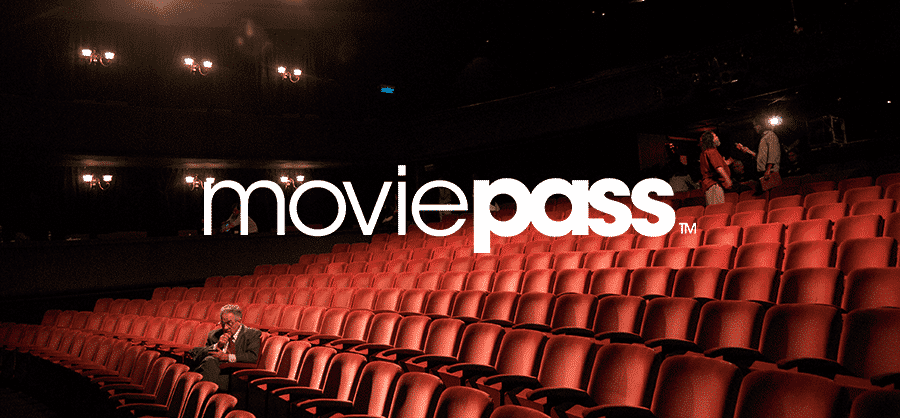 Enjoying a Netflix movie at home can be relaxing and comfortable, but there no better feeling than watching a movie on a real movie screen. No matter how big your TV is, no matter how great your home theater sounds, nothing will beat the quality of a movie theater. And don't forget about the popcorn! Your microwaved kernels will never taste like the freshly cooked theater ones.
But if you are a movie fan, this hobby can be pricey. Someone told us about a service called MoviePass, which was meant to make going to the movies a much more affordable event. We decided to give it a go, and here is our MoviePass Review.
What Is Moviepass?
It is a "theatrical subscription service." In simple terms, you pay a monthly flat fee and are allowed to watch a movie every day. There are no restrictions or "blackout" dates; even if it's opening night you can get your ticket. You do need to keep in mind that this is available for 2D movies only.
One great advantage is that MoviePass recently changed the way they calculate each day's time range. Not long ago a day was a period of 24 hours since you watched a movie. This meant that if you watched an 8 pm show, you wouldn't be able to watch another one until after 8 pm the next day. Now they changed that and each day is reset at midnight, so you can enjoy that 8 pm show on Monday and watch another one at 11 am on Tuesday.
How Does It Work?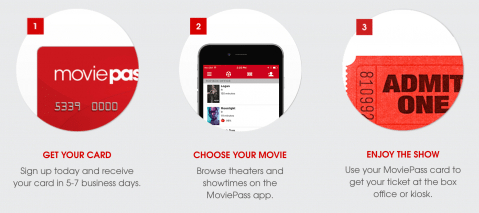 First of all, you will need a cell phone to use this service. It doesn't matter if it's an iPhone or Android device. You use the phone to browse movies on the MoviePass app.
When you sign up for the service you will be sent a MoviePass card, which will arrive at your home after a few days. Once you receive your card, you are ready to use the MoviePass service.
Let's use an example: you whip out your phone, open the MoviePass app, and find a movie you want to watch that is playing downtown at 8 pm. Once you arrive at the theater you need to use the app to check-in, and this will activate your card for half an hour. You can then purchase your ticket at the movie kiosk or box office using the card. If you check in but change your mind and want to watch a different movie you can use the app to do it.
As you can see, the service is simple and easy to use. If you need any more info about it there is a Moviepass FAQ on their website where you can read more about it.
Where To Use It
Among the cinema chains you will have access to are the following:
Studio Movie Grill
AMC Theatres
Regal Theaters
Edwards Theaters
Cinemark Theaters
Coming Attractions Theatres
But almost any movie theater near you will accept this service since it has a 90% coverage. You can use it in over 3,700 theaters and more than 33,000 screens across the United States. To verify is your cinema is supported you can type your ZIP code on the MoviePass.com website, or on the MoviePass app.
How much does it cost?

There is no universal MoviePass price. Prices start at $14.99, but it all depends on where you live. There are three plans available; the first one will let you watch two movies per month, the next one will let you watch three movies per month, and with the Unlimited option, you can watch one movie per day for one month.
To give you an idea, while doing this MoviePass review we used a 90010 Zip code from Los Angeles, California, which is an expensive area. The 2-day option there costs $20.99, the 3-movies plan costs $30.99, and the Unlimited plan costs $49.99. All you need to do is type your ZIP code and it will tell you the prices before you make any payments.
All these plans are billed monthly, and there is no commitment. If you'd like to cancel MoviePass at any time you are free to do so, all it takes is to contact their customer support department on the website or send them an email.
Payment can be made using your Visa, MasterCard, American Express or Discover credit cards. You will be charged as soon as you subscribe but your service will not begin until your MoviePass is delivered to you. For example, if you sign up on January 1., as soon as you sign up you will be billed for your fist month. Then your card arrives on January 7. That means that your next payment will be on February 7.
Final thoughts
This is the perfect service for anyone that loves going to the movies. Once you subscribe to it, you will notice that you start watch flicks that you would normally wouldn't. You'd probably think twice before spending your money on a ticket to watch something like Sharknado, but having a MoviePass card makes it easier to take a chance and enjoy all sort of films. Who knows, you may actually like them!
Official Site