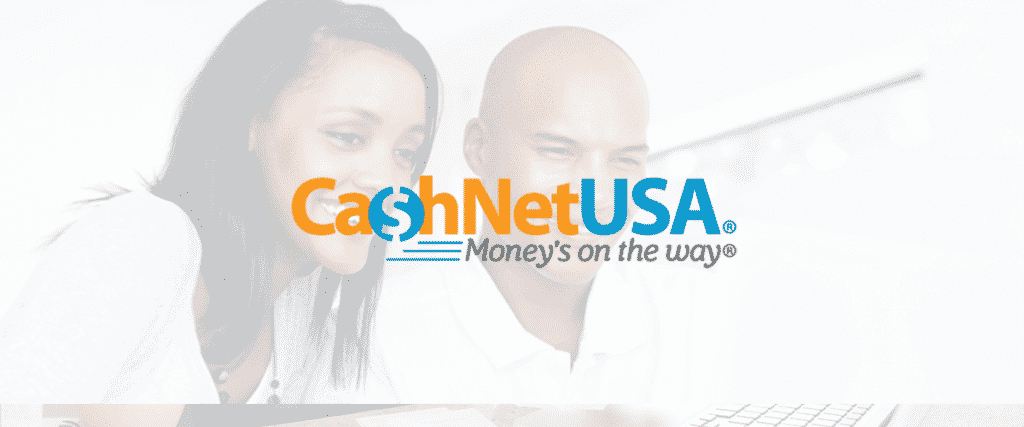 CashNetUSA is among the top online payday loans worth considering if you need quick cash. Whether you're in a tight financial spot or even if you took a week off work and need some extra income, CashNetUSA can help you find the funds that will make your life easier. Our full in-depth CashNetUSA review will allow you to find out everything you need to know such as CashNetUSA loan rates, CashNetUSA complaints and much more.
Getting Approved for CashNetUSA Loans
There are so many different money loan lenders online and choosing just one is often difficult. However, the loan CashNetUSA will offer you stands out from the others for several different reasons. One of the main reasons CashNetUSA loans are special is because their approval process is a piece of cake. Filling out their credit application form will take just a few minutes of your time.

Once you have filled out their very brief and short online loan form, most people will receive a near instant decision. This means you will know whether or not you have been approved for CashNetUSA loans within just minutes of filling out your details. Most loans companies online require a minimum of 1 hour to get back to you with a response, making CashNetUSA loans very fast.
Cash Net Payday Loans are Fast!
As mentioned above, the entire application and approval process can take a matter of minutes. However, this doesn't affect the amount of time you have to wait before actually getting your hands on the money loan. Fortunately, they are fast at that too!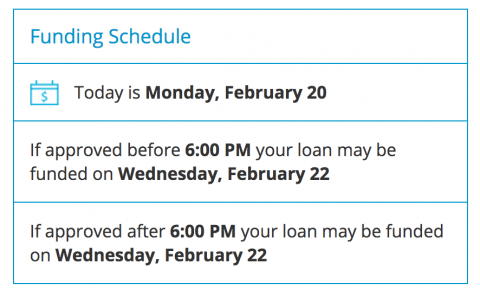 It was February 20th when we applied for a payday loan for this CashNetUSA review. February 20th, 2017 was a national holiday (President's Day), yet we were still able to receive the funds in under 48 hours. This leaves us to believe that when applying for CashNetUSA loans on regular business days, the day of receipt can vary between 24 to 48 hours. If you need cash fast, this is a pretty amazing option worth considering – they are certainly among the best pay loan companies online.
Repaying CashNetUSA Loans
Now, depending on your specific location, repayment terms will vary. Each and every American state has their own laws when it comes to online payday loans, instalment loans and lines of credit. However, with most CashNetUSA reviews, the average repayment schedule seems to be 30 to 60 days. This number will also be determined according to the amount of money that you have borrowed. Lines of credit and instalment loans will normally last much longer than payday loans.
CashNetUSA Complaints & User Reviews
We came across many different CashNetUSA complaints while working on this CashNetUSA review, but none of them seemed to be worth mentioning here. Most people were frustrated at the fact that they could not extend their loan and some were unsatisfied with their customer support team. However, with a loans company that has had over 2 million customers thus far, basic complaints are to be expected. We were glad to find an A- rating with the BBB, making them a trustworthy business with few major issues.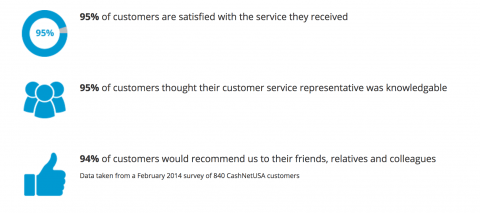 CashNetUSA Customer Support Phone Number & Details
We encourage you to browse their website now if you're looking for money loans online. However, if you already have a CashNetUSA payday loan and wish to contact them directly with inquiries, here are their contact details along with the CashNetUSA customer support phone number.
Phone: 888.801.9075
Email: support@cashnetusa.com
Monday – Sunday: 6 a.m. – 12 a.m. CT
Mailing Address:

175 West Jackson
Suite 1000
Chicago, IL 60604
Final Thoughts
Whether you need quick cash loans for personal reasons or even if you need to catch up on late bills, CashNetUSA loans are here to help. Our CashNetUSA review was a pleasure to work on and we had an amazing experience benefiting from their services. Check out their platform now and explore their variety of online funding solutions.
If you're not quite sold on their platform, take a look at our list of other sites like CashNetUSA.
Visit CashNetUSA