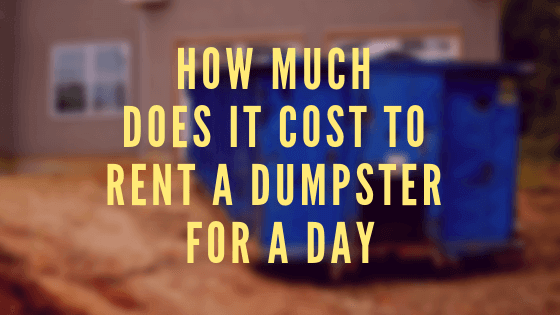 Whether you are cleaning your home, planning to do some landscaping or starting a home improvement project, you might find yourself needing a dumpster rental service. Hiring a dumpster rental service will give you an easy way of disposing the junk that is generated. If you are looking for a short term rental of a dumpster, you might wonder how much it may actually cost you for renting the dumpster for a day or two.
In this guide, we will discuss on how much dumpster companies charge for renting out a dumpster for a single day. There are several factors which effects the cost of the dumpster like size, types of garbage and rental period etc.
Although most dumpster companies set their pricing depending on the size of the dumpster, there are multiple other charges that may add to the final cost of renting a dumpster. Read on to know about the costing of dumpsters.
Size of the Dumpster
The size of the dumpster plays an important role in deciding the cost. Before you choose a dumpster, you need to have a fair idea of the junk generated so that you can choose the right sized dumpster. The basic cost of your dumpster rental will depend on the size of it.
The pricing of dumpster varies from state to state but an average estimate says that for a 10 yard dumpster, you will have to pay $300, $385 for a 20 yard dumpster, $450 for a 30 yard and $500 for a 40 yard dumpster. A simple home renovation or cleaning project will require a 10 yard or 20 yard dumpster.
Improvement Cost
Heavy Debris: Heavy debris are generated when you are planning to do a large scale home renovation and the debris include bricks, concrete and any other construction related heavy debris. In such cases the company allots a 30 yard dumpster to carry all the weight of the debris and may cost around $400
Extra days: if you happen to accommodate the dumpster for a day or two longer than your stipulated period, the dumpster services will do that for you but you will have to pay an additional charge of $5 to $10 per day.
Additional Costs
Restrictions: most dumpster services have weight limitations especially if they are carrying heavy debris. A heavier than assigned garbage weight makes it difficult to haul the dumpster away and you may have to pay weight restrictions violation fine which can be up to $400.
Hazardous materials: most dumpster rentals services restricts the dumping of hazardous substances like pesticide, propane tank and asbestos etc. if you dump these materials against the companies guidelines, then not only will you be returned the materials but you might also have to pay a fine of up to $500
Landfill fees: Some dumpster rentals also include landfill fees in their charges. If the landfill fees is not included in the cost then you will receive a separate bill charging you for the landfill fees. Landfill fees vary from $20 to $50 every ton.
Remote delivery costs: If you have rented a dumpster service for a remote location and the dumpster service has to drive a long distance to deliver your dumpster then they incur an additional charge for their service.
Dumpster rental service ranges from per day to per week and month. Keeping in considerations all the factors mentioned above, a short term rental like a day or two can cost from $25 to as high as $300.
Final Words
Here you go, all the information you need to rent a dumpster for a day. Keep in mind all these factors so that you can rent a dumpster that will meet your requirements and are within your budget limit.