Dressing sexy doesn't have to mean looking like trash. You can find a ton of clothes online or offline to make you look and feel sexy for any occasion. You might be looking for something to wear to the club, something for a hot date, or something to show off your curves every day of the week. Whatever the case may be, finding these clothes can be a challenge. One of our favorite places to shop for cheap club dresses and chic sexy styles is Oh Polly.
Oh Polly is a trendy brand that offers gorgeous dress, statement pieces, and more for free thinking and confident women. This online retail for women takes its inspiration from celebrities and catwalk trends. Oh Polly is one of the best places to shop for fresh women's fashion. On this site, you will find affordable prices, fast fashion, and gorgeous clothing. Oh Polly will exceed your expectations with each visit to their site.
On this site, you will find tops, bottoms, dresses, bodysuits. Oh Polly has plunging necklines, silver sparkles, minis, two piece sets, leopard prints, and more. This company is based in the Uk. Oh Polly charges a flat rate fee of £1.99 for 7 day deliveries in their local area. If you don't live in the UK, don't worry, Oh Polly ships worldwide for only £6.99. If you like the styles found on this site and are looking for other sexy and fresh women's fashion websites like Oh Polly, you'll love the list below. Find the perfect pieces to show of your hot bod now.
AmiClubwear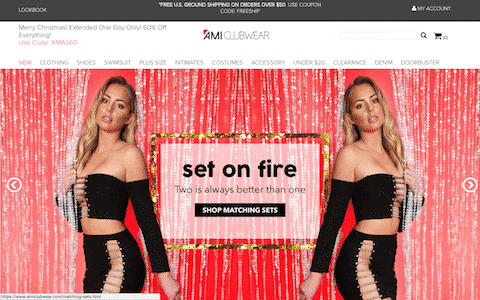 Official Site
AmiClubwear is the best site to visit if you want to have all eyes on you each time you leave your home. On this site, you will find dresses, tops, bottoms, swimsuits, shoes, jewelry, accessories, and a whole lot more. This alternative to Oh Polly features skimpy styles, sky high stilettos, sexy costumes, lacy underwear, and more of the genre. If you want to look sexy and show off your curves, AmiClubwear is your best bet. On this site, you will find amazing prices that will blow your mind. You can find shoes and outfits for under $10 and accessories under $5. AmiClubwear has savings up to 55% off retail, additional coupon codes found on their homepage and free shipping on all orders over $50.
---
back to menu ↑
Bebe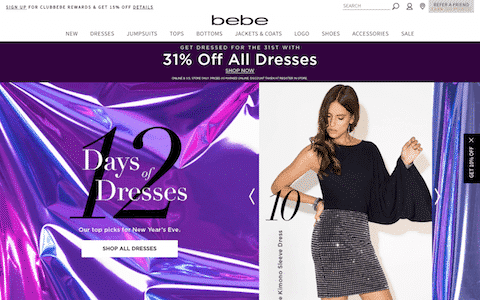 Official Site
Bebe is a fashion brand that was first established in 1976. This company sells a ton of sexy dresses for women and extra things you might need like shoes, handbags, and accessories. Bebe has signed many celebrates to promote their collections like Rebecca Romjin, Eva Longoria, and Mischa Barton. On the Bebe this addition to our list of best sites like Oh Polly, you will find a lot of black, a lot of glitter, and a lot of lace. Bebe is feminine, chic, and sexy. If you want to show off at a party or at the club, you will definitely need to check out the sexy party dresses found on this site. On this site, you will find amazing savings up to 40% off and shipping is always free on orders over $100 in the United States, $200 for Canada, and international rates vary but they're very affordable.
---
back to menu ↑
Great Glam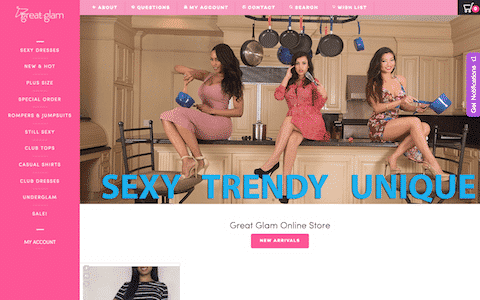 Official Site
One of the best websites like Oh Polly to shop for sexy club dresses, curve hugging tops, cute rompers, and skin tight jumpsuits, is Great Glam. The sexy clothes for women found on this site are for all sizes. From 00 to plus size. Great Glam has a huge selection of clothing for you to discover and they try to bring back the hot items that have sold out as often as possible. On this site, you will find a huge choice of colors, styles, and the low prices will surprise you. It doesn't have to cost you a lot to look great at the club. The dresses and outfits on Great Glam average about $40 a piece. Great Glam charges a flat rate fee of $4.99 on any size order. If you order more than $24.99 worth of merchandise, Great Glam will give you free shipping on all your next orders for the next 6 months.
---
back to menu ↑
Shail K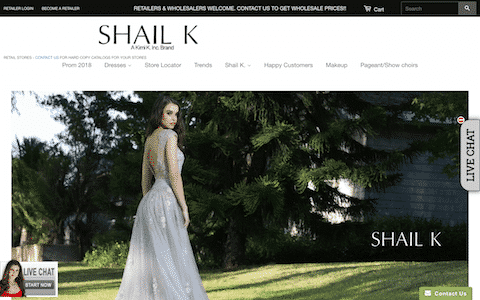 Official Site
On this site similar to Oh Polly, you will find everything from sexy cocktail dresses to elegant dresses for a formal event. Shail K has a huge collection of handcrafted and unique dresses for women of all sizes and shapes. Kimi Verma is the women behind all the handcrafted dresses found on this site. Kimi believes in the importance of handmaid items. On the Shail K site, you can shop for gorgeous and affordable handcrafted couture, read up on fashion tips and tricks in the Kimi Verna blog, see the creating process, and more. If you own your own shop and want to request a Shail K catalogue to place in your store, Kimi will send you one for free. Custom orders are available, check out Shail K now.
---
back to menu ↑
A'gaci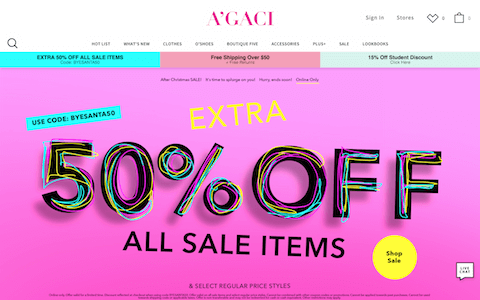 Official Site
This fashion retailer found on our list of alternatives to Oh Polly is a fahion brand that was created for women who march to their own beat. If you're looking for sexy dresses online with a little kick, you'll love A'gaci. On A'gaci, you will find a lot of black, a lot of silver, a little leather, and a little lace. This fashion retailer comes from crazy talent and fashion experts who are devoted to their work. A'gaci has a ton of cool outfits for you to discover. Search the A'gaci website to find discounts up to 50% off retail cost and add more than 50$ worth of sexy and stylish clothing to your cart to qualify for free shipping. You're guaranteed to shine and stand out with the outfits found on A'gaci, check out this site now!
---
back to menu ↑
City Chic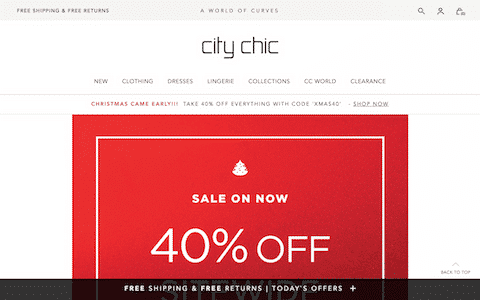 Official Site
We must add City Chic to our list of websites like Oh Polly that sell sexy dresses for women for all occasions. On this site, you will find an enormous collection of clothing for plus size women. City Chic specializes in clothing for women with curves. On this site, you will find dresses, bottoms, tops, swimwear, outerwear, lingerie, and more. City Chic adds new pieces all the time, cuts for women with curves, guaranteed fits for any size women, happy returns, and free shipping on all standard delivery orders. Another great thing about City Chic is that if you add your email to their mailing list, you will receive an instant 25% off your first purchase.
---
back to menu ↑
Good American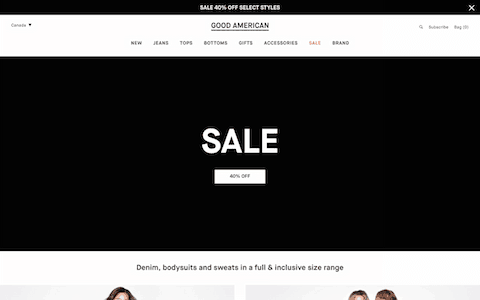 Official Site
If you like the handcrafted pieces found on the Shail K site, you'll love this recommendation for sexy clothes for women. Good American is another fashion retailer for plus size women. On this site, you will find a wide range of fashionable and sexy pieces which include denim, bodysuit and laid back items like sweats and tshirts. If you're looking for plus size ripped jeans, high waisted pants, sexy sweats, or tops with plunging necklines, you'll find everything you're looking for here. Good American is a little ironic considering that the clothing on this site will help you indulge your bad side. International deliveries are available depending on your location.
---
back to menu ↑
Bailey 44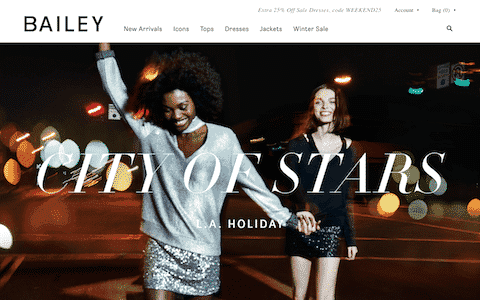 Official Site
If you like clothing with cutouts, faux leather features, and curve hugging materials, you'll love the sexy outfits found on this site. Bailey 44 is an alternative to Oh Polly that we mustn't forget. This site has a ton of attitude. Bailey 44 is for women who know what women want. Here, you will find cool, sexy, and classic clothing for every day and for girl's night out. The styles on this site are made to fit and feel well. Every piece is obsessed over before it's added to the Bailey 44 collection. If you want to add a little attitude to your wardrobe, check out this fashion retailer for women now.