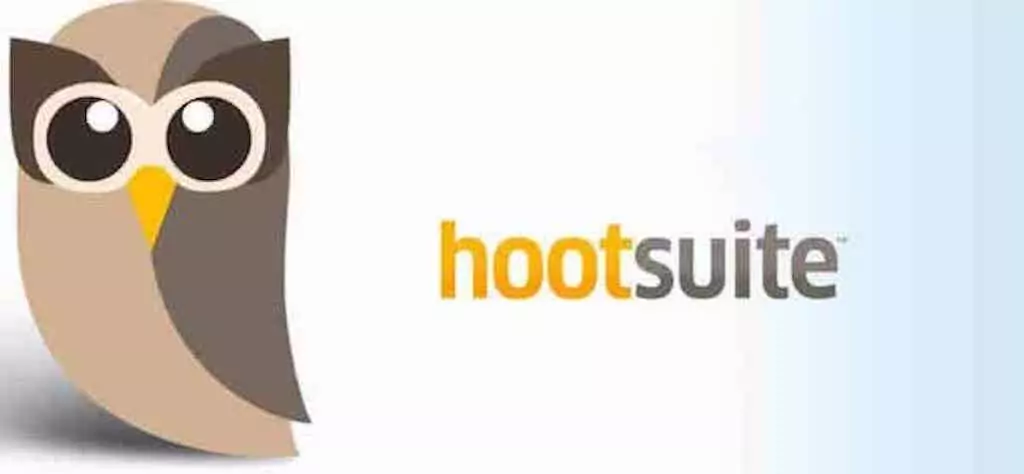 Hootsuite Alternatives
Hootsuite is one of the most powerful social media scheduling tools on the internet. As a business or website owner, you're most likely overwhelmed with tasks as it is. From performing blogger outreach to writing quality content with superb on-page SEO, chances are you don't have much free time left over for managing your dozens of social media accounts. That's where sites like Hootsuite come in to save the day.
Hootsuite Review
At its core, Hootsuite is a social media marketing tool that helps save you a ton of precious time.
However, it's actually so much more than that. Even the Hootsuite free version is capable of providing quality tools so you can manage a few of your social accounts without having to spend any money. The Hootsuite social media dashboard allows you to easily upload images, write down thoughts, share links and even videos. You can choose to publish your content on one social media account or dozens simultaneously. But that's not even the best part – the greatest aspect is it offers a free scheduling tool so you can schedule tons of social posts in advance.
You could literally prepare a month's worth of social posts in minutes
Once you've prepared a bunch of scheduled posts, you can sit back and relax (or focus on other aspects like your SEO). Hootsuite will automatically publish your posts on the dates and times that you picked. This is the closest you'll ever get to full social media automation without having to hire employees. But here's the catch…
Is Hootsuite Social Media Management Tool Worth It?
While the free version is rather handy for hobbyists with a single blog, it only allows you to manage up to 3 social accounts. This limitation forces us into one of two directions, you can either pay for Hootsuite Pro or you can go searching for quality Hootsuite competitors that truly cost nothing. For companies who need to keep active social media channels on all of the important networks, this means managing dozens, even hundreds of social accounts. The free plan just won't cut it.
I wouldn't pay for it.
Personally, I don't recommend spending money on Hootsuite plans when you can find tons of other free sites like Hootsuite online. The hard part is testing them out, putting in the effort and deciding which tools are truly worth using. We took care of all those tedious tasks so you can rapidly sort through a list of top rated Hootsuite alternatives without having to waste any more of your time!
Later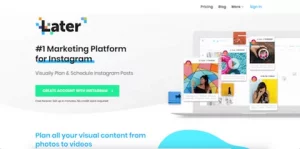 Official Site
Next up on our list is Later, an online tool that allows you to automate the posting on your social media channels, but more specifically, for Instagram. That's right, if you've been searching for a free Hootsuite alternative that provides automatic publishing to Instagram as well as multiple other platforms, Later is worth a glance. I'm placing heavy emphasis on Instagram because that's truly what they do best. Don't get me wrong, the other networks get published on time and the posts look great, but their strong suit is Instagram. Needless to say, they specialize in image-type social networks including Pinterest, Facebook, Twitter and you guessed it, Instagram!
What we like about Later:
Easy to use management tool that specializes in posting on Instagram
They also handle Facebook, Twitter & Pinterest
Free account lets you manage 1 social account per platform
Schedule unlimited media & 30+ posts/month per account for free
Basic analytics are provided even for free users
---
TweekDeck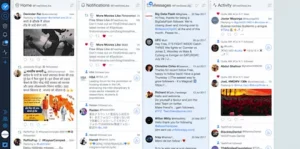 Official Site
I know most of you are probably already aware of TweetDeck, but for those of you who have never heard of it before, it's truly one of the best platforms similar to Hootsuite worth discovering. From the GUI to the way you schedule posts and even the appearance of your social feeds, TweetDeck really resembles Hootsuite from start to finish. That's fine though because they excel at what they do – TweetDeck is an expert at helping you automate your Twitter accounts. Best of all, there's absolutely no pricing options. This content marketing tool is completely free to use at all times.
What we like about TweekDeck:
They specialize in Twitter account automation
No learning curve if you already know how to use Hootsuite
Everything is absolutely free at TweetDeck
Add as many Twitter accounts as you need
Customize the interface with columns for even better productivity
---
Lightful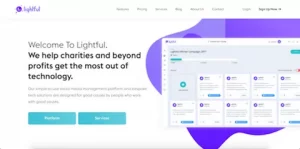 Official Site
If you run a non-profit or a charity, your social media tasks are about to become so much easier. Lightful is a social media marketing company that brings you premium features at absolutely no cost. Their website states "We help charities and beyond profits get the most out of technology". You would think that a free platform developed for small businesses with no intention of monetizing would be a little weak, but it's actually quite remarkable. Lightful brings you tons of amazing features to help increase your productivity so you can ultimately save lots of time.
What we like about Lightful:
They help non-profits & charities for a good cause
Their free plan is more than enough for individuals or small businesses
Link shortening tools, unlimited scheduling & media storage
Compatible with Facebook, Twitter & LinkedIn
Templates available for campaigns, events & fundraisers
---
Friends+Me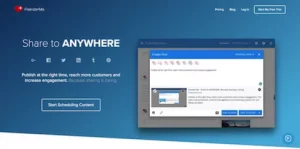 Official Site
When it comes to social media marketing, timing is everything. Studies have shown that the best time of day to publish on social media is between 1pm and 4pm. These times bring you the best click-through rates, while 8am is the worst time to publish. Using Friends+Me, you will easily be able to schedule your posts in advance so you can make the most out of these peak hours. Friends+Me is compatible with all of the major social networks and they have a beautiful user interface that makes it simple for you to reschedule posts, save them as drafts for later and interact with your followers.
What we like about Friends+Me:
Publish on Facebook, Twitter, Google+, LinkedIn, Pinterest & Tumblr
Reschedule posts and save them as drafts for later
Control the appearance of the posts
Link shortening, team support & cross promotion
Available on Windows, Linux, MacOS & mobile devices
---
Stacker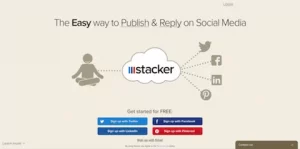 Official Site
Another one of the top sites like Hootsuite that you definitely won't want to miss out on is Stacker. This tool manages multiples social media channels all in one interface so you can save time and focus more of your time elsewhere. One of the excellent things about Stacker is being able to interact with your followers, reply to messages and see your notifications all from the same platform. Stacker's Auto Scheduling feature makes it a breeze for you to quickly schedule numerous posts in advance and their reports let you track click-through rates, visibility and more so you can see what's working and what's not.
What we like about Stacker:
Their Universal Inbox lets you manage messages from all accounts in one place
Insightful Reports bring you tons of useful stats & progress data
Their web browser extension lets you share content with a single click
The Stacker app lets you manage your social accounts from mobile devices
Free account lets you manage one account for each network
---
CrowdFire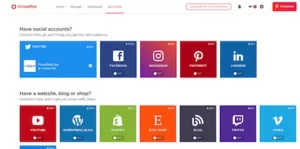 Official Site
CrowdFire allows you to manage many different social platforms from one interface including Facebook, Twitter, LinkedIn, Etsy, Vimeo, Twitch, 500px and so much more. It's one of the most versatile social media marketing automation tools on the market when it comes to variety of platforms. Best of all, the free account allows you to manage 1 account per social network, meaning you can literally manage over a dozen different networks all from one tool without having to spend a dime. This alone makes it one of the best Hootsuite competitors that delivers quality free tools and a pro plan that lets you unleash its full potential if you're willing to spend a little money (pro plans start at $4.99/month).
What we like about CrowdFire:
Huge variety of social networks including Etsy, Shopify, WordPress & more
Enjoy unlimited access to recommended articles, media & smart posts
Schedule up to 10 posts per account in advance with the free plan
Quickly discover new followers, inactive followers & browse your competitor's followers
Schedule bulk posts by uploading a .csv file
---
Buffer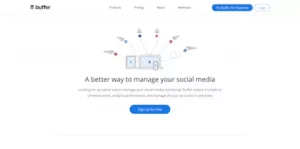 Official Site
Buffer is a social media management website similar to Hootsuite in terms of design and simplicity of use. Once you've created your free account, you will be able to synchronize up to 3 social accounts (you can add up to 8 with the pro plan). While this may seem like a huge limitation, the features offered by Buffer definitely make it worth your time. They provide a beautiful GUI so you can easily schedule posts on Twitter, Facebook, Google+, Pinterest and even Instagram. Buffer is also owned by the same company behind Pablo, one of the top sites like Canva for creating infographics and viral media images.
What we like about Buffer:
Signing up & getting started is simple by registering with your social accounts
Pablo, their graphic design tool is free to use
Compatible with LinkedIn, Google+, Facebook, Twitter, Pinterest & Instagram
RSS integrates make it simple for you to curate your content
Their Social Media Calendar allows you to easily keep track of your tasks
---
Postfity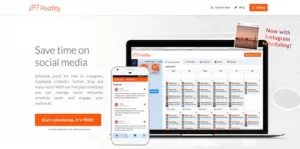 Official Site
Postfity lets you manage upcoming posts, schedule them for specific times and organize everything with their calendar-type interface. Their free account allows you to manage 5 accounts without any limitations, while their pro plan gives you the ability to add 15 to 200 accounts depending on the plan you choose. The Postfity app lets you quickly schedule posts on the go from your smartphone or tablet. Use their interface engage directly with your followers without having to leave the Postfity platform. As one of the top rated sites like Hootsuite, Postfity makes managing your social accounts simple and affordable, allowing you to save lots of time in the process.
What we like about Postfity:
Free plan gives you access to 5 social profiles
Message and engage with followers via their platform
Pro plans vary from $8 to $49 per month – among the most affordable paid solutions
Their mobile app lets you post on the go & the Chrome extension lets you publish with ease
---
Planable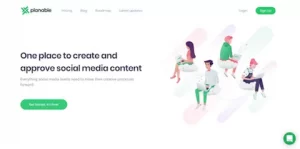 Official Site
Planable is the last Hootsuite alternative in our list, but it's a great tool nonetheless. They offer simple social media marketing solutions with a special focus on social media teams. Team members can schedule posts and other members with higher privileges and approve posts, allowing them to be published on their specified dates. Their user interface makes it easy for you to quickly add a variety of social accounts, team members and schedule posts. Planable has a pretty decent free plan, allowing you to build a workspace within minutes with reasonable features.
What we like about Planable:
One of the only social automation tools to offer free features for teams
Free plan lets you add 3 team members & manage 1 account for network
Incredibly well-built & productivity-focused GUI
Schedule posts in various formats including videos, images, GIFs, carousels & more