If you're looking for a way to create simple graphic designs and design graphic like a pro, you're going to love sites like Canva. Canva is a graphic design program site for people with little to no image editing skills. This drag and drop photo editor is free to use and lets you create unlimited free graphic designs. We've also created a list of sites like Photoshop, which you may be interested in viewing.
Canva is perfect for creating infographics, social media images, profile photos, online graphic design and even website logos. What makes Canva so amazing is that you can create incredibly beautiful designs with absolutely no programming or designing skills. You can choose to upload your own images or pick from various layouts, background images and other built-in images. Canva has a massive library with thousands of images available so you can make a beautiful art design with ease.
While Canva is pretty amazing, you'll have to pay in order to download your designs when using their built-in images. Below is a list of the top rated Canva alternatives so you can make infographic designs and any other type of design of your choice for free and with ease. Browse our list of free sites like Canva right now to start designing like a pro!
Stencil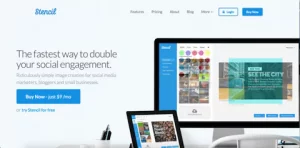 Stencil is one of the best websites like Canva online. It lets you create gorgeous social media images with great simplicity. The free plan lets you create a limited amount of designs per month, but upgrading to the pro plan or the unlimited plan allows you to remove such limitations for a truly limitless graphic designing tool. Stencil is simple to use with their drag & drop technology. Plus, you can easily create images for specific sizes and platforms such as Facebook cover images, Pinterest-perfect images, Instagram posts and more. If you're serious about designing online, Stencil is the one and only tool you'll ever need.
1,500,000+ Royalty-Free Background Images
1,000,000+ Vector Icons & Graphics
650+ Ready-to-Edit Templates
100,000+ Quotes
Upload & Store Your Own Fonts & Media
2,250+ Google Web Fonts
39+ Custom Sizes
Google Chrome Extension for On-The-Go Editing
Free: Create 10 images per month
Pro: $9/month – Create 50 images per month
Unlimited: $12/month – Everything is unlimited
PicMonkey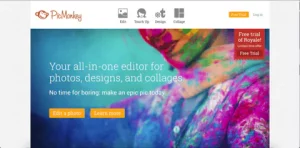 If you're looking for a simple and free online design tool to create collages and designs of all kinds, you'll love PicMonkey. This site is a Canva alternative that is very complete and useful. You'll be able to
touch up and edit photos
while also being able to use their unique graphics to create beautiful images. PicMonkey is one of the most versatile image editing platforms online. You can rapidly touch-up photos, create social media images with perfection and you can store all of your creations in their online hub. With millions of icons, graphics, templates and royalty-free images, you will have everything you need to make amazing designs, all in one place. Check out PicMonkey right now to start making awesome designs online.
Eye color enhancer
Portrait retouching
Photo textures & effects
Collage & social media image creator
Online storage for your creations
Mobile app for phones & tablets
Google Chrome extension for online editing
Free: Limited features
Premium: $5.99/month – Storage for 50 images & no ads
Supremium: $8.99/month – Unlimited storage, advanced features
BeFunky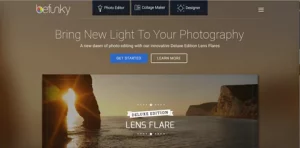 Another website like Canva worth checking out is BeFunky. This free photo editing site has a bunch of great photo editing tools such as a cartoonizer, enhancers, perfect skin tools and much more. You'll also be able to create photo collages online and make printables such as wedding invitations. BeFunky is extremely easy to use even if you have no image designing experience. Whether you're a Photoshop editing pro or even if you're new to image editing, BeFunky makes it a breeze. Explore all of their graphic design tools and download the BeFunky app for editing images on the go.
Collage Maker
Photo Editor
Graphic Design Tool
Touch Up Tool & Photo Effects
Mobile App for Editing on the Go
Basic: Free – Limited features & lower resolutions
Plus: $4.95/month – Unlimited use of the features & highest resolutions
PiktoChart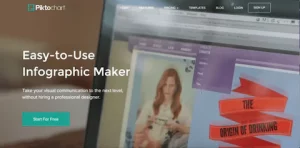 If you're looking for an easy to use infographic maker, PiktoChart is the tool you want to be using. This infographic creator is extremely simple to use and allows you to make beautiful creations within moments. You can make unlimited creations with the free account or you can choose to upgrade to a paid plan in order to unlock extra perks. PiktoChart is great even with the free plan. They specialize in infographic creation, but they also allow you to make all sorts of presentations, posters, flyers and more. PiktoChart is the ideal Canva alternative if you're looking for a more professional type of graphic creation tool which is slightly more business-inclined.
600+ Templates
Infographic Creation Tool
Presentation Creation Tool
Create Business Reports & Analysis
Animated Charts, Icons & Graphics
One-Click Sharing & Printing
Team Collaboration on Projects
Free: Limited features
Lite: $12.50/month – 100MB image uploads & limited features
Pro: $24.17/month – 1GB image uploads & all features available
Pro Team: Starting at $43.33/month – All Pro features & team collaboration features
Easel.ly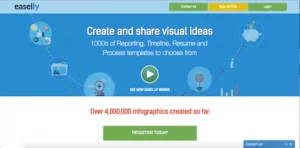 Easel.ly is one of the amazing tools that you'll love discovering. As one of the top rated sites like Canva, it lets you create amazingly beautiful designs. Easel.ly specializes in helping you create awesome infographic designs online so you can share them on your website or
social media platforms
. You can use Easel.ly for free and over 6 million designs have been created so far. Hundreds of pre-made templates are available, making it very simple for you to quickly create an infographic tailored to your needs even if you have little or no designing skills. Just pop open one of the templates and start editing the content so it becomes your own – it's as simple as that.
500+ Infographic Templates
Create Infographics, Reports, Resumes, Presentations & More
100,000+ Icons, Graphics & Design Images
Design Webinars & Tutorials Available
Consultations with Design Experts Available
Free: 60 images, 10 templates & low quality JPEG exports
Pro Account: $3/month – Unlimited access including a 1-on-1 consultation
Infogr.am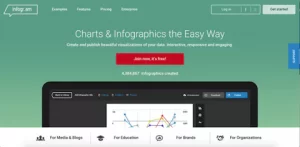 Infogram in one of the best Canva alternatives online if you're looking for a way to create infographics with charts and graphs. Infogram specializes in making it simple for you to build great designs online while integrating charts. You can use this simple design tool online to integrate maps, custom branding and much more. Paid plans are available, allowing you to unlock many additional perks. Their drag & drop editor allows you to quickly set up designs that fit your business and the ability to import data from programs like Excel makes it super easy for you to integrate your data. Build reports like a pro and share them in a way that's easy to understand using infographics, charts and more.
35+ Interactive Charts
500+ Maps
20+ Templates for Reports, Presentations & Infographics
Easily Customize with Your Brand's Logo & Colors
1,000,000+ Images & Icons
Simple Drag & Drop Editor
Import Your Data from Google Drive, DropBox, Excel & More
Basic: Free – Up to 10 projects & 3 pages per project
Pro: $19/month – Up to 100 projects & 10 pages per project
Business: $67/month – Up to 1,000 projects, unlimited pages & additional features
Team: $149/month – Up to 3,000 projects, 3 users can collaborate
Enterprise: Custom pricing – Up to 10,000+ projects, 10+ users can collaborate
Pablo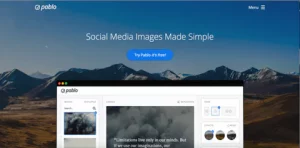 Another top contender among the best sites like Canva is Pablo. This image design site lets you make social media images with ease. Within minutes of entering this website, you will be able to create attractive images that convert to clicks, likes and shares on social media platforms. Pablo is extremely easy to use and is great for personal use or for
building blogs or websites
. Pablo recently merged with Buffer, one of the leading social media sharing platforms online. Pablo has a simple to use editor and the ability to size your images for social media platforms such as Pinterest and Facebook. Upload your own media or search their database of over 600 thousands images & graphics. Start using Pablo right now for free.
25+ Fonts
600,000+ Images & Graphics
Upload Your Own Media
Add Quotes & Image Filters
Templates Sized Specifically for Social Media
Share & Download with 1 Click
Google Chrome Extension Available
Free: Pablo is 100% free to use
Illustrio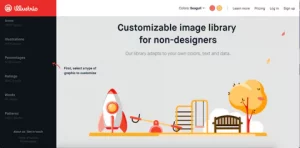 Among the best websites like Canva is Illustrio. This free image designing tool adapts to specific colors of your choice so you can integrate your designs into your website flawlessly. Thousands of graphics, text patterns and templates are available to choose from, making it easy for you to make great looking images with ease. Check out Illustrio right now and create as many drafts as you like. The Illustrio image editing tool has recently turned into an icon library. With hundreds of thousands of free icons for you to explore, you will always love using Illustrio as one of the top sites like Canva for finding free icons online.
100,000+ Icons
Search by Color
Download the Icons in Various Formats
Explore Multiple Variations of Each Icon
Free: Illustrio is 100% free to use