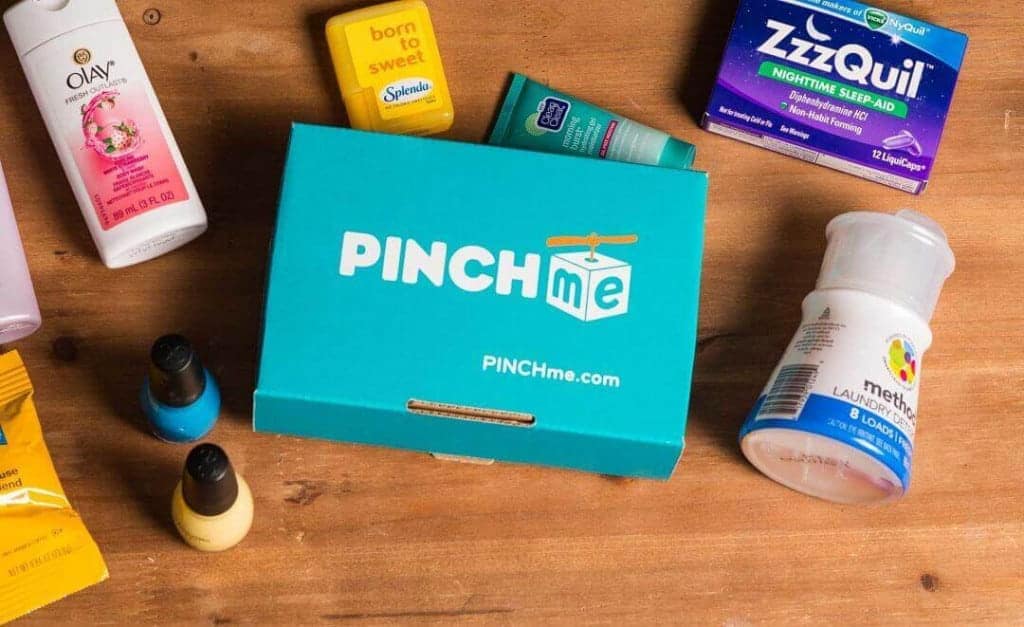 Pinch Me is among the leading places to go if you want to receive free boxes of samples by mail. You sign up on their network and begin filling out short questionnaires in order for Pinch Me to determine what type of products to send you. Once you've filled out a few of their forms and completed various surveys, you will begin receiving boxes of free stuff by mail. You then use the samples around your home and go back to Pinch Me in order to provide your honest feedback.
How to Get Free Stuff Online
The question most people tend to ask is how is this even possible. It must be some sort of scam. How could sites like Pinch Me stay afloat by simply handing out free stuff to random people all day long?
Well, Pinch Me gets paid by the brands who have you test their products. For instance, lets say Kelloggs wants to gather quality unbiased feedback about their new kind of cereal. They would pay websites like Pinch Me to gather quality feedback. They would also provide them with tons of samples to hand out to their testers.
That's where you come in. Pinch Me doesn't pay you for the feedback, so they keep that part, but they do send you the samples, so you get that for free. It's a win-win situation.
Best Free Sample Sites Like Pinch Me
There are tons of quality sites like Pinch Me online that do legitimately send out free boxes of samples by mail. However, there are also a few fraudulent ones as well. Knowing which company to go with isn't going to be a problem for much longer since we have you covered. We've tested over 38 different free sample websites and narrowed it down to just 7. The following 7 websites are the best free sample sites on the internet in our opinion as they provide quality samples and basically no hard work in exchange.
SampleSource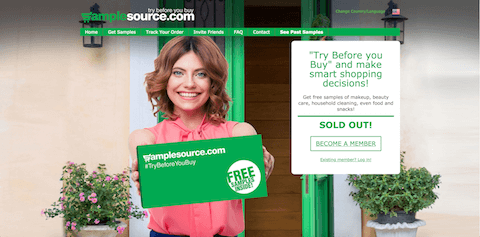 Official Site
Knowing how to get free stuff online isn't always easy. With so many scam artists on the internet, you could easily get fooled into providing personal details such as your address and never end up seeing any samples whatsoever. Fortunately, we came across SampleSource, one of the easier free sample sites you'll ever have the pleasure of using. This platform can be used in multiple areas including USA and Canada. Simply register an account with them and fill out the introductory survey so they can understand your needs and which products to send you. From there, you will receive email notifications when freebies are available. Just sit back and wait for the samples to arrive!
What we like about SampleSource:
Joining and getting set up takes no more than 10 minutes
Get notified by email when new samples are available
Available in USA and in Canada
Get samples from major brands including Nescafe, Uncle Ben's, Purina & more
Shipping of the samples is absolutely free
---
Influenster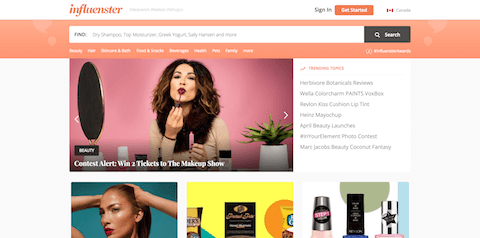 Official Site
Next up on our list of sites like Pinch Me is the very famous Influenster. We love Influenster so much that we created an entire list of Influenster alternatives. Influenster has some of the most legit free samples online. They also have a full review platform for products, because they gather user reviews for the samples sent out, they publish them on their website. Influenster has over 25 million product reviews, 6+ million useful Q&A's and over 4 million registered members contributing to all of this helpful information. So whether you want to get useful facts about random products or even if you want to receive free samples by mail, Influenster is a great alternative to Pinch Me.
What we like about Influenster: 
Over 25 million product reviews to browse
They ship out thousands of sample boxes per month
The free samples are mostly from big brands you already love
Available in numerous countries including USA, Canada, UK and more
---
BzzAgent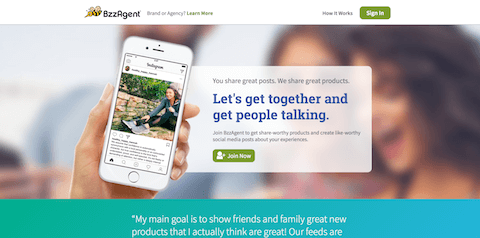 Official Site
BzzAgent is one of the best websites similar to Pinch Me that you will definitely want to check out. BzzAgent can be used via your mobile phone for quick and simple management on the go. The way it works is you must first sign up for a free BzzAgent account. You will then be given a quick questionnaire that will allow you to share your preferences with the BzzAgent team. After filling out the questionnaire, you will get invited to try out various products and the ones you choose will get sent to your home as samples. When using products, BzzAgent asks that you connect to their platform to provide honest reviews of your experience. Don't miss out on our list of sites like BzzAgent.
What we like about BzzAgent:
Get invited to try products for free
Products are tailored to your specific needs and desires
BzzAgent is accessible via mobile phone for ease of use
Read reviews left by others to discover high quality products
---
Tryspree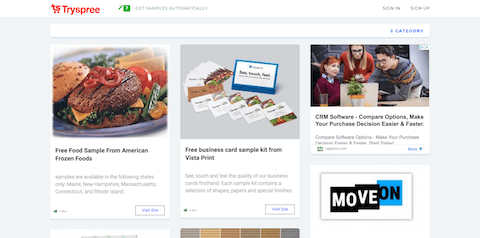 Official Site
Tryspree is a great "wall of offers" type of platform that basically aggregates deals and free samples from all around the internet. This allows you to quickly and easily find all sorts of offers for all sorts of brands. Whether you want to find Dominos coupon codes or even if you want to pay less interest on LendUp loans, Tryspree can help you find what you're looking for. They also have a nice selection of free stuff boxes and free samples, so make sure to come back on a regular basis to explore the newly found deals at Tryspree.
What we like about Tryspree:
It's incredibly easy to find free samples
Numerous brands and product types covered
New deals and samples added weekly
Sign up to automatically receive free offers
---
Totally Free Stuff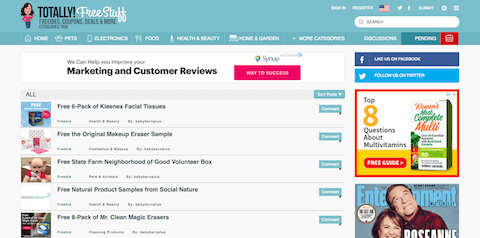 Official Site
There are tons of free sample sites like Pinch Me on the internet, but only a few deal sites have lasted long enough to be trustworthy. Totally Free Stuff is one of the few deal sites to have lasted over two decades. Having been in business since 1998, Totally Free Stuff is among the oldest free sample websites on the internet. They bring you offers from all sorts of products and brands, allowing you to quickly find just about anything. We recommend adding Totally Free Stuff to your bookmarks so you can regularly return to find their newest additions.
What we like about Totally Free Stuff:
Find free products, samples & deals
Totally Free Stuff was founded in 1998
Products available for many niches including electronics, pets & more
Deals for numerous countries including USA & Canada
---
Freefly's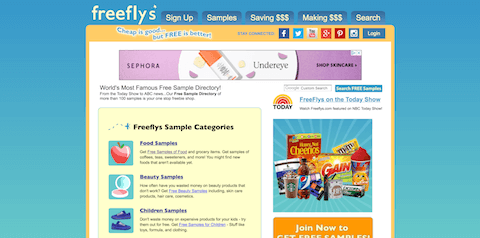 Official Site
Freefly's is a free sample directory, allowing you to quickly and rapidly find free stuff for just about anything. They have had major media coverage including being featured on TV shows such as The Today Show and The Doctors. Freefly's has all sorts of free products for you to explore including samples for kids, food samples, beauty samples and so much more. Take a look at their platform and browse the categories that interest you the most in order to discover hot new products that you can try for free.
What we like about Freefly's:
Featured in major media outlets including The Today Show & The Doctors
Huge directory of free samples
Browse by category to quickly find what you love
100+ active free samples available at all times
---
Freebies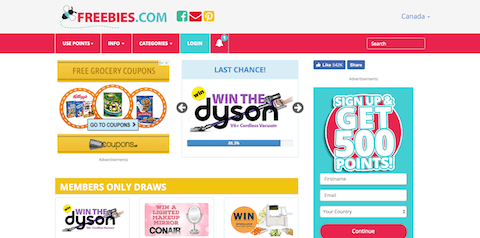 Official Site
A little different when compared to the other sites like Pinch Me listed here, Freebies allows you to easily gather points. You can then redeem your earned points for gift cards, products and all sorts of amazing items. Freebies provides you with 500 free points just by signing up and you can perform other daily tasks in order to accumulate even more points. Daily surveys, website visits, sweepstakes and more allow you to win free products and gather more points which can be redeemed for products at Freebies.
What we like about Freebies:
Get points and redeem them for free stuff
Find all sorts of free sweepstakes to enter
New deals, promos & freebies available to explore every day
Join draws for members only for chances to win all sorts of goodies