ListVerse is one of the sites that pays you to write awesome lists online. Along with being able to get paid to write content, you can also browse their very strange but true stories. Sites like ListVerse are very few on the internet, but we've managed to come up with a list of the most popular websites like ListVerse.
The articles found on ListVerse are written by their community, making the lists ListVerse has truly fun to read and highly addictive. a ListVerse list will typically contain the top ten of just about anything. They cover pretty much all topics including bizarre stories, events from history, popular websites and much more.
Along with being the leading list site online, ListVerse allows you to write list of your choice and you can actually get paid to write. Sites that pay you to write and actually do end up paying are rare. Our sites like ListVerse below actually do pay you. So browse these top list sites below to read awesome articles or to make money writing online.
TopTenz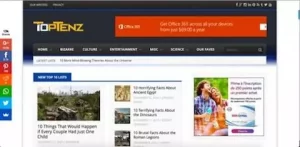 Official Site
TopTenz is a popular site that brings you amazing information that you wouldn't find anywhere else. They like to write list information with 10 facts per list. For instance, the top 10 horrifying facts about ancient Egypt. They cover all sorts of genres including bizarre facts, top list articles from entertainment industries and much more. Browse their list site now and you'll get lost for hours.
---
The Top Tens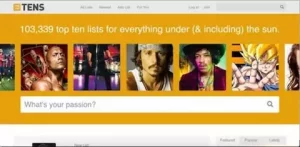 Official Site
Probably one of the best list sites like ListVerse, The Top Tens brings you over 100,000 different lists. They have everything you could possibly imagine including information about celebrities, history, popular websites and much more. As one of the top websites like ListVerse online, The Top Tens has a constantly updated selection, so make sure to come back every day for more entertainment.
---
Oddee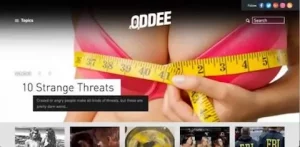 Official Site
Oddee specializes in strange but true stories and really odd facts in general. Whether you're looking for truly bizarre top lists or even if you're into paranormal sites, you won't want to miss out on Oddee. Just like ListVerse, their articles are mostly comprised of top 10 facts listed one after another. While you can't get paid to write here, you will easily spend hours browsing their list site. Oddee is one of the most interesting websites you'll ever visit!
---
Alltop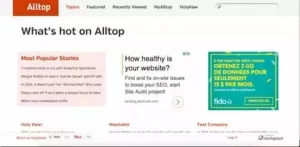 Official Site
Another pretty interesting site to get information from is Alltop. This popular site brings you top articles of all genres including stories that are odd, quick facts that will keep you in awe and jaw-dropping tales. One of the unique things about Alltop is that they source their information from all over the internet. This means you'll find articles from Cracked, Mashable and many other popular site platforms all in one place.
---
PostSecret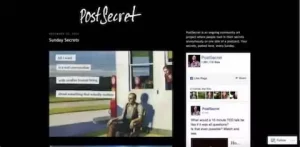 Official Site
While PostSecret is exactly one of the most similar sites like ListVerse online, it will definitely keep you scrolling through the pages for hours. This popular site features actual postcards with secrets written on them that were sent in to Frank (PostSecret's founder). He then lists the postcards with the secrets on PostSecret anonymously for the world to see. It's a great way to see what others truly think and if you love secrets, you won't want to miss a single postcard!
---
Top10HQ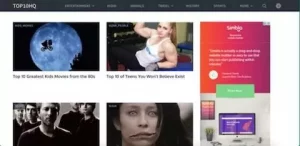 Official Site
Top10HQ will definitely satisfy your boredom with tons of awesome top list articles that will keep you coming back for more. Whether you want to find out what the best 80's movies were or even if you want to read about the weirdest teens in the world, Top10HQ has it all. With their list top platform, you will quickly be able to go from one exclusive article to the next.
---
People of Walmart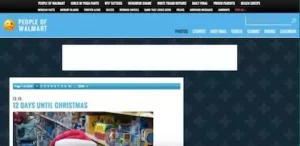 Official Site
It's true – Walmart sees some pretty odd and interesting people every single day. Fortunately, many of them get caught on camera. While People of Walmart isn't one of the best sites like ListVerse, it will definitely get you laughing for hours. Scroll through their lists and you'll stumble upon tons of hilarious photos that were captured in Walmarts across the globe. Definitely one of the most shocking websites you'll ever have the pleasure of browsing!
---
Top 10 List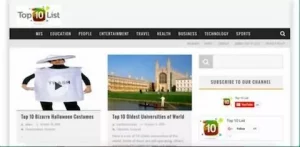 Official Site
Top 10 List is a simple, yet hilarious option when searching for websites like ListVerse. You won't believe how odd and unique the facts are in the top lists that you'll get to read about here. With new articles added daily, you will always get to have your fix of odd and interesting facts online. Browsing their site is enjoyable due to the very few ads and they really put a lot of effort into creating quality content.
---
FactFiend
Official Site
Last but not least is FactFiend. While this top list site reads more like a blog, you'll certainly find the information they share rather interesting and unique. They have tons of funny lists, weird facts, odd articles and strange but true stories. FactFiend specializes in bringing you odd facts in the form of full length articles, so check them out and you won't be disappointed.
---
Check us out on YouTube!