There's always a reason to laugh. This is why iFunny was created, to make you smile every moment of the day. This is an image and writing based joke website aimed at adults. Some stuff can be too sexual or crude for kids. Users can post their own posts and jokes and share them with the world.
iFunny is a great place to unwind and have a good laugh. If you're feeling down and need a smile read a few of the jokes, they're sure to put a smile on your face. You can share the jokes and memes on all your social media sites in a few clicks. Don't forget to download the app to have on of the best funny sites on the go, you might need a good joke during your next party.
Laughing is one of the most important things in life. If you're someone with a good sense of humor and a love for funny pics, gif's, memes, and quotes, you'll love this site. For more great websites like iFunny that will make you want to share each post with your friends, browse our entire list. We dare you not to laugh out loud.
Cheezburger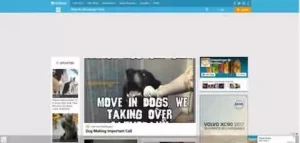 Official Site
Animals always make people smile. Cheezburger is one of the most hilarious websites on our list to enjoy funny animals doing crazy things. In addition to animals, you can see funny pictures of public figures, babies, and spoofs. There's a ton of gifs, pics, and memes to make your day complete and chuckle with joy. You'll never run out of fun things on Cheezburger. Check out the "memebase", "geek universe", and "FAIL Blog" for some extra giggles.
---
Funny or Die
Official Site
Created by funny man himself, Will Ferrell, and his two buddies Adam McKay and Chris Henchy, Funny or Die is one of the funniest websites for people who want to see celebrities and up-and-coming comedians acting like fools. There's also a ton of content from around the world. Funny or Die picks only the best and funniest things to post on their site. They filter out the not-so-funny stuff so you can just enjoy the best. This is one of the top sites like iFunny to laugh and have a good time.
---
Break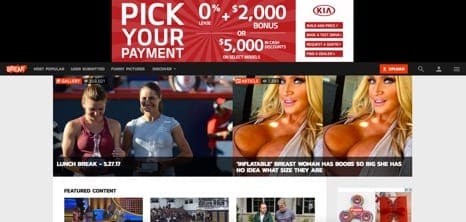 Official Site
Since 1998, Break has been making people laugh. This is another one of the best humor sites on our list of sites like iFunny. Break has a huge collection of comedy videos, flash games, pictures, and more. Each post on their site is aimed to make you smile and want to share with your friends. The most viral posts in the world can be found on Break and the new up-and-coming ones too. This site was created for men aged 18-35 but women will enjoy it too. Click on the link above to see a lot of funny stuff and take a "break" from life.
---
Engrish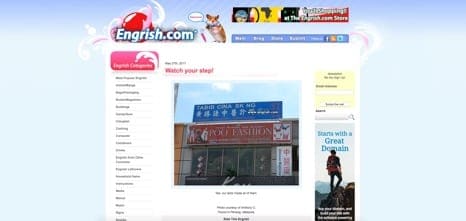 Official Site
If grammar and spelling mistakes make you laugh, you'll love Engrish. This site has notes, billboards, streets signs, and more, that all have errors in their spelling. Sometimes it's unreadable, sometimes it takes an unprecedented turn, and sometimes it just looks hilarious. There's no shame in making English mistakes when it's not your mother tongue but it is hilarious to read when it "fits" with its surroundings. Most of the errors on this website focus on businesses who should know how to spell their name or sign correctly. There's no excuse for most of the errors found on this addition to sites like iFunny.
---
The Onion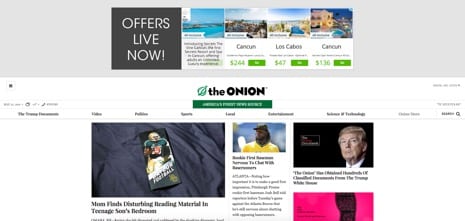 Official Site
When some people think of funny, they think of satires and spoofs. It that's your thing you'll love The Onion. This is an online "newspaper" directed at spoofing all the most popular events and moments that are happening in the world. There's a lot of fun spoof stories, editorials, op-ed pieces and interviews, each one will make you laugh harder than the last. Since The Onion started, it has been a leader of its kind. This is one of the best dark humor sites like iFunny.
---
Damn You Autocorrect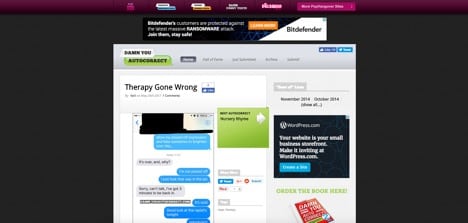 Official Site
Everyone who has a smartphone knows that autocorrect can become a burden when you text. Some people choose to remove it completely while others don't and regret that decision. Damn You Autocorrect is one of the best comedy websites on this list. When you start reading the mistakes you'll realize just how true to real life they are. Conversations between parents and children, couples, and with employers, all gone wrong with a few simple "auto-corrected" words. This website is a delight and a same for those who had to deal with the repercussions. Enjoy Damn You Autocorrect in all its glory.