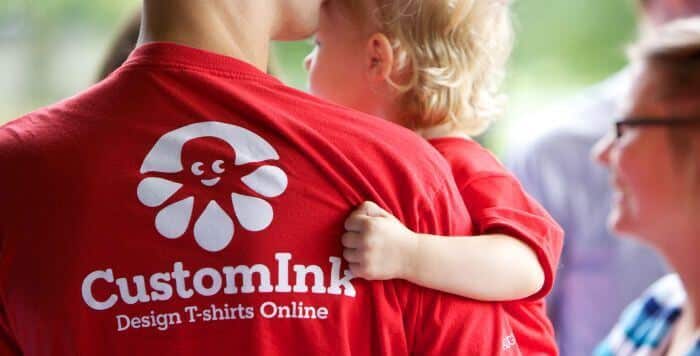 CustomInk is a website where you can design and make your own shirts online. But not only shirts are available; you can create custom hoodies, towels, backpacks, mouse pads, and much more. As one of the best t-shirt maker businesses online, you will rapidly be able to set up your custom designs and have them printed and shipped within moments of opening up their platform.
Using this website to design your own shirt is pretty straightforward. You can either upload your own artwork, or use the website's online graphic design tools to create a custom design. You then apply it to any products you want and send in the order.  It is a great site for when you have family events, business get-togethers, trade shows etc. and want to print your own t shirt.
Many sites like Custom Ink are out there ready to print your art. We put together a list of the best websites like Custom Ink, allowing you to quickly get just about anything custom printed online. With fast shipping, affordable prices and incredibly high print qualities, you will be able to enjoy professional-grade custom prints in no time. Let's check out some of the best Custom Ink competitors below to get started.
Also check out this amazing printables by Distractionaries
Cafepress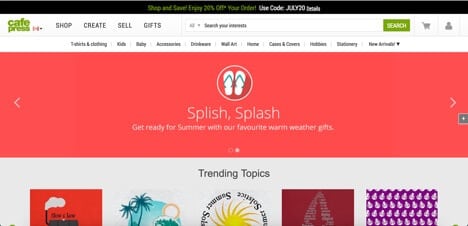 When you are searching for sites like Custom Ink, Cafepress should be one of the first places you check out. It's not just a simple t shirt maker platform – you can add photos, text, or any designs to hundreds of different items. You can even print custom artwork on watches, jewelry and all sorts of metal! Once your design is uploaded, you can create your products and either purchase them, or put them up for sale on the Cafepress website, allowing you to make a source of income from your creations.
---
Zazzle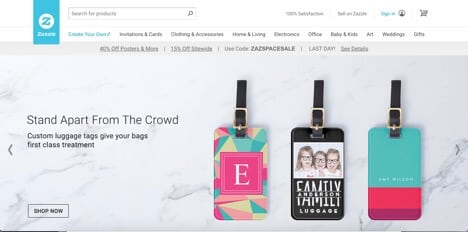 Zazzle is another one of the top rated websites like Custom Ink where you can print your own designs on shirts and other items. There is a huge catalog of products to choose from, although their custom printed phone cases are currently the most popular. Quite similar to CafePress, you can also put your creations up for sale to the community, allowing you to make money from the products you create. Zazzle has incredibly affordable prices and a massive amount of items to discover so check out their platform now to get started.
---
Vistaprint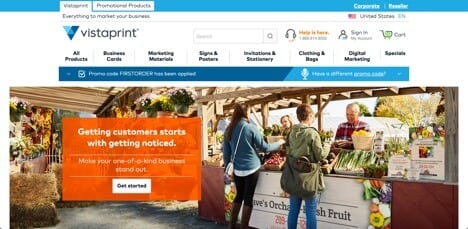 VistaPrint has been one of the leading online print companies for many years now. With the ability to design your own shirt online, print custom business cards, make truly amazing photo frames and so much more, VistaPrint stands out from the crowd. Their low fees and easy to use graphic design tools make it simple for you to quickly put together any type of custom project of your choosing. Whether you want to make unique creations for your family members as gifts or even if you're trying to run a business and want business cards, custom printed t-shirts or any other type of promotional products, VistaPrint is hands-down the best CustomInk alternative available online.
---
Teespring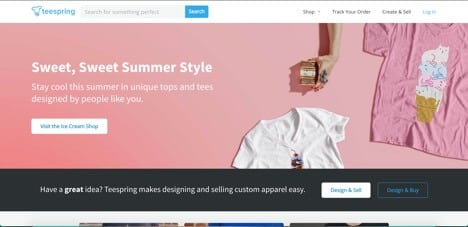 When Teespring launched in 2011 it was just one of many custom shirt design websites available on the internet. You could only print your designs on a few items, mainly t shirts, hoodies and women's tank tops. Today, it has expanded into a giant website that has dozens of products, and they are constantly adding more items to their lineup. It's fair to say that Teespring has officially crossed over to the big leagues and has now become one of the leading websites like Custom Ink on the internet. For example, they recently started printing designs on yoga pants and capris, which have been a huge success and few other custom printing stores online provide this type of product. Explore all of their other unique offerings as well right now!
---
Gearbubble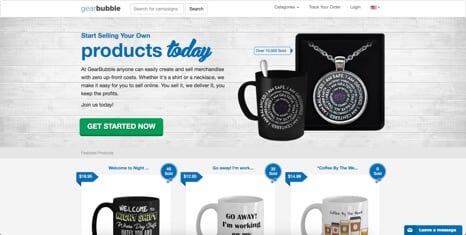 Official Site
Gearbubble is one of the top alternatives to CustomInk online when it comes time to design your own shirt. You can print your own artwork on many clothing items like hoodies, sweatshirts and polos, but also on necklaces, mugs and other household products. The site was launched just a couple of years ago but already has over 500,000 customers on a monthly basis and is quickly becoming one of the best custom printing sites online.
---
Uberprints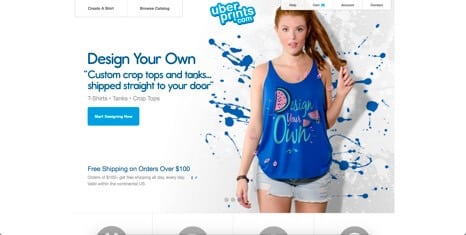 Official Site
Uberprints is another good site to make your own shirt designs online. Their interface is pretty simple, so if you don't want all the bells and whistles that most websites like Custom Ink have and just want to be able to create your shirt in a few clicks, give this one a try. They have a friendly and helpful customer service team so if anything goes wrong they are always there to assist. With hundreds of printable items available and super fast delivery times, you will be holding your custom items in no time. Depending on your location, you should be able to receive most products within a matter of days.
---
Imprint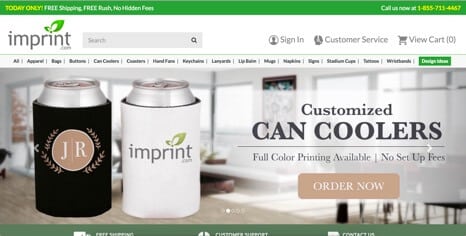 Official Site
Imprint is another excellent option when wanting to print out custom designs online. You can choose from apparel, mugs, pin buttons, can coolers, and much more. One of the hugely popular items on this platform is their customized can coolers, which not only make superb gifts for father's day, but they also make unique products for bars and restaurants as well. Explore the entire Imprint website for tons of awesome products that can be custom printed onto and you'll walk away with tons of new creations in no time.