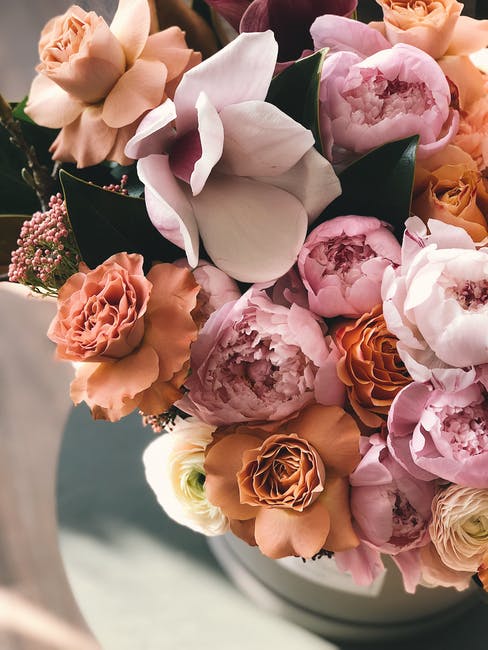 Based on 2020 trends, roses are one of the most popular flowers for special occasions. But that doesn't only include weddings. They were popular for funerals, too.
Would you want funeral flowers on your wedding day? What types of wedding flowers are the best for you? And what kinds of arrangements do you want and how many?
Argh! There is so much you need to know and decide before you can choose the right flowers for a wedding.
Don't worry, this guide will bring you up to speed so you will know exactly what types of flowers you want for your special day.
Different Types of Flower Bouquets
Let's start with bridal bouquets as these are the most important flower arrangements for weddings. There are several types of wedding bouquets to choose from, including:
Nosegay bouquet
Pomander bouquet
Single stem bouquet
Posy bouquet
Round bouquet
Crescent bouquet
Cascading bouquet
Hand-tied bouquet
Asymmetrical bouquet
Pageant bouquet
Composite bouquet
Hoop bouquet
Dried flower bouquet
The sheer amount of choice might seem overwhelming. Lucky for you, most of the bouquet styles are so different that you're bound to have a favorite. 
Nosegay, pomander, and single stem bouquets are simple and understated. These types of wedding flowers are ideal for bridesmaids, flower girls, and elopements. 
The classic types of bouquets are posy, round, crescent, and cascading bouquets. Most of these bouquets consist of many types of flowers to create a full and striking arrangement. The only outlier is the round bouquet which often only consists of one type of flower arranged in a neat circle.
Popular and modern bouquet styles include hand-tied, asymmetrical, and pageant bouquets. These are often more relaxed and rustic-looking bouquets for more casual wedding ceremonies.
Not a fan of popular flowers or bouquet arrangements? Opt for a hoop or dried flower bouquet instead. You can guarantee that few brides will choose one of these daring options. 
Other Types of Wearable Flowers
As well as bouquets, you need to know the other types of wearable flowers you may want at your wedding. These include:
Corsages
Boutonnières
Crowns and other hair flowers
Basket of petals
Boutonnières are the second most important floral arrangement for weddings after bouquets so you don't forget them.
Florists like this store will be able to suggest flowers you may have missed on your order. They've made flowers for hundreds of weddings so ask your florist for their advice!
Types of Floral Wedding Decorations
As well as wearable wedding flowers, you also need to consider what types of wedding flowers you want for decorations. Here are some ideas you can choose from:
Entryway and lobby arrangements
Altar and aisle decorations
Seating arrangement table
Reception table centerpieces
Other table arrangements e.g. cake table
Floral cake decorations
Tossing petals for guests
Flowers for wedding vehicles
Most weddings have floral centerpieces but the rest of the floral arrangements on this list are optional. If you are on a strict budget, you could move the flowers you use for your ceremony to your reception room. One of the benefits of flowers as decorations is that they are easy to move!
Popular Types of Wedding Flowers
Those are the types of wedding flowers and floral arrangements you might need. But what about the different flowers themselves? This is a list of the most popular and classic types you might want to use for your wedding.
Roses
Roses are one of the most popular wedding flowers for a few reasons. They come in a variety of colors, they grow in different seasons, and they are quite affordable in comparison to others. Plus, they look beautiful and have a strong, sweet fragrance.
One thing you might not know about roses is that there are two main varieties: standard and garden. Standard roses are the most prolific kind that you'll have seen many times before. Garden roses have more petals so they look fuller and more striking which is perfect for wedding bouquets.
Peonies
Peonies are an up-and-coming wedding flower staple. But you should think twice before you use them as the "hero" flower in your wedding arrangements.
They are very seasonal meaning they're often only available in the height of summer. This makes peonies one of the most expensive types of wedding flowers. 
Dahlias
Planning a fall wedding? Consider including dahlias in your bouquet and arrangements. They come in soft creams, pinks, and reds which are colors that many choose for their wedding theme.
Ranunculuses
Ranun- what? Yes, it's a difficult flower to pronounce but not difficult to fall in love with. Ranunculuses are an ideal wedding flower because people often mistake them for peonies but they are more affordable.
They have a high petal count which makes them more robust. Plus, like roses, they are available in many hues.
Hydrangeas
Hydrangeas at a wedding scream class and opulence. These flowers are like tiny, fluffy clouds on a stem. They are available in blue, pink, green, and white and are perfect as hero flowers or filler flowers.
Lilies of the Valley
There are so many different kinds of lilies out there but some are too delicate to be wedding flowers. Plus, some of them leave stains on your fingers! But lilies of the valley are delicate flowers perfect for spring weddings.
You can use them by themselves for an understated, elegant bouquet or mix them with others.
Carnations
Most people wouldn't use carnations as their main wedding flower, but they are a fantastic filler flower option. They are available in a huge range of colors, they are inexpensive, and their petals are robust. But don't use them in your boutonnières as it may look like your wedding party is going to perform magic!
Which Types of Wedding Flowers Will Make Your Big Day Bloom?
There are so many different types of wedding flowers and arrangements to choose from. It's 100% up to you which ones you think will compliment your special day. Now you know your options, you'll find it much easier to make a decision.
So, you've ticked "buying wedding flowers" off your to-do list. You likely need help with the 101 other things on your list too. Browse our lifestyle articles for more wedding ideas and advice!