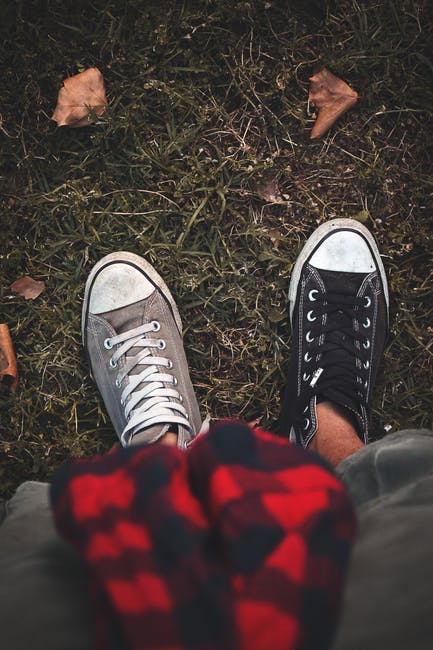 There are two reasons to wear mismatched sneakers—form and function.
In fact, wearing mismatched shoes has a long and well-respected history in both the fashion world and the world of sports. Remember Kalda's mismatched sandals from the 2020 Paris fashion week? What about LeBron's mismatched sneakers in September of the same year?
Mismatched shoes didn't use to be this big a decade ago. Still, what started as a faux pas by Kareena Kapoor Khan in 2001 has turned into a legitimate and wildly popular trend. 
So, how do you wear the right soles on your soles?
Tips For Wearing Mismatched Sneakers as A Statement
Hopping on the mismatched shoes trend is a great way to engage in self-expression. Still, if you want to be a street fashion icon, there are a couple, general rules you should follow to look your best. 
Wear Different Colors of the Same Shoe
If you look at most examples of models, celebrities, and other fashion influencers, they usually wear two different shoes to add a pop of color into their outfits.
If you have a two-toned look in the works (black & white, tan & charcoal, etc…), choose one sneaker of each color. That way, your outfit works all the way down. 
Choose Your Sneakers for the Story
Sneakers with a story are cool; that's all there is to it. If you wear an original Chuck Taylor alongside a newer, different converse sneaker, you're not just wearing two different shoes. You're telling the history of the brand. That's how you make a statement. 
Yeezys are a great candidate for the mismatched sneaker trend as well. If you've never looked into the history of Yeezys, you should. Wearing the history of Yeezys on your feet might be the best, mismatched sneaker choice we can offer. 
We can see another great example in 2017 when Kyrie Erving and North Carolina's entire basketball team chose to wear mismatched white and black shoes to drive home a plea for equality. 
Tips For Wearing Mismatched Sneakers for Their Functionality
Several sports icons are known for wearing mismatched shoes on their feet for the competitive advantage that the different shoes give them. 
A great example of this is the Argentina National Team soccer star Erik "el Coco" Lamela. Lamela likes to wear a leather Adidas on one foot and a non-leather Adidas on the other.
According to Lamela, the different shoe materials help him handle the ball exactly like he wants to. The leather provides better grip, and the non-leather shoe is a little slipperier. 
The same happens across sporting events with different Adidas, Reeboks, and Nike mismatched sneakers. If you feel the need to switch up your footwear to improve your game, think about what you want to do and optimize your footwear to accomplish your goals. 
Style is About Pushing Boundaries
Regardless of whether you wear your clothes for form or function, you should wear them to push yourself forward. So, take this as a sign to put on that outfit you're not sure you can pull off or to buy those extra-grippy court shoes. 
Finally, be conscious of how you wear your shoes, and you'll be turning heads all day long. 
For more great info about anything and everything you would like to know, check out the rest of our site. We're sure to have some other tidbit to tickle your fancy. 
Now, go out and rock those mismatched sneakers.