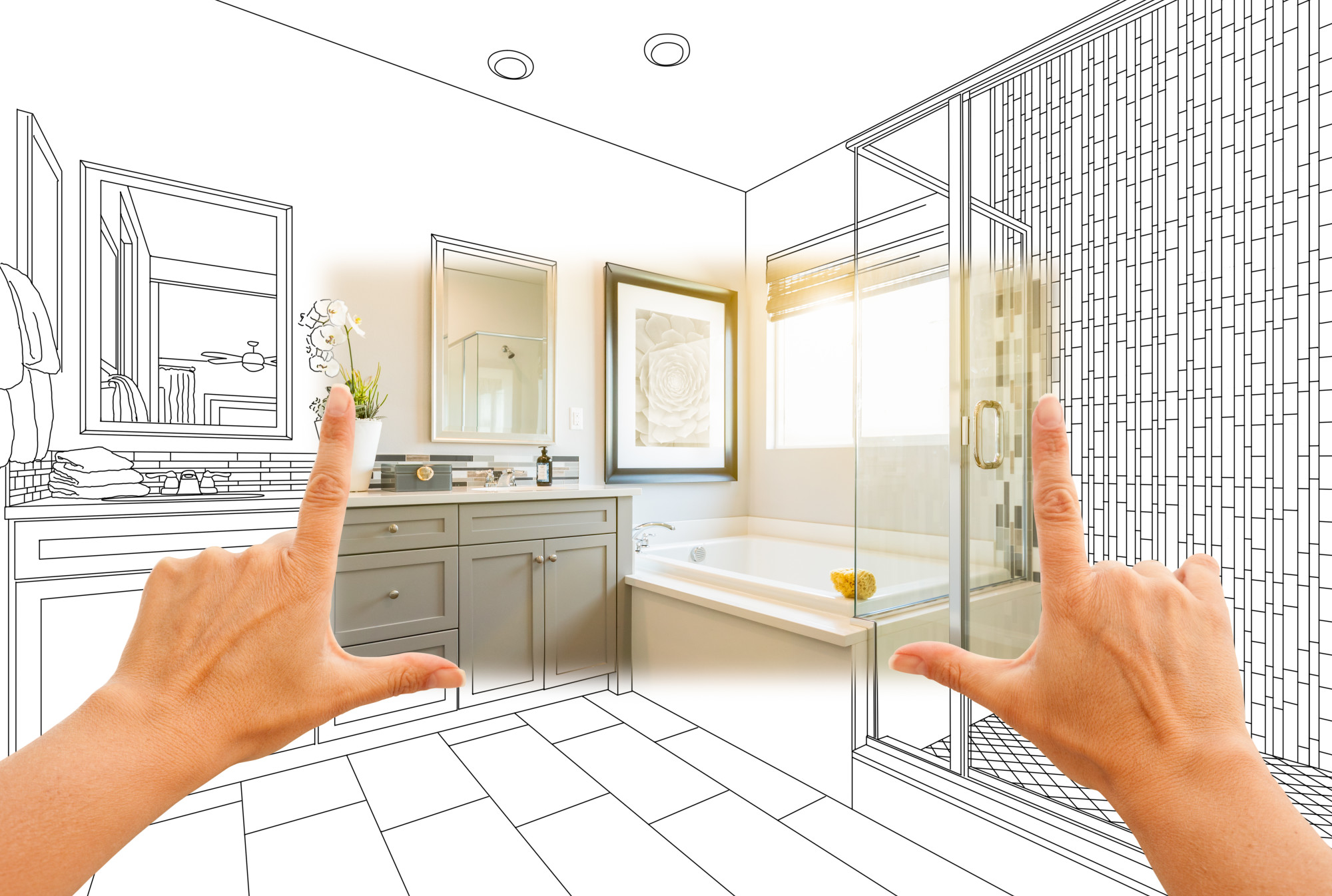 A home's bathroom is one of the biggest selling points. One of the first things homebuyers look for is a newly renovated kitchen and bathroom. If you're wanting to renovate to sell your house, then you can expect your bathroom renovation to be a great investment.
If you're wanting to renovate to make your house feel more like your home, then it's still a great investment for you. You're going to love waking up each morning and getting ready for the day in your new bathroom! This is why you need bathroom remodel ideas on a budget!
Bathroom remodels are beneficial in several ways but can be quite costly as well. Don't let the cost of remodeling a bathroom stop you from designing the bathroom of your dreams. Continue reading below for several bathroom-remodel ideas that you can do while on a budget!
1. Paint Cabinets and Install New Hardware
Old and outdated cabinets can make your bathroom and kitchen seem worn. Your first reaction might be to have your cabinets replaced. Replacing your cabinets is a great way to bring life into your bathroom, but it's an expensive task to complete. 
Instead of replacing old cabinets, paint them! A fresh cost of paint is all it takes to make old cabinets appear brand new. You should also consider installing new hardware as well. 
Hardware becomes outdated over time as well and if you're painting your cabinets, you should complement the new paint with new hardware. Whichever hardware you select, be sure to keep the same theme across the entire bathroom. This includes light fixtures, shower/bathtub hardware, doorknobs, and more. 
Don't be afraid to step outside the box either. Choose hardware pieces that are unique but stylish! 
2. Refinish Bathtubs Rather Than Replace Them
Your cabinets aren't the only items inside your bathroom that can be made to look new by refinishing them. Your bathtub can also be refinished rather than replaced. When your main issue with your bathtub or shower is a cosmetic issue, then replacing the entire tub or shower shouldn't be on your mind.
Yellowing and cracks and nicks can all be corrected with the refinishing process. Don't, however, get the refinishing process confused with a shower or bathtub liner. Liners are a temporary fix and won't look as good as a newly refinished tub or shower.
3. Install a New Sink and Faucet
When you can't afford to replace your entire vanity, you can choose to install a new sink and faucet instead. Find a sink that fits your vanity top so you don't have to make any alterations. Take your time and find a sink that's unique but fits your theme.
If you want to save even more money, then install a new faucet but keep your old sink. Installing a new faucet on your sink might be all your sink needs to appear new again! When selecting the right faucet for your sink, remember to find one that complements your cabinets' hardware. 
4. Purchase Discount Granite Countertops
Granite countertops are a popular feature in newly renovated bathrooms and kitchens. As amazing as granite countertops are, they're not the cheapest type of countertop to install. You can purchase discount granite countertops, which will save you money without taking from the bathroom design. 
Try to find some in colors other than neutral. Neutral colors are more expensive because they go with more designs so more people want them. If you can find a granite countertop with vibrant colors in it that'll go well with your bathroom design, then you're already saving a few bucks.
Granite countertops with scratches or other types of damages on them come at a discounted price as well. Remember, your bathroom sink is going to take up a large amount of space, so if the damage is in an area where your sink will be, then it's going to get cut out anyway!
5. Update All Fixtures
Updating all fixtures in your bathroom will make almost everything look brand new without having to go above and beyond to replace everything. You've already updated the cabinet hardware and the sink faucet. Now it's time to update your light fixtures, towel racks, shower and bathtub faucets, and anything else you can think of.
Replacing old fixtures with new ones is simple but worth it. Also, keep in mind that updating doesn't always mean new from the store. Sometimes, updating means new to you.  
Get creative and find unique ways to update your fixtures. For example, you can take an old plumbing pipe and turn it into a towel rack for a more industrial look, and with the help of TigerFish Tools, cutting pipes to use as fixtures is easy!
As long as there's a consistent flow with all of your fixtures, your bathroom will come together nicely. 
6. Redo Your Grout and Caulk
Another simple remodel task that's also inexpensive to complete is redoing your grout and caulk. You might not even realize how made your grout and caulk is until you decide to redo it. Freshening up both your grout and caulk can make a big difference in your bathroom.
It makes your bathroom seem brighter and your tiles and shower or bathtub seem newer. Grout and caulk are both inexpensive, and you won't regret taking the time and effort to redo them. 
You Need to Try These Bathroom Remodel Ideas on a Budget!
If it's time to remodel your home's bathroom but you need to find ways to save money, then you need to try these bathroom remodel ideas on a budget! These few ideas will save you money while helping you completely transform your bathroom!
Interested in more topics similar to this post? Be sure to check back with us on a regular basis for more!