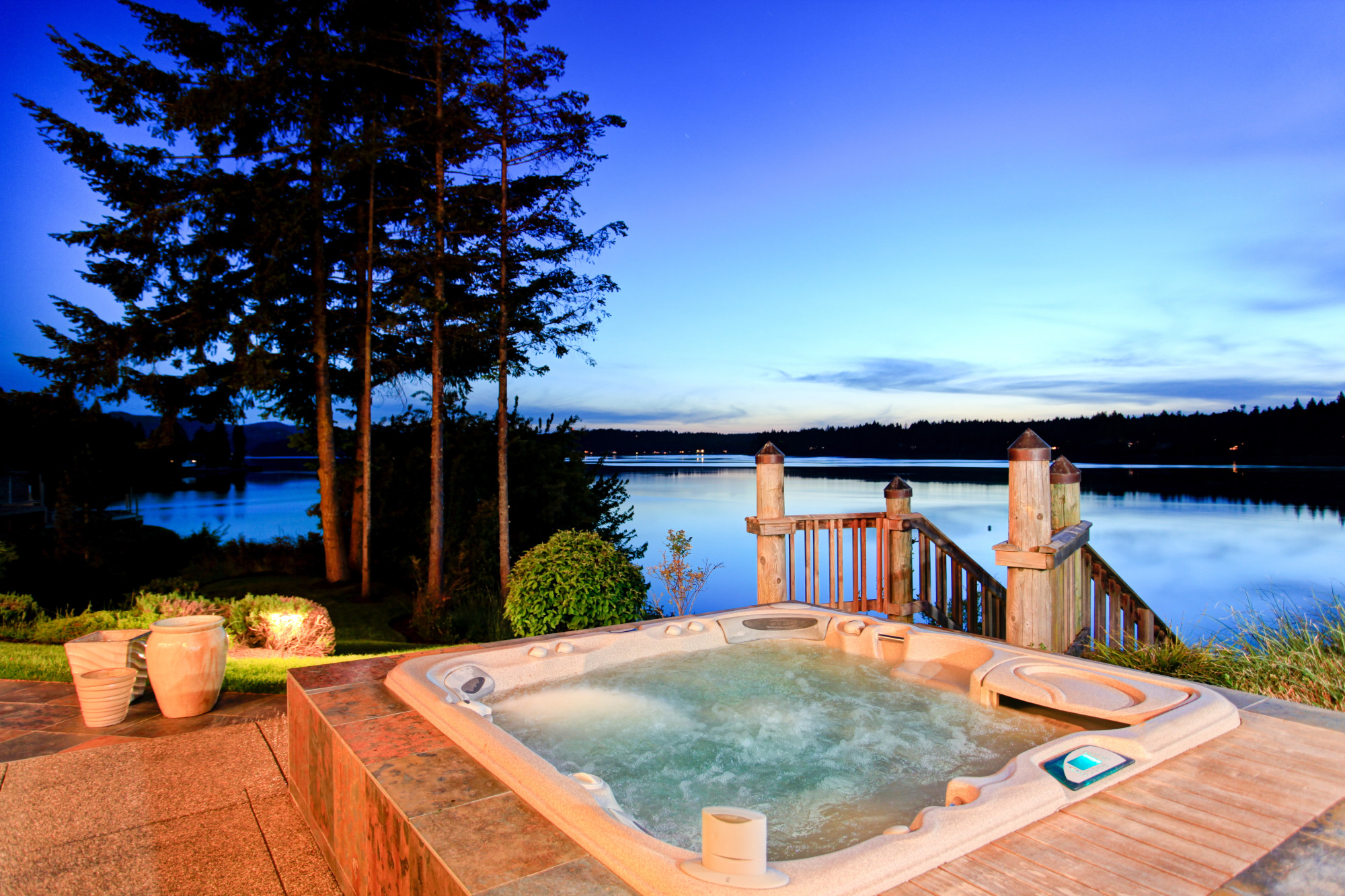 Experts estimate that around 6 million people, or 4.6% of US households, own a hot tub. If you'd like to be a part of that number, you're not alone. Hot tubs let you enjoy a personal spa in your backyard, and are perfect for sore muscles and relaxation. 
Yet, when you're in the market to get a hot tub, there are some different factors you should consider to help you make the right purchasing decision.
Keep reading to learn about 10 tips that'll help you choose the best hot tub for you.
1. Check Your Budget 
As with any large purchase, a hot tub is not cheap to buy. Going in with a budget will ensure that don't spend more than you planned on.
Try to find a balance between luxury and practicality. Remember that a hot tub is a purchase you're meant to enjoy. If you feel you can enjoy the most basic model, then there's nothing wrong with going with that. But if you want a model with a waterfall,  a built-in TV, and flashing lights and it's in your budget, go for it. 
2. Consider the Size
Before you begin looking at different models, make sure you have a clear idea of where you're going to put your hot tub.
Once you decide on a location, you'll then be able to consider the size. Understand that bigger is not necessarily better; smaller models can provide you with all the same benefits. But by figuring out how many people will be using it, you'll then have a better idea of how many seats the hot tub should have. 
Sometimes, you may change your mind as to where you want to put your hot tub. Check out this link if you're wondering how to move a hot tub. 
3. What Will You Use It For?
For most people, hot tubs are peaceful and romantic places where they can sit and unwind after a long day. But this isn't the only type available.
Today, many people use hot tubs for low-impact exercise or physical therapy. The shape of the tub is longer and resembles an aquatic version of a treadmill. You'll also have to choose between above-ground and in-ground models. 
4. Make Sure It's Comfortable 
When you're shopping for hot tubs, it can be hard to get a sense of how comfortable the model is if it isn't filled with water.
If possible, you should always first try a hot tub while it's operating and filled with water. Try out each seat, and see how it feels to float around. This will give you a better sense of what you can expect if you own it, as well as if it's the right tub for you.
5. Decide on the Number of Jets 
As with many things in life, understand that more doesn't mean better. Don't be tempted into buying the model with the most jets.
Although jets are great and can help give you a massage, too many jets will require more maintenance and upkeep. You'll also experience decreased water pressure, which in turn requires a larger motor. This is why hot tubs with more jets have higher energy bills each month. 
6. How Will You Keep it Clean?
Just like with a pool, you'll have to choose between different filtration and purification systems when shopping for a hot tub.
Different systems come with different advantages. Chlorine is the most straightforward, but some people prefer bromine, which is longer lasting. You can also look into using an Ozonator, which improves the performance of whichever chemical you use. 
7. Ready to Lounge? 
Hot tub models not only offer different numbers of seats, but also different types. Consider which type you'll want.
Lounge seating can be great and comfortable, as it provides your entire body with a jet massage. Yet it can also take up more space. If fewer people will be using the hot tub, it can be a good idea to install a few loungers. 
8. Which Cover?
Make sure that whichever hot tub model you choose comes with a cover. This should be a non-negotiable.
Heat rises, and the cover will help it stay in the tub, keeping your energy bills down. The cover will also stop the elements from affecting the system. Don't trust a company that says their cover is part of a special sale.
9. Lights, Stereos, and Other Features 
You'll have a lot of add-ons to choose from when shopping for hot tubs. Although they may seem unnecessary, they can also be fun.
Built-in lights can be great for ambiance. Instead of using a porch light, flip on the hot tub light and look up at the stars. Stereos are also convenient, as they prevent you from needing to bring a separate speaker outside with you each time. 
10. Choose a Store to Buy From
When deciding on where your hot tub will come from, remember that it's a big and expensive purchase. Don't forget to do research beforehand.
Don't be drawn to signs that say "sale" or close-out". Odds are that they're regular prices. Decide on whether you'll be buying from a store or online dealer. Regardless of what you decide on, read reviews, and if possible, talk to past customers who've bought a hot tub from there. 
Find the Best Hot Tub for You
When looking at buying a hot tub, it can be easy to feel overwhelmed with the diversity of choices on the market. Yet by following this guide, you'll be certain to find the best hot tub that'll give you exactly what you want.
Do you have any other suggestions on the best hot tubs to buy? Let us know!
For more guides and tips, don't forget to check out some of our other articles.