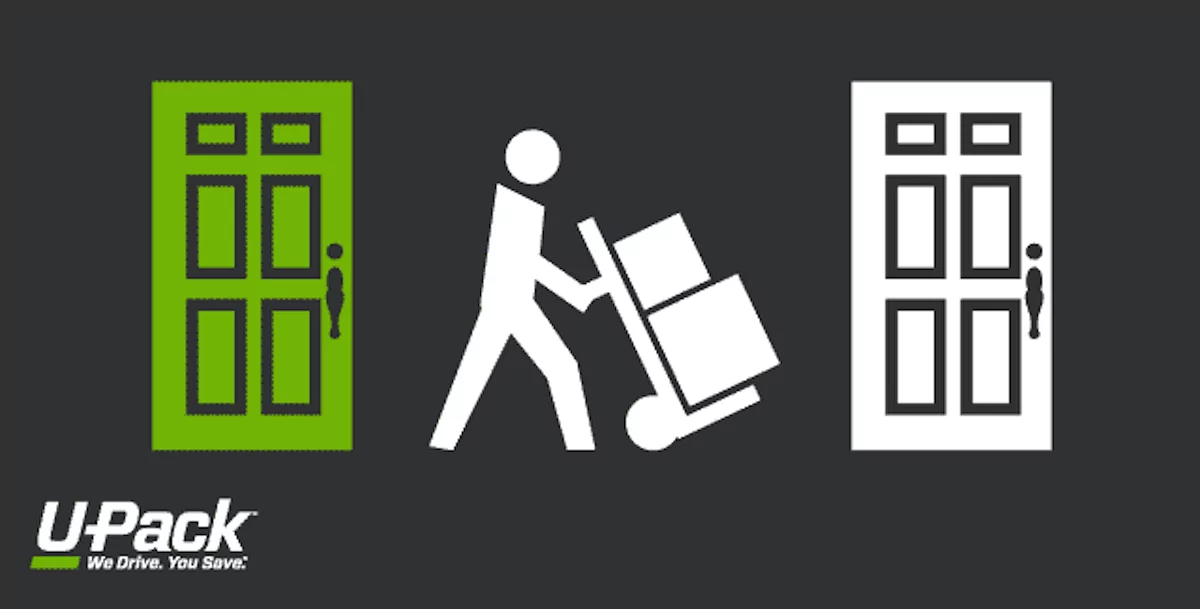 UPack Overview
UPack is a quick and convenient way for people to move from one house to another. They have been in business since 1997 and have gathered many positive reviews. Their main slogan goes a little like this "You Pack It, We Move It".
So what does UPack do exactly? 
Simply put, UPack will deliver a moving pod to your home. You then take a few days and fill it up with everything that you need to move to another location. Once the storage pod is filled, you call UPack and they will send a driver to pick up your moving pod and deliver it to the new location. You then take another few days to empty the moving pod at the new location and have UPack pick up the empty pod once you're done.
Why Search for UPack Alternatives?
While there are many reasons to choose UPack, there will be times when you may need to search for an alternative option. Whether there are no UPack locations near you, all the pods are currently in use or even if you want to search for an even better deal on moving pods, we've got you covered. Our list of sites like UPack will help you compare the best moving services online so you can get the best deals and the best features. Explore the list now and make sure to leave a comment to suggest any other websites like UPack.
U-Haul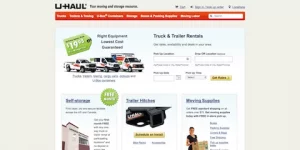 Official Site
U-Haul is a leader when it comes to moving house, making it a necessary addition to this list of sites like UPack. Having been in business since 1945, they are also among the oldest moving companies still standing. With thousands of locations all across North America, you will easily be able to find U-Haul locations in the USA and in Canada near you. They provide all sorts of moving solutions including truck rentals, trailer rentals, self-storage units and much more. However, what makes them a great UPack alternative is their U-Box service, which are small portable storage containers that get delivered to your house empty. You fill up the containers and U-Haul delivers them wherever you want.
U-Box containers can be delivered to new address or stored at a local warehouse.
Each U-Box holds roughly 1 and a half rooms worth of items.
Only pay for the U-Boxes that you use (order more to be on the safe side).
Rent U-Boxes by the month when using them as storage containers.
Truck rentals, trailer rentals, pick-up truck rentals & van rentals also available.
BigSteelBox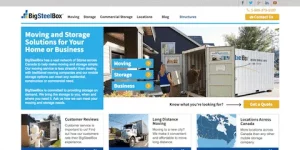 Official Site
When searching for the best moving container companies online, BigSteelBox is one of the first options worth considering. They have numerous locations throughout Canada allowing you to quickly find a location near you. BigSteelBox has a great deal of options when it comes to choosing a moving pod size. Whether you need a 8′ moving pod or even a 40′ storage container, they have it all. However, what truly differentiates them from competitors like UPack is their all-steel construction, which provides more support and the ability to handle larger loads. If you're looking for heavy-duty moving containers, BigSteelBox is easily the better option.
All-steel construction moving containers
Wind & water proof containers
10,000 lbs load capacity (20′ containers)
8′, 10′, 20′ and 40′ storage container sizes available
Delivered to the location of your choice
Moving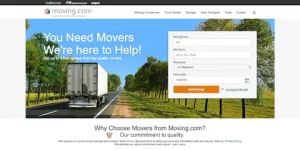 Official Site
While Moving.com does not specialize directly in storage pods similar to websites like UPack, they do excel at providing you with assistance for local and long-distance moves. Moving is a platform that aggregates information from various sources in order to help you find the best deals and prices for local moving companies. Enter a few minor details such as the size of your house, the locations you are moving to and from as well as your desired move date and they will quickly provide you with a few quotes. Moving.com can compare prices for various services including storage containers, local movers, long-distance moving companies and much more. If you're searching for sites like UPack that can compare prices in order to get you the best deal, Moving.com is one of the top contenders.
Get free quotes from up to 4 local companies
Compare prices for local movers, international movers & speciality item movers
Storage containers & moving pods available
Get quotes for moving labor for packing & unpacking
Numerous moving tools, calculators & moving guides
1-800-Pack-Rat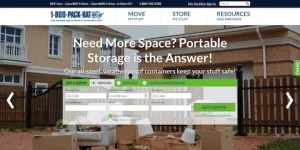 Official Site
1-800-Pack-Rat will deliver a steel storage container to your home. You can then pack it up on your own or hire a professional. Once it's full, 1-800-Pack-Rat will deliver the container to your desired location. The moving containers provided are 100% waterproof, ensuring that your stuff will remain dry at all times. Along with a highly durable exterior, their containers are safe and provide a superior experience when moving house. 1-800-Pack-Rat provides a full service including the delivery of the empty containers, the delivery of the full containers and even the ability to provide storage for your filled containers in case you aren't quite ready to unload. They also have a professional labor page, which allows you to get a free quote on extra hands for unloading the container once it arrives at your new destination.
100% waterproof & highly secure frame
Pack & unpack at your own pace
Professional labor available upon request
Short-term & long-term storage options available
Containers are larger than most of the other companies like UPack
Pods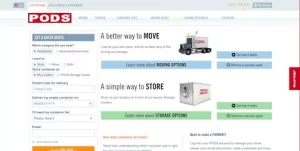 Official Site
Pods is another one of the excellent sites like UPack that allows you to receive a moving container delivered to your home and then delivered to your new address without having to drive it yourself. If driving a big truck is something you want to avoid, Pods makes it a stress-free experience. They have various container sizes available, allowing you to fit all of your belongings in as few containers as possible. If required, you can even choose to rent additional containers. Pods also has a labor referral feature, which helps you find local labor to pack and unpack the containers if you want a 100% hands-off moving experience. Founded in 1998, Pods has been a leader for over two decades, making them a reliable alternative to UPack.
You get 30 days to loan and unpack the storage pod.
Get a free online quote.
Sturdy all-weather construction keeps your belongings safe.
Their patented PODZILLA lift system keeps the container level at all times.
Moving containers are available in 7-foot, 12-foot and 16-foot sizes
Smartbox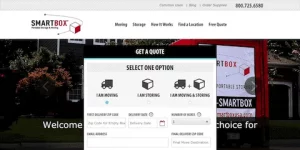 Official Site
Whether you're moving house or even if you're renovating your home and need some extra storage space, SmartBox is a great option. They have portable storage units that can easily be transported from one location to another. While they only have one container size available, SmartBox allows you to order additional containers and you only get charged for the ones you use. Any unused containers will be sent back to the local warehouse at no additional cost. However, one of the only downsides of SmartBox is that you need to call them once you are ready to load, which is unlike other companies similar to UPack, which allow you to take several days to load their containers.
Containers are 8-feet long by 7-feet tall by 5-feet wide.
Call or fill out their online form for a free quote.
Only pay for the containers you use.
Military discounts are available.
Local and long-distance moving options available.
Zippy Shell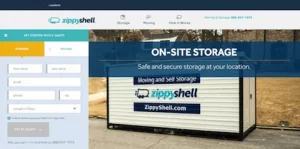 Official Site
Zippy Shell is a moving leader that offers a variety of features such as truck rentals, storage units and even moving containers. Their containers are weatherproof and made from secure metal, providing you with peace at mind that your belongings will remain safe and dry at all times. If you want a truly stress-free move, Zippy Shell also offers packing, loading and unloading labor. Zippy Shell containers can be parallel parked on the street, making it the ideal solution for city moves without driveways. No need to worry, their containers are street-legal, so you won't have to worry about them being towed. If you're looking for the best sites like UPack for moving house, Zippy Shell is definitely among the best of them.
Long-distance moves get 30 days of free storage
Containers can be parallel parked on the street.
10-foot and 15-foot containers available
Waterproof all-metal construction
Affordable prices – Get a free quote online