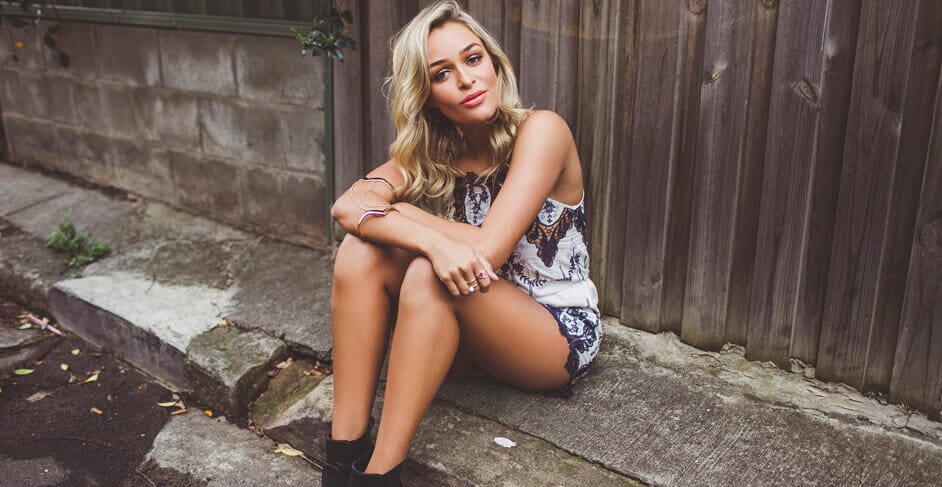 Australians have cool laid back looks, with amazing fashion sense. Now, you can own their styles even though you don't live near Bondi Beach. This list is chock-full of Australian online shopping sites, and most of the stores are very affordable. We found inspiration to make this list when visiting the Hello Molly platform, which truly impressed us with unique styles for women and a catered selection that could be shipped worldwide.
Hello Molly is a mix of urban comfort and sexy style that will look amazing on younger women between the age of 18 to 30. This site has clothes that can show off your assets without looking like they've been painted on. The Hello Molly fashion line uses cute patterns, flowing materials, and symmetrical cuts to keep everything looking perfect, without looking like you tried too hard. This Australian shop knows exactly what all women truly desire out of current fashion without making you look like you're a die-hard trend follower.
Most of the items found on this site average about $60 AUD. Orders over $50 qualify for free shipping and most orders, even internationally, ship within 3 days. Don't forget to stock up on their cool accessories and shoes too. If you love the look and feel of the clothing found on this site, you will also adore these other Australian stores like Hello Molly listed underneath.
Tiger Mist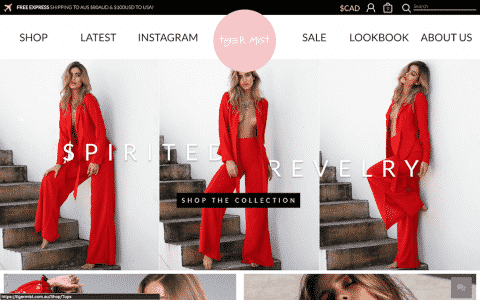 Official Site
Tiger Mist is one of the best Australian boutiques like Hello Molly. This site sells hot tops, bottoms, and dresses. You can also find super sexy streetwear on this site. Tiger Mist offers free shipping for Australians on orders over $80 and free shipping internationally on orders over $100. If you want to look amazing and show off your curves, check out this site called Tiger Mist.
---
Esther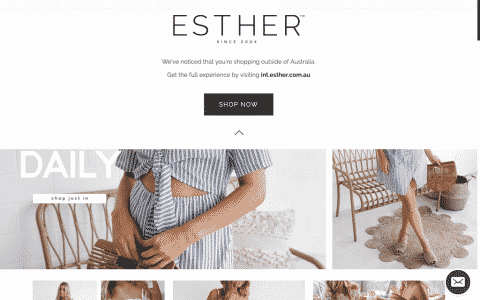 Official Site
Esther must belong on our list of stores like Hello Molly. Esther has everything from two piece sets to ultra comfortable sweaters. This online store always follows the latest trends and you'll want to buy everything they have. Esther is one of the top cute online boutiques on our list and the best thing about this Australian shop, each purchase donates $1 to the charity of your choice.
---
Mura Boutique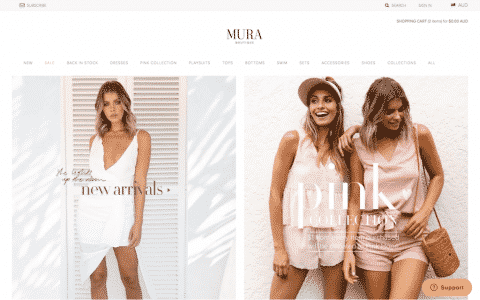 Official Site
This is one of the best dress shops on our list and a great website to find adorable rompers. Mura Boutique has the perfect outfit you're searching for, for brunch or a night out with the girls. This alternative to Hello Molly has daring necklines and conservative dress lengths. There's something for every women on Mura Boutique and new discounts and deals can be found with each visit to their website.
---
Xenia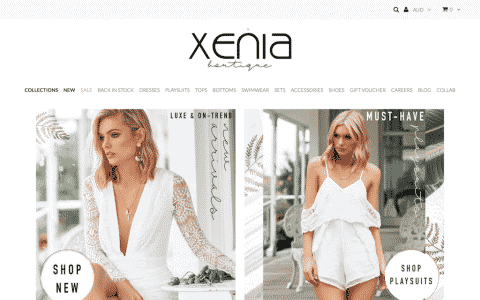 Official Site
Xenia is a great addition to our list of stores like Hello Molly. This Australian online shop really stands out when it comes to fashion. Xenia has a ton of vibrant colors and patterns to choose from. Every piece from this collection is to die for. Save up to 60% on their clothing with the codes found on the Xenia homepage and visit their Instagram account to win a $50 gift card for their store each week.
---
Sabo Skirt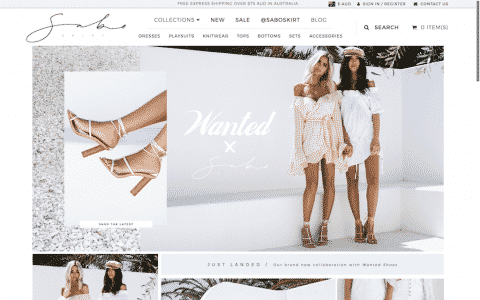 Official Site
If you love boho styles, you'll love Sabo Skirt. This site gives off a traditional Australian beach babe feeling with each piece they sell. Sabo Skirt loves feminine vibes, soft silks, and pastel hues. Orders in Australia are free if your cart comes to more than $75 and international shipping starts at around $10 on any size order. Along with having truly affordable prices on some of the sexiest clothing in all of of Australia, Sabo Skirt has one of the very impressive platforms that you won't be forgetting any time soon. One quick visit on their online shop and you'll be spending hours browsing sexy look-books, cute outfits and unique fashion that stand out from the ordinary. 
---
Decadence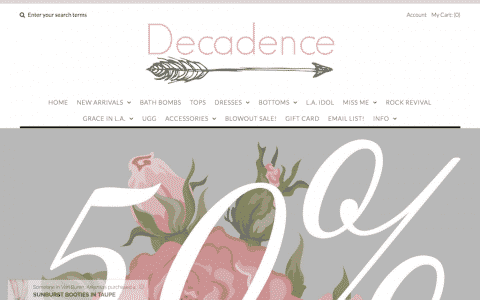 Official Site
Decadence means indulgence in pleasure or luxury, and this online shop found among stores like Hello Molly really sells their name. Decadence is Australia's largest growing boutique, for good reason. This site sells name brands like Rock Revival, La Idol, Grace, and Ugg for up to 75% off. Add more savings with the coupon codes found on their homepage. Bookmark Decadence, you'll want to visit it often.