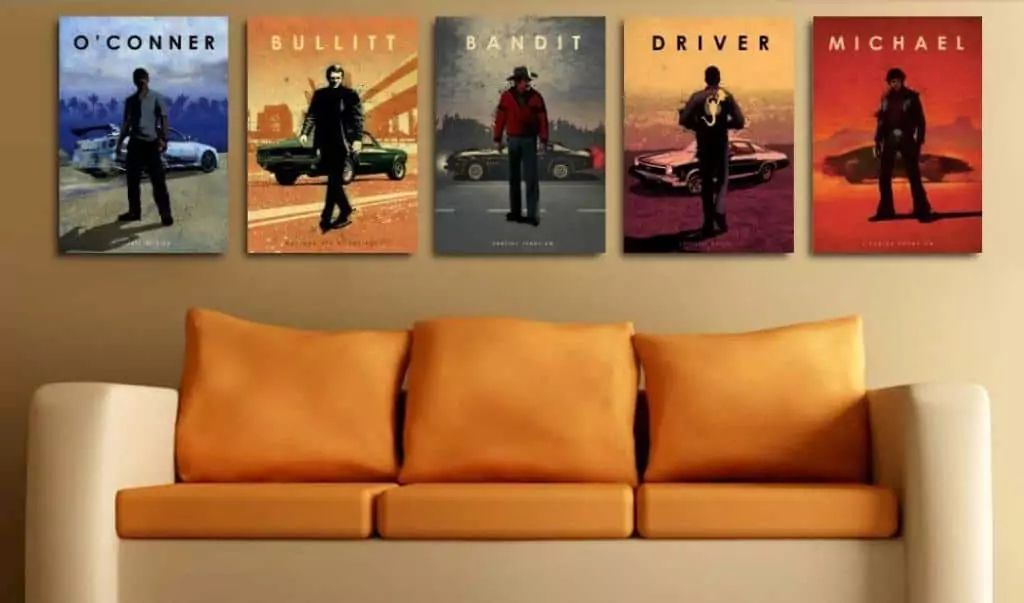 Displate Review
Displate is one of the few wall art companies to deliver quality prints on metal. If you've never heard of them before, you should head on over to their website immediately. Their collection of over 50,000 original designs is absolutely mind-blowing. The cool thing about Displate prints is that the artwork is all exclusive to their platform, so you won't be able to find it anywhere else. Over 3,000 artists work hard to deliver new artwork on a regular basis.
Browse the artwork on Displate by category or check out the work of your favorite artists. While the in-house designs certainly set Displate apart from their competitors, it's the finish of the metal prints that truly takes the win. When receiving your order, it comes packages in a visually stunning box that is actually all ready to be gifted. However, you'll probably want to keep these collector pieces for yourself. Hooking them up on a wall is also incredibly simple – just grab the included magnet, peel off the back, stick it to the wall and place the Displate artwork on it.
Displate Features & Pricing
One of the reasons you may want to search for other sites like Displate is due to the high price tags on these beautiful creations. While the high quality giclée print is impressive and the thick metal plate is very durable, some may find the pricing to be a little steep.
The following are the average prices for the available sizes.
Small – $29
Medium – $44
Large – $89
X-Large – $149
One thing to keep in mind is that these packages arrive from Europe, so you should expect to pay duty fees. Fortunately, you get free shipping when ordering 3 or more of their metal prints.
Here is a brief overview of their additional products:
Multiplate: These are essentially numerous Displates that are placed beside one another to create a single image.
Black Box: A box containing 10 pocket size (10x14cm) prints from various collections.
Pixplate: A box of 10 custom metal prints of your own photos with styling perks.
Overall, Displate is a unique place to buy artwork for around your home or even as gifts. Finding more sites like Displate was a true pleasure and we're sure that if you enjoy shopping from Displate, you'll also have a great time browsing these Displate alternatives.
Fine Art America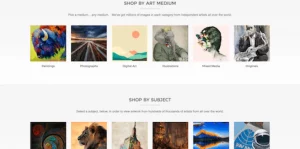 Official Site
Fine Art America is one of the best places to visit if you're looking for Displate alternatives. They bring you all sorts of cool wall art that you can display on a variety of materials. Metal, acrylic, framed and canvas, from HD prints to 3D creations, Fine Art America has it all. Along with having a variety of materials available to print on, Fine Art America brings you thousands of artwork designs to choose from. All of their art is curated by designers from all over, making it rather similar to Displate. They even have products such as custom shower curtains, smart phone cases, throw pillows and more. If you're a fan of Displate, you won't want to miss out on Fine Art America.
Features:
Metal prints, acrylic prints, canvas prints & more
Print on shower curtains, throw pillows, phone cases & more
They have 14 global production facilities running 24 hours per day
Over 500,000 independent artists sell on Fine Art America
Founded in 2006
---
Mixtiles
Official Site
Displate metal prints are unique and that's what most people enjoy – the fact that there's nothing exactly like it anywhere else. Well, the same can be said about Mixtiles. These awesome prints are created from your phone, using your photos. The creations arrive in 8″ by 8″ squares that have a sticky back. The great thing about these Mixtiles is that you can easily place them on the wall, unstick them and re-stick them elsewhere without ever damaging the prints or your walls. You can download their app right now for Android & iOS to instantly begin printing your super unique Mixtiles.
Features:
They are 8″ x 8″ large and about 1″ thick
They stick and unstick without damaging your walls
Shipping is always free
Packages arrive within 5 days
Available on iOS and Android
---
Origrami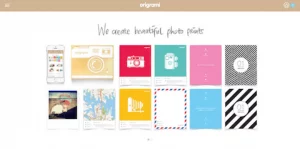 Official Site
One of the most unique ways to print your photos online is via the Origrami app. Based out of Sydney Australia, Origrami is a quick and simple way to make your prints outstanding. You can choose from all sorts of designs, choose from a variety of themes and really make them stand out from the crowd. Along with being able to choose from a variety of design templates, you will also be able to grab your photos from various sources including Dropbox, Facebook, Instagram and more. Explore Origrami now to discover one of the most amusing ways to print your images online.
Features:
Free worldwide shipping
6 different border colors to choose from
Upload directly from your phone or choose from your social media accounts
Arrives in beautiful tin packages
---
Bay Photo Lab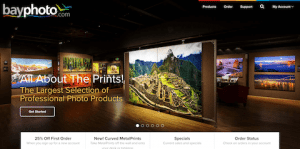 Official Site
Bay Photo Lab is one of the great places worthy of being discovered online. If you enjoy printing your photos or even if you want to print posters on a variety of materials, they can make it happen. Bay Photo is recognized for having some of the most unique varieties available including their curved metal prints, their wooden box prints and so much more. Whether you want to print booklets, magazines, calendars or even magnets, they can make it happen. Browse their dozens of printing options and you'll absolutely fall in love with Bay Photo Lab as one of the top rated sites like Displate online.
Features:
Curved metal prints
Print on metal, acrylic, wood and so much more
40+ years in business
International shipping is available
---
Postagram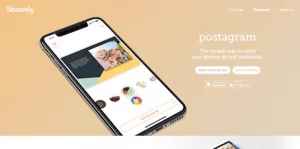 Official Site
Do Displate reviews have you sold, but you're looking for something with your own images instead? Postagram is a great solution. Offered by the Sincerely group, Postagram lets you upload your own images and quickly send them to anywhere in the world as postcards. Upload photos from your Instagram account, your Facebook or even your phone's camera roll. Then simply customize them with colors of your choice, various templates and more to really make them unique. Add a quick little message, add the address you wish to send the postcard to and your done!
Features:
Send postcards to USA, Canada, Europe and more
Customize the postcards with different colors, themes and unique messages
Available on Android & iOS
Send thank you cards, invitations and more
---
Best Canvas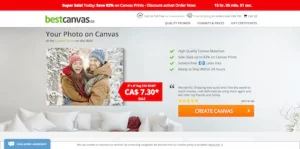 Official Site
Last but not least, Best Canvas is a Canadian based printing service that allows you to print just about any image on high quality canvases. The unique thing about them is their pricing structure. You will never see another canvas printing service online with such amazingly low prices. Best Canvas lets you save as much as 85% off when printing on canvases through their platform and their process is super simple. Upload the images you want to print, choose the border type and thickness, then wait for them to arrive in the mail.
Features:
Free shipping with orders over $150
Pay via PayPal
A huge selection of border types and canvas thicknesses
High quality finish
Lowest prices in the industry
---
Canvas World Prints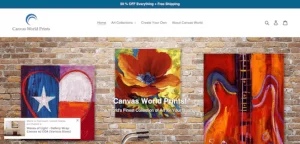 Official Site
Canvas World Prints is one of the great places to purchase wall art on the internet. With a huge selection of wall art ranging in a large variety of genres, you will absolutely love shopping for your home decor at Canvas World Prints. The quality of their prints is out of this world, allowing you to display high quality art work in your home without having to overspend. Canvas World Prints won't disappoint, so head on over there now to take a look!