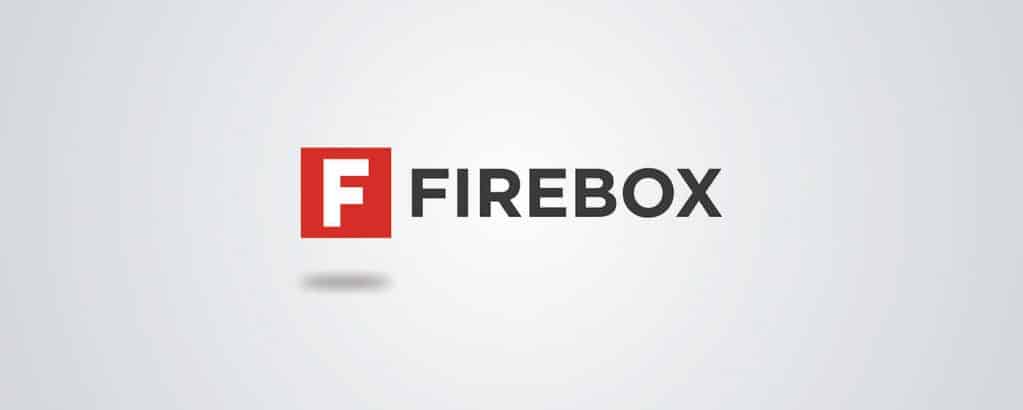 Gifts and gadgets go together like peanut butter and jelly. If you give a cool gadget as a gift you're sure to get a smile in return. One of the best unique gift stores is called Firebox. This site is a mixture of eclectic, exclusive, and tech. Some of the categories you can choose from include food, art, books, home, toys, pop culture, and oddities. If you want to stay ahead of the trends, browse the newest gadgets for something unique and amazing.
Firebox makes life less dull with its quirky, bizarre, inspirational, and fun items. This website travels the world to find only the best for their site. Firebox believes that just because we get older each day, that doesn't mean we have to stop playing and having fun. Depending on the weight of your package, your shipping cost will range from about $3 to $20, even internationally. Returns are free and you can add a personalized message if you send a package as a gift.
This online retailer is one of the top unique gift sites on the web but Firebox isn't for everyone. Their products are abstract and obscure, only the most original and exciting products get added to their site. If you're someone who wants something more traditional, we've searched the web to find more sites like Firebox that have a large selection of gift and gadget ideas for you.
ThinkGeek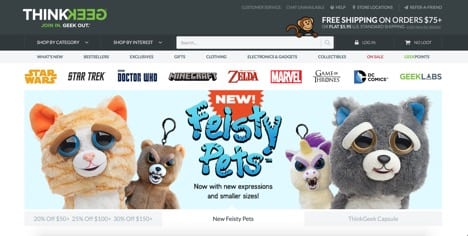 Official Site
Embrace your geekiness will all the cool things on this site. If you love Star Wars, Minecraft, Harry Potter, Marvel, or Game of Thrones, you'll love the novelties found on ThinkGeek. There's a ton of t-shirts, mugs, jewelry, gifts, and gadgets, on this addition to shops like Firebox. Most of the items on this site are discounted up to 80% and all orders over $75 qualify for free shipping within the United States. Get your geek on with ThinkGeek.
---
GiantMicrobes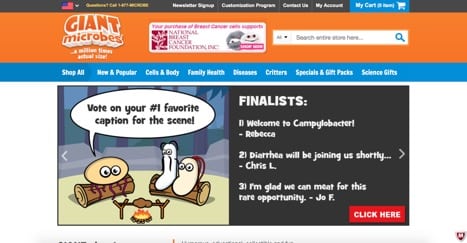 Official Site
GiantMicrobes has a kind of gift that will be cherished forever. This is definitely one of the most unique gift sites like Firebox on our list. Giant Microbes sells plush toys in the shape of a virus or germ. They are actual representations of the infection with tags that explain everything about the disease. Give your child chicken pox, or your boss the flu, why not confuse your wife by giving her chlamydia? Have fun and be creative when choosing from the large selection of soft and cuddly viruses. This could be the perfect pick-me-up for anyone fighting something life-threatening. New "bugs" are added each week.
---
Nuku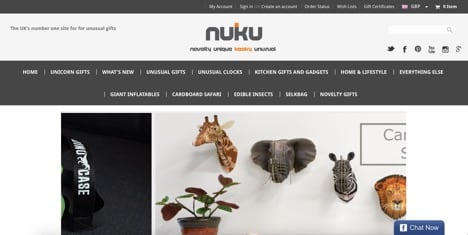 Official Site
Nuku must be added to our list of websites like Firebox. This site has a ton of unusual, and not so unusual, gift ideas for you to pick from. They also have a few items that are really weird, so weird in fact that you'll ask yourself "WTF is that?". Discovering unusual gift ideas on Nuku is fun, getting to play with them when they arrive is even better. Shipping is very competitive and all your orders will arrive within 15 days, even international ones. This means you won't have to wait long to play with your new gadget, novelty item, or toy.
---
I Want One Of Those (IWOOT)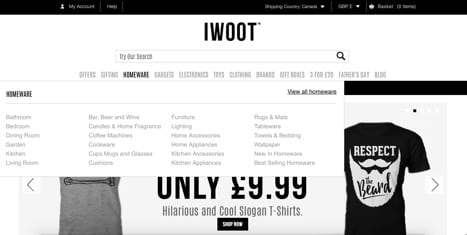 Official Site
I Want One of Those is a great addition to our list of shops like Firebox. Each new page you'll view on this site will make you scream "I want one of those". Order "Nothing" for someone who has everything, retro vinyl coasters, or a Star Wars BB-8 construction kit. Your choices are unlimited on this site, there's always something new to discover. IWOOT has low everyday prices, recurring deals, and free shipping on most of their products. There's nothing better than IWOOT for cool gadgets, and interesting gifts.
---
Perpetual Kid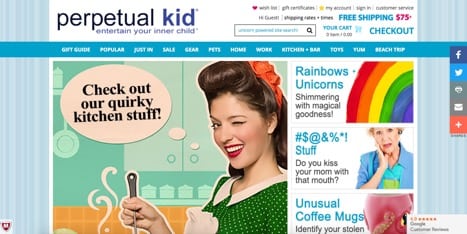 Official Site
Perpetual Kid is a website dedicated to entertaining your inner child. This is one of the best Firebox alternatives for anyone who loves whimsical and quirky things. Buy a pink flamingo wine glass set, a pack of kitten bandages, or pizza float for summer days in a pool. Perpetual Kid is awesome for anyone who takes life less seriously. Shipping on all orders over $75 are free and the prices are so low that with each gift you buy, you can pick up something for yourself too.
---
Gizmine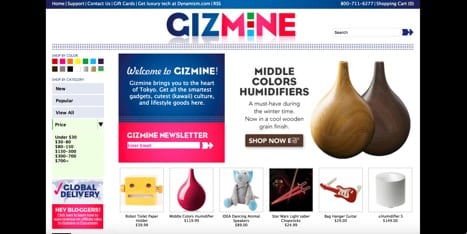 Official Site
Founded in the heart of Tokyo, Gizmine has a massive selection of gizmos and gadgets for you to pick from. This online superstore must be added to our list of stores like Firebox. Every single thing you can find on this website is out of the ordinary, awesome, and affordable. Some of the strange products on this site include rubber sushi USB keys, light saber chopsticks, and dancing animal speakers. If you like weird Japanese gadgets, you'll love Gizmine.