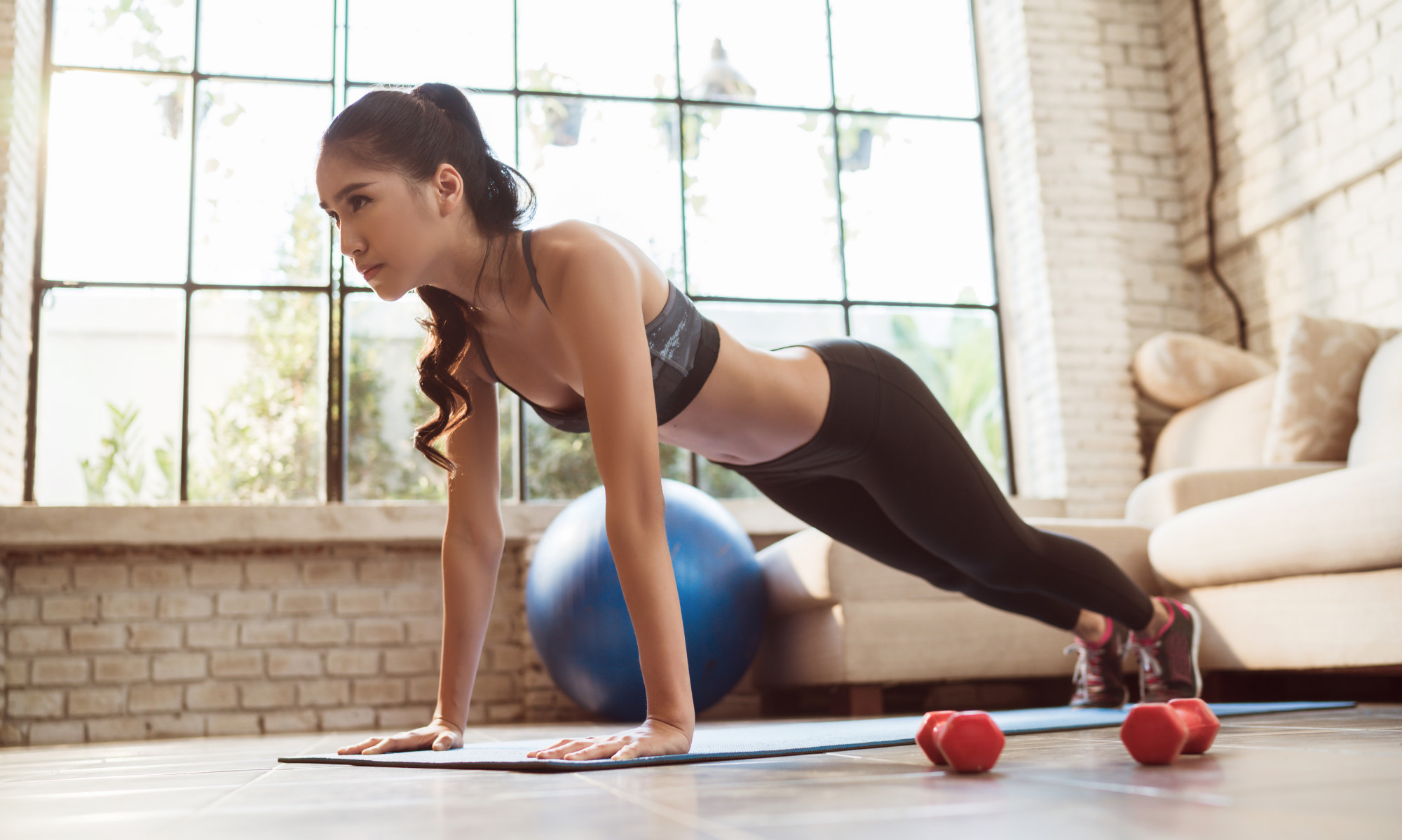 Even before 2020, there were more than five million people who were working from home most of the time. But does working from home mean we have more time to keep up with our fitness routines?
Our current situation has forced many of us to avoid gyms and find other ways to work out. The thing is, you might have found the perfect work out in a group or with certain equipment and now are not sure what you can do from home to stay active.
There's a way to stay fit while staying safe at home. Here are eight great home exercise tips that you need to be healthy and active.
1. No Equipment Necessary
You loved using the cable machines at the gym. You and your gym buddy would spot each other when lifting heavy weights.
You can still challenge your muscles and see gains without a lot of equipment. Search for body weight exercise routines to learn how to use your own weight to work out.
The great thing about this is you can do this anywhere and modify it to your level. For example, beginners can do pushups on their knees and more advanced people can try one handed pushups.
2. Improvise Equipment
Still want to lift some weights? Dumbbells might be hard to come by since everyone has been snapping them up in stores to work out from home.
If you can't find the right equipment for home exercises, you can improvise. For example, fill some milk jugs with sand to create weights.
Use towels as resistance bands or fill a tote bag with books. Check out what's worked for other people and make your own home gym equipment.
3. Try Something New
Doing the same squats, curls, and lunges day after day can get boring. Have you ever wanted to try something new but were afraid?
Now's a great time to experiment and even find a new fitness routine you'll love. Try something different than usual in the privacy and comfort of your own home and see how you like it.
Try a beginners ballet class and see if the balance and small muscle movements are more challenging than you thought. See if you like lifting heavy weights instead of your usual Pilates routine.
The important thing is to be safe and have fun. Don't worry about what others think and get out of your comfort zone.
4. Take it Outside
Being outdoors is one of the best ways to exercise. You get the benefits of fresh air, sunshine, a change of scenery, and more.
There are plenty of ways to exercise while outside. Try yoga in the park, jogging around your neighborhood, or even meet up with friends for a long walk in your local nature trail.
You can make your exercise outdoors as challenging or as easy as you'd like. Use a fitness tracker from Mobile Mob to track your distance, heart rate, and more to ensure you're getting the most out of your exercise.
Even if you don't have a huge backyard or a nearby park to go to, just doing a few reps in the sunshine will do wonders for your health. Go out on a balcony and do a few gentle yoga stretches to get the blood flowing.
5. Online Courses
Missing your local gym's exercise classes? Doing yoga on your own without guidance is fine, but if you prefer to have an instructor guide you through the movements, there are online courses you can sign up for.
There are free exercise channels on YouTube for everything from body weight exercises, to Pilates and more. You're sure to find something that meets your needs.
It's important to listen to your body since you won't actually have an instructor present to correct mistakes in form. If something hurts, don't push yourself too hard.
6. Friendly Challenges
Our gym buddies help us stay on track and hold us accountable when we start slipping. We lift each other up and remind ourselves of our fitness goals.
Just because everyone is at home doesn't mean you need to miss out on each other's support. Link up online and create challenges, like how many pushups can you do or how long can you hold a balance position, to keep the good vibes going.
7. HIIT it
Just because you're working from home these days doesn't always mean that you have a lot of extra time. New responsibilities might be eating into your usual fitness routine.
Try incorporating HIIT, or high intensity interval training, into your home workout plan. HIIT means that you push yourself to your maximum for a short burst, then rest, then repeat a few times to get the most out of a small amount of time.
8. Compound Exercise Interest
There's another way to get a lot done without the intensity of a HIIT exercise. Compound exercise movements hit multiple muscle groups at once and get your heart rate up.
For example, while doing a split lunch, you can do a bicep curl or shoulder press to work both your lower and upper body at the same time. It's the fitness equivalent of killing two birds with one stone.
You'll work out more major muscle groups in a short amount of time. The important thing about this technique is that it requires a bit of coordination and focus on maintaining good form for two moves at once.
More Great Home Exercise Tips
We know that you're feeling inspired and energized, ready to find your new home workout routine. Just because you're within four walls doesn't mean you have to let your fitness go.
Out of all of our home exercise tips, remember this one: take yourself seriously. Whether your goal is to break your last weight lifting record, run a shorter mile, or just get 15 minutes of movement a day, stick to it and remember this is for your health.
Looking for more ways to improve your fitness or searching for a new work out to try? Check out our other health articles for more great information!