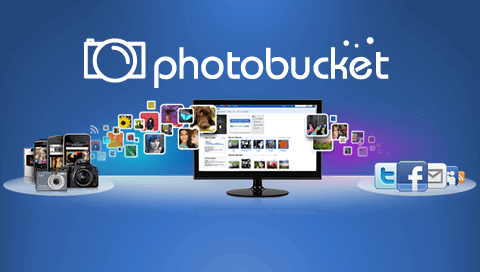 Photobucket is one of the most popular video and picture storage sites. It has over 100 million registered members, and over 10 billion images are hosted by their service.
Although it offers a free membership plan where all you need to do is sign up, this will only give you 2GB of hosting space. If you require more, there are many paid plans available, starting at 20GB of disk space and all the way up to 500GB.
When you upload a photo at Photobucket, you can easily edit it with the free tools available in your account. Cropping, resizing, improving contrast and brightness, and even adding stickers and frames are all possible. Once you are done, all it takes is a click of a button to send your image's link to all your friends. Online photo sharing couldn't be easier.
There are many other websites like Photobucket where you can host your pics and images. Let's take a look at some of the best ones.
Imgur
Official Site
If you are a regular Reddit.com visitor, you probably know about Imgur. Their images are used not only on Reddit but on many of the most popular websites across the world. That's because it's one of the free photo hosting sites that is actually free. There are no hidden fees, using this site is 100% free and you can host images, create memes, or convert your videos to an animated GIF format. On their homepage you'll have quick access to the most popular pictures of the day, and some of them  are just hilarious.
---
back to menu ↑
imgbb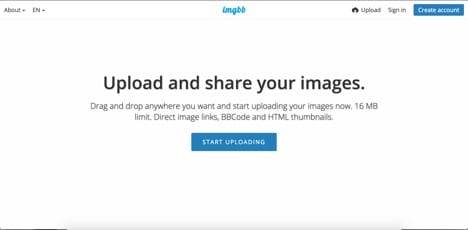 Official Site
If you manage an online forum, imgbb is one of those Photo saving websites that can help your visitors. It is like many other Photo storage websites where you upload a pic and share it, but it also has an image upload mod that enables your forum users to upload images. This is great if they are not tech savvy or don't know how to use the [img] bbcode, and can be utilized on most forum software packages, like MyBB or SMF.
---
back to menu ↑
Flickr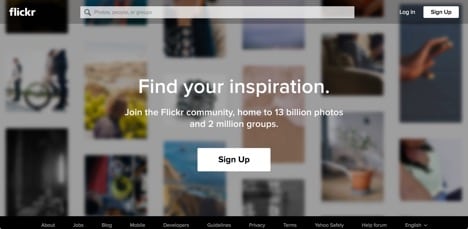 Official Site
Among all the sites like Photobucket, most professional photographers prefer Flickr. If you need a trusted and reliable site, this is the one. Of course, being owned by Yahoo! might also help give users peace of mind that they are not dealing with some site that will close down the next day. Flickr offers free membership plans, but if you upgrade you can get rid of ads and have access to more storage space.
---
back to menu ↑
500px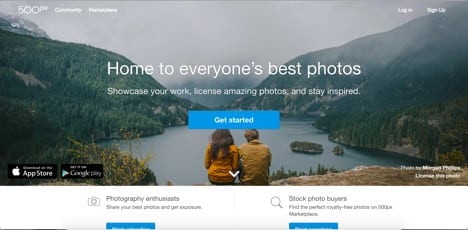 Official Site
Unlike other sites like Photobucket, at 500px you can't directly share your photos with family or friends, but it is one of the best Picture storage sites for photography enthusiasts who want to showcase their work. You can use the service to host your photos, but the most used section is the marketplace, where any uploaded photo can be offered for sale.
---
back to menu ↑
Free Image Hosting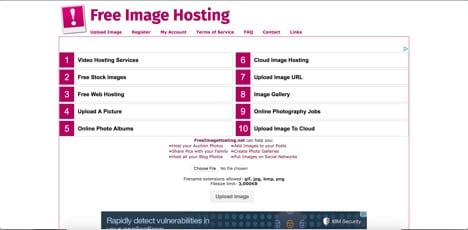 Official Site
It might not have a trendy design like most sites like Photobucket, but this website offers exactly what its name says.  You don't even need to create an account; just choose your pick, click on the Upload Image button, and a few seconds later you get an HTML code to post the pic on your website. You can also upload animated gifs, and everything you upload will be stored on the site forever.
---
back to menu ↑
TinyPic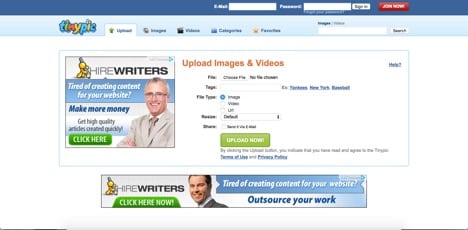 Official Site
At this site you don't need an account to upload a pic. Online photo sharing here is pretty straightforward, and videos can be shared too. One useful feature is that you can select the size the pic should have after it is uploaded. This is perfect for using images as forum avatars, or to resize a big photo before you share it via email.
---
back to menu ↑
ImageShack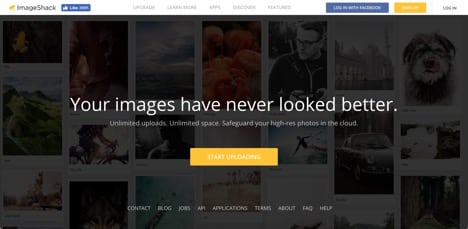 Official Site
Not many of the sites like Photobucket have been around for a long time. Some pop up, have a short life and disappear after a few months. ImageShack, however, has been online for over 13 years. They were first a free photo hosting site but turned to a paid subscription model not long ago. If you're a heavy user, they have bandwidth plans that can give you up to 4TB per month.