WestElm is a wonderful place to shop for modern furniture. On this site, you can find awesome deals with price cuts up to 70%. If you love a modern look you can find everything you need for your entire home at WestElm.
This store also offers many at home services such as installation and home design. For a small fee they will assemble your new item or mount your tv and with their design service, a team of consultants will work hard to maximize your space and make it beautiful.
WestElm is definitely one of the best online furniture stores available. If you like the style and design concepts found on this great site then you'll adore these other stores like WestElm. All feature a modern design with affordable prices.
Pier 1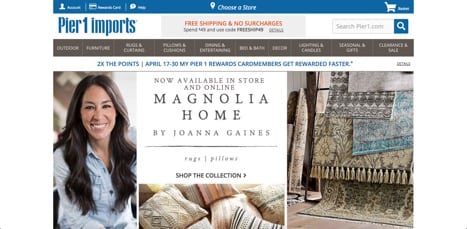 Official Site
Pier1 can best be described as quaint and sweet. The furniture and accessories found at Pier1 make you feel at home and cozy. For a traditional look with lots of fluffy pillows and floral patterns, Pier1 is the shop for you. Like many of the other stores like WestElm, Pier 1 offers a lot of returning discounts and savings, as well as a regular addition to its stock. For a more colorful option, you should shop at Pier1.
---
back to menu ↑
C2B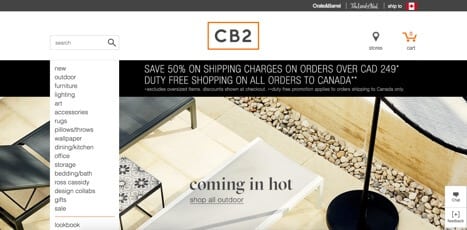 Official Site
C2B knows furniture. They have a tempting collection of eclectic modern pieces. C2B has to be one of the top additions to stores like WestElm. All their pieces are cool. Wood and metals, simplistic with a splash of color, or boxy and textured. The styles are neverending. One thing's for sure if you want a single piece to make your room stand out or a whole design option, you can find it here. C2B is a great place to get inspired and be creative. Whatever you pick, your home will turn out unique and awesome.
---
back to menu ↑
Dwell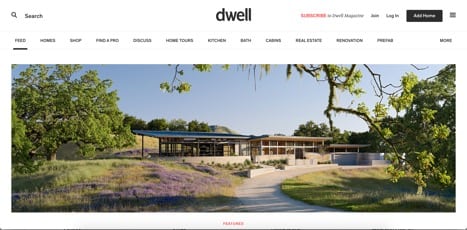 Official Site
This site similar to WestElm is very modern and classic. Its style rotates around sleek lines, solid colors and home gadgets. If you're looking for a solid walnut bed frame, a floating planter, or a stacked shelving system, you'll find it at Dwell. Dwell doesn't sell the items directly, they offer inspiration and the links to create your perfect home. Each product is explained in depth. Materials, construction and a back story is usually given. For a home with a modern flair and unique design choose Dwell.
---
back to menu ↑
Scandinavian Designs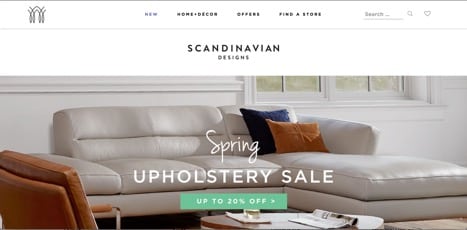 Official Site
ScandinavianDesigns has a lot of furniture like WestElm. They know how to stay with the trends and even create their own. ScandinavianDesigns understand the concept of beautiful furniture with a simplistic style. This online store knows that a home is much more than a place to sleep and eat. They want you to feel comfortable and happy with their furniture and fun designs. This family owned shop handpicks each item they list and with 52 years experience, they know what works and what doesn't.
---
back to menu ↑
5. Room And Board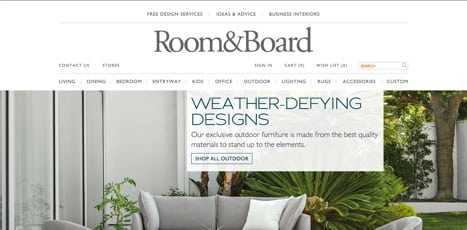 Official Site
Another addition to WestElm alternatives has to be RoomandBoard. This online furniture store sells quality merchandise. Outdoor furniture, office furniture, and entryway storage are just a few things they have, along with everything needed for all the other rooms of your home. RoomandBoard uses imported and American products to create their quality pieces. They base their design style on a mixture of cultures and styles. Which include Danish, Mid-century Modern, Asian, Shaker, and Arts and Crafts. RoomandBoard even has the option to completely customize your order making it your own and a perfect fit for your home.