Shopping for kids clothes online is never an easy task. With so many stores to choose from and a ton of great discounts to explore, there are many options worthy of being discovered. Fortunately, there are many great stores like Old Navy and we're going to share the best of them with you.
Old Navy is an American clothing retailing company that's been around since the early 1990s, and has quickly gained a loyal fan base thanks to their idea that fashion doesn't have to be just for rich people. Today they are one of the largest apparel brands in the world and their website is visited by thousands of customers every day, making it one of the most popular online clothing stores.
Depending on the type of outfit you are looking to buy, there are many sites similar to Old Navy to choose from. In this review of online clothing stores we have gathered up some of the best stores like Old Navy, hoping they will fit your needs.
GUESS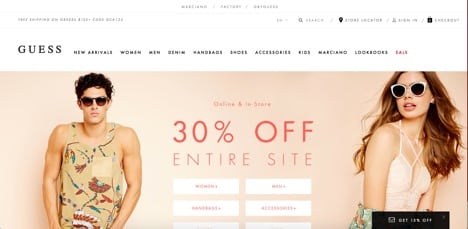 Official Site
You can't search for stores like Old Navy without first paying a visit to Guess. Established in 1981, this company was the first one to design a stonewashed, slim-fitting jean and is now known as a symbol of young, sexy and adventurous lifestyle.  Denim has always been identified with Guess clothing, and on their site you will find a complete area dedicated to it; but Guess doesn't offer just clothes; the accessories catalog includes everything from sunglasses and belts to phone cases and tech accessories.
---
back to menu ↑
Carters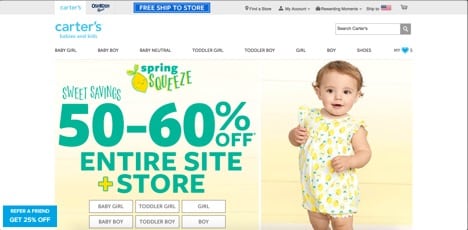 Official Site
Wouldn't it be great to find a site similar to Old Navy, with high-quality outfits at decent prices, but just for kids? Well, Carters is your option. Everything is neatly organized into several sections, from newborn to 8-year-olds, and there is also a large stock of girl and boy shoes to choose from. They offer international delivery, shipping to over 80 countries, but if you have a Carters store nearby you can make your purchase online and have it sent to your nearest store for free.
---
back to menu ↑
H&M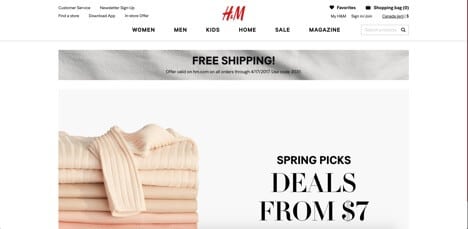 Official Site
While most Old Navy competitors will take you to their homepage as soon as you type the URL, at H&M you are asked to choose your country first. This way you are taken to your local website, which has everything in your own language, and prices are in your currency. This is great for international customers, and not many stores like Old Navy have this geotargeting option. H&M offers fashion and quality at the best price, but they also have an extensive catalog of home decoration accessories, such as rugs, towels, pillows and curtains.
---
back to menu ↑
Kohl's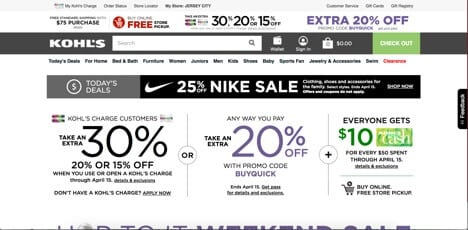 Official Site
Although Kohl's is a big online marketplace where you can find everything from electronics to furniture, they are also one of the top online clothing stores. You'll find apparel for babies, kids, juniors, women and men. One of their areas that attracts lost of customers is the Sports Fan section. Here you'll find team clothing, sports wall decals, and tailgating attire. It's the perfect place to get ready for your favorite team's season.
---
back to menu ↑
J Crew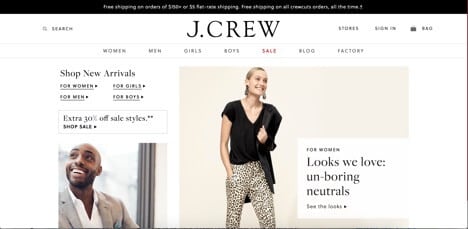 Official Site
When you are searching for online stores like Old Navy, J Crew usually pops up. They are focused on affordable apparel, and every single piece is conceived in their New York Studio. J Crew clothing is fun and colorful. It is an American brand, but they source their fabrics from around the world, so you will find Japanese seersucker, Irish linen and Italian wool, all at great prices. Also make sure to check out our entire list of brands and stores like J Crew.
---
back to menu ↑
Forever 21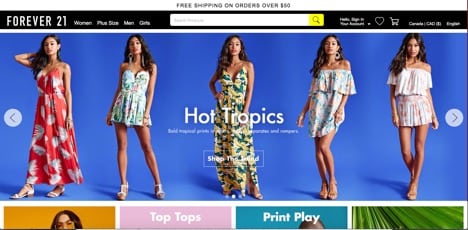 Official Site
Some stores like Old Navy offer clothing for all ages. Forever21, on the other hand, targets young men and women and doesn't sell clothes for toddlers or babies. It is the 5th largest specialty retailer in the United States, known for its trendy offerings and low pricing. Their online store's catalog is divided into women, men and girls sections. There is also a Plus Size section for women where dresses, activewear, shoes, and more are available. Don't miss out on our list of Forever 21 alternatives.
---
back to menu ↑
Eddie Bauer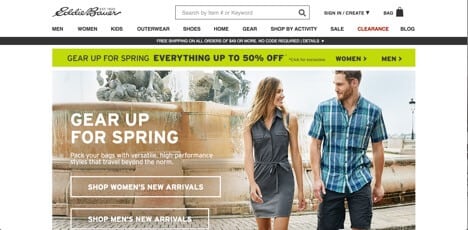 Official Site
Edie Bauer has become one of the top Old Navy competitors by targeting people with an outdoors lifestyle. You will find the usual men, women and kids sections, but what makes this site different is their Shop by Activity page. You can select mountain sports, training, hiking & travel, or fishing & field, and will be taken to a catalog of clothing designed specifically for those activities. Don't miss their Clearance page. Although regular prices are already quite affordable, the clearance section offers great discounts and bargains you can't miss.
---
back to menu ↑
Urban Outfitters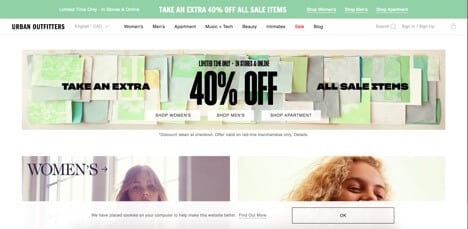 Official Site
Similar to Old Navy, Urban Outfitters carries a vast catalog of affordable clothing for men and women. Know for their "hipster" style, their in-house brands include BDG (Bulldog), Ecote and Kimichi Blue, among others. The Urban Outfitters website, just like many other Old Navy competitors, also has a Sales page, where you can find clothing and accessories with great discounts. Their Intimates section is quite popular among women looking to buy cute bras, undies and lingerie sets at affordable prices. Also make sure to explore our list of stores like Urban Outfitters.