Every brand has a story. The clothing brands on our list of websites like Free People all have a story about inspiration, femininity, courage, determination, and spirit. Free People is a contemporary brand that sells cool and comfortable pieces to adults, compared to their first line that only sold to junior girls.
Free People want to reach smart, confidant, and creative woman who like to play with their fashion style while staying comfortable. Free People has a vast array of styles from rocker chic, to girl next door, to adventurous and free. If you're a woman who likes to push the limits while keeping busy and stylish, you'll make Free People your next shopping best friend.
If you loved all the cute rompers, dresses, shoes, intimates, accessories and essentials found on Free People's website, you'll love these other sites like Free People. Each online boutique on this list has a similar story, style, and price range. All the stores like Free People listed below give back something to society so you'll feel good after your purchase. Have fun shopping and helping those in need!
Sevenly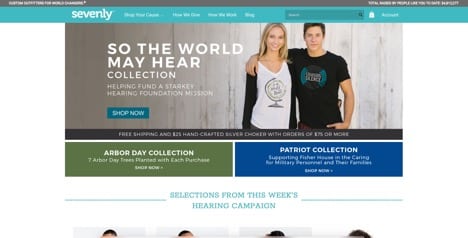 Official Site
Sevenly is one of the best companies like Free People. This online shop has a ton of comfortable clothes with cool sayings and designs for men and women. Each design represents an organization. Each week there's a new cause. All the products from Sevenly will automatically donate $7 to the weekly charity. Charities range from sex-trafficking, to hunger and go from the U.S.A. to international countries. Sevenly's weekly goal is $7,000. Will you help them succeed?
---
back to menu ↑
Serengetee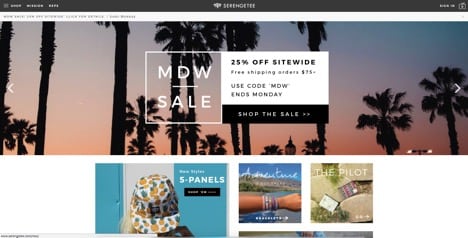 Official Site
Serengetee has a huge collection of laid back styles, for the vagabond adventurer inside you. The clothes found on Serengetee are perfect for catching flights, horseback riding, tuk-tuk driving, and relaxing. Serengetee must be added to our list of stores like Free People because it too gives back. Serengetee works with 32 different causes from around the world, each purchase is linked to a specific cause. When one is purchased, a donation is sent to the linked charity. Start choosing your next comfy clothes and give back to society.
---
back to menu ↑
Visible Clothing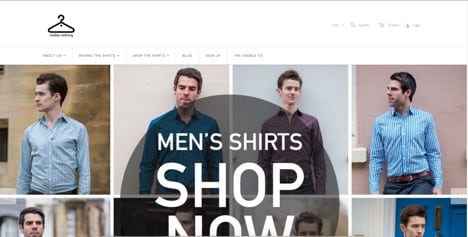 Official Site
Visible Clothing is one of the top brands like Free People for men. This shop has a wide variety of men's shirts and ties that have all been handcrafted by people in India. The clothing you'll find at Visible Clothing is a high-quality and made by people who've been treated fairly. Every detail of the creation process is explained on this addition to stores like Free People. You can see who made your shirt and how it arrived in the store. Visible Clothing wants to create better work conditions for those living in third world countries. Support them by purchasing your own beautifully handcrafted men's shirt.
---
back to menu ↑
Article22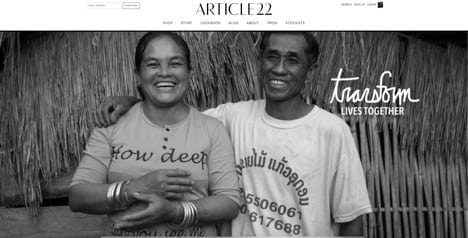 Official Site
Article22 must be added to our list of sites like Free People. This designer shop is power and creativity. Article22 uses destruction to make something beautiful and they don't use just any garbage, they use things like bombs and bullets. Every piece you'll find at Article22 is handcrafted and unique and each piece has a specific story. You'll always know where your metal came from. Maybe it was from a bomb in Iraq or a piece off a plane in an African village. Whatever piece you choose will give back to society and be just as unique as you are.
---
back to menu ↑
Toms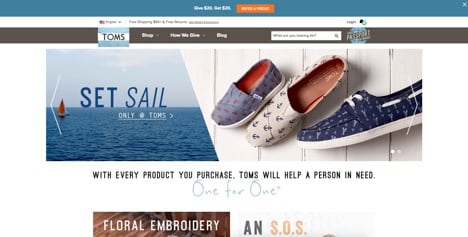 Official Site
Toms is a wonderful organization and online shop. This site found among our list of Free People alternatives works with over 100 giving partners. When you buy a pair of shoes or anything else from Toms, they'll give back to people in need. Toms helps humanity with things like shoes, fresh water, safe births, bully prevention and eyeglasses. It's not very hard to help someone improve their own life, just order a pair of cute and comfy shoes from Toms.
---
back to menu ↑
Lemlem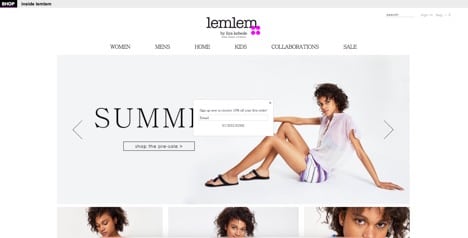 Official Site
Lemlem is a boutique that was created to preserve the weaving traditions found in Ethiopia. Women from Ethiopia use their skills to make beautiful woven shirts, scarves, and skirts for women and children. The all natural is from a local Ethiopian area and the workers are local women. Lemlem has been empowering women since 2007 and is still going strong, giving jobs and a future to women in need. Lemlem is one of the most stylish and beautiful clothing stores on our list of stores like Free People.
---
back to menu ↑
Gurus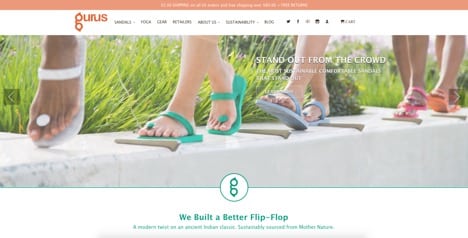 Official Site
Gurus is a store that sells yoga apparel and gear and fabulous flip-flops. The flip-flops are inspired by an ancient Indian classic with a modern twist. Each pair is made with natural material to help preserve Mother Nature and her home. The best thing about this addition to our list of companies like Free People is that every pair of flip-flops you buy, Gurus plants a tree to bring back more green to our planet. This helps the environment, people, and animals live better and longer. Help build a sustainable future by purchasing a pair of unique sandals that you can walk in all day, with their hand-harvested rubber soles.
---
back to menu ↑
BeGoodClothes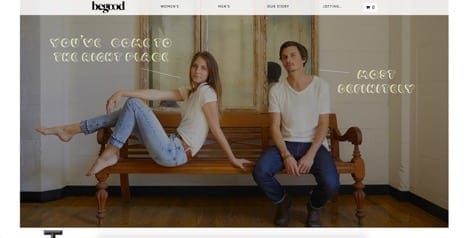 Official Site
BeGoodClothes is social conscious that the fashion industry uses a lot of water in creating their fashion lines. This site found among our list of stores like Free People want to help save a precious commodity, water. BeGoodClothes only uses 10% water, compared to the other traditional retailers. The clothing you can find in this online store are basic handmade but timely pieces that you can wear with anything. When you purchase an article of clothing from BeGoodClothes, they use a part of that money to help bring water to communities in Kenya and Uganda. This brand wants to remove the negative impacts the fashion industry has had on the world with its water pollution and waste.