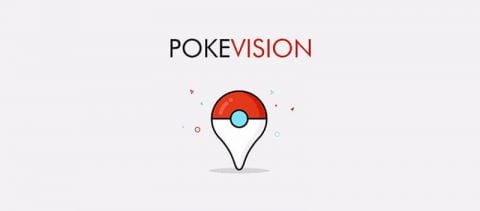 If you're looking for Pokemon map sites like Pokevision, you've come to the right place. Pokevision used to be the number one Pokemon cheat site for finding Pokemon locations before it was shut down. It made it simple for you to find Pokemon around your local area.
With Pokemon cheats like Pokevision, you can easily figure out where all the local Pokemon are hiding out, allowing you to pinpoint Pokemon locations. Catch them all by using the Pokevision alternatives listed right here. With these useful resources, you will be able to take your augmented reality gaming to a whole new level and dominate your friends at Pokemon Go.
We've made it our mission to find the best sites like Pokevision online so you can enjoy the best Pokemon maps available. Start browsing these free maps and trackers to instantly see what's available in your area. Don't waste another moment, start catching Pokemon right now!
Poke Radar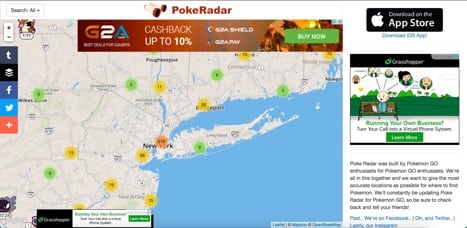 Official Site
Poke Radar is one of the best Pokemon map sites like Pokevision. It lets you find all of the Pokemon locations nearby and far. You can find precise details such as when the Pokemon were spotted and which species is found at each location. Poke Radar is incredibly easy to use and provides you with real time stats, allowing you to always know exactly where to go for catching rare Pokemon!
---
back to menu ↑
PokeFind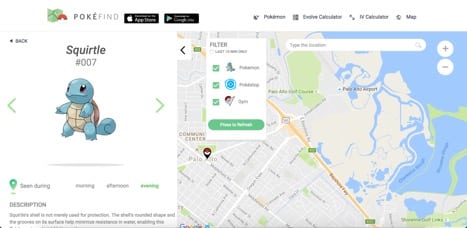 Official Site
One of the best things about PokeFind is that you can select which Pokemon you want to search for. Simply choose the Pokemon you're looking for and you will only be shown the Pokemon locations for that precise species. This makes it much easier for you to ignore all of the species that you already have or simply aren't interested in catching. Take a look at PokeFind right now for free!
---
back to menu ↑
PokeHuntr
Official Site
PokeHuntr is another excellent option when searching for sites like Pokevision. PokeHuntr is a worldwide Pokemon map that lets you find different species from all corners of the globe. Whether you're in the USA, Canada or even Europe, you will be able to find the best Pokemon locations near you. This site is really well built, allowing you to easily and quickly find the Pokemon that you want the most!
---
back to menu ↑
FastPokeMap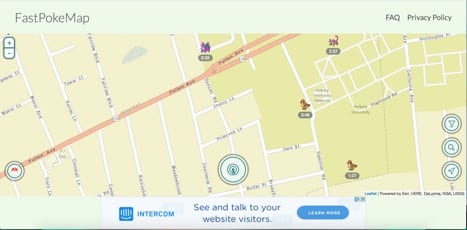 Official Site
FastPokeMap is one of the top PokeVision alternatives that continuously scans all locations in real time. This Pokemon finder allows you to easily find the best Pokemon locations in any city of your choice. Zoom in on the location of your choice and you will be able to get a much better look at the Pokemon available in that area. FastPokeMap is very accurate, making it one of the top Pokemon cheats available online.
---
back to menu ↑
PokeMesh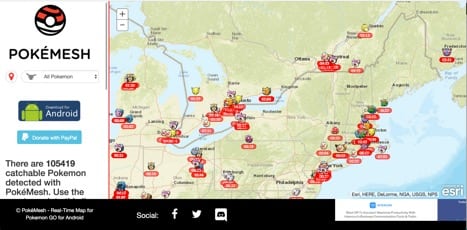 Official Site
PokeMesh is one of the top sites like PokeVision, but it's also one of the best apps like PokeVision since it's also available for Android devices. PokeMesh has real time Pokemon tracking and it lets you zoom in for precise tracking. You will be able to find important information such as when it was last spotted at that location and much more. Take a look at PokeMesh if you're serious about Pokemon Go!
---
back to menu ↑
Pokemon On Map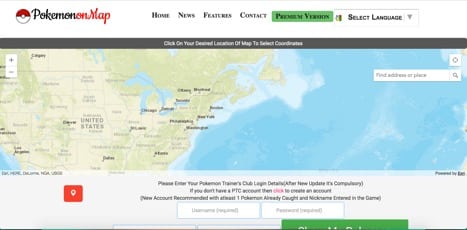 Official Site
Pokemon on Map is another one of the great websites like PokeVision that you'll love using. If you're a fan of Pokemon Go, this site will let you spot exactly where local Pokemon can be found. Zoom in on your location to easily and quickly find all of the species on this Pokemon map. This site also lets you enter precise locations so you can really pinpoint Pokemon locations in your area.