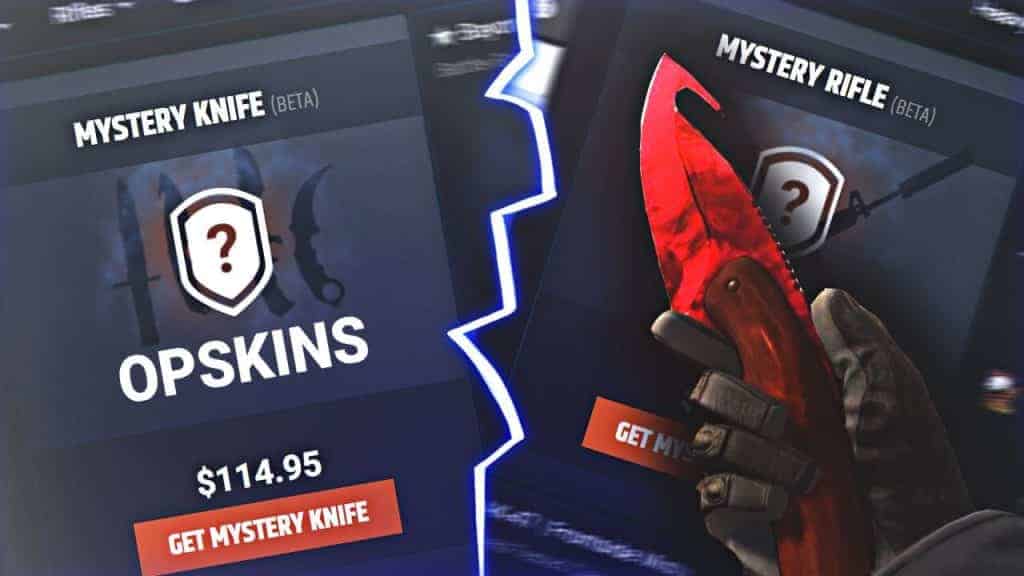 OpSkins is a Canadian based company in Montreal, Quebec. This site is an escrow system for virtual gun designs. OpSkins is one of the best CSGO skin sites. (Counter-Strike: Global Offensive) These virtual guns are also known as skins. You can earn these guns by playing the game but it can be a challenge. For a few dollars, you can earn bigger and better ones to help you progress through the levels.
To buy and sell on this SC GO skin market, you must have a valid Steam account. Each purchase must go through a validation process, on both ends. Offers must be done in real time, you have 2 minutes to accept the trade if it's not accepted within the time frame, it will be refused automatically. OpSkins will keep 10% of each purchase. The funds you receive will be added to your OpSkins account. Once you've reached the minimum of $5 you may transfer those funds into your PayPal or Bitcoin account.
You can search the featured skins or sell CSGO skins of your own on this site, or both. Making money is quick and easy. If you're a gamer, you'll love OpSkins. This is also great if you've reached a high level and have a huge inventory of guns that you don't use, why not sell them? Use that cash to buy extra skins and new games. For more sites like OpSkins that let you buy and sell game skins and more online, check out our list below.
BitSkins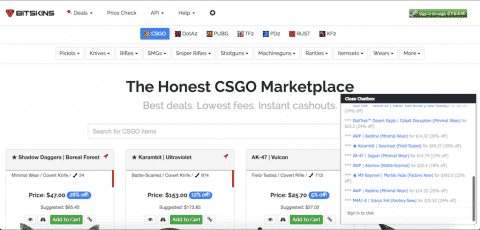 Official Site
This OpSkins alternative is one of the top sites to sell a large variety of skins that include weapons, wearables, rarities, collectibles, and more. BitSkins has items from 8 games: CSGO, DotA2, PUBG, TF2, PD2, RUST, KF2, and Armello. BitSkins has the lowest deals and no subscription is required. The only thing you need is a Steam account. When you use PayPal or Bitcoin to cash out, it only takes 5 minutes to get your money.  BitSkins charges you 5% per sale, the rest of the money is yours. To withdraw your real money, you need a minimum of $5 for Bitcoin and $50 for PayPal. You can add up to 100 items for sale at the same time and purchase as many as you want. One of the cool things about BitSkins is that they offer a Bug Bounty. If you find an error on their site, let them know by email. You will be rewarded for your discovery.
---
back to menu ↑
GameFlip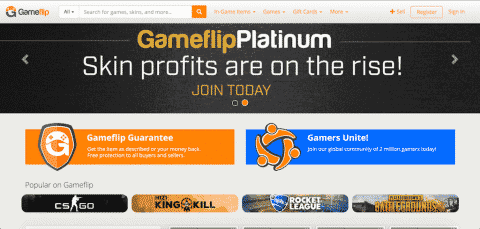 Official Site
On this addition to our list of sites like OpSkins, you can sell CSGO skins for real money, and a lot more. GameFlip has trades for all the major consoles and online platforms that include Steam, Origin, UPlay, GOG, and Battlenet. GameFlip is one of the largest sites online to trade skins, wearables, and more for all your favorite games. You can even sell physical game copies of the earliest games and the latest gaming titles. There are over 1.5 million traders on this site and GameFlip caters to over 175 countries worldwide.  GameFlip keeps an 8% commission and 2% for digital fees (if applicable), making it the most affordable website like OpSkins on our list. GameFlip also has a subscription program for frequent sellers that can lower the commission cost. If you plan on selling a lot, check out this program.
---
back to menu ↑
MMOGA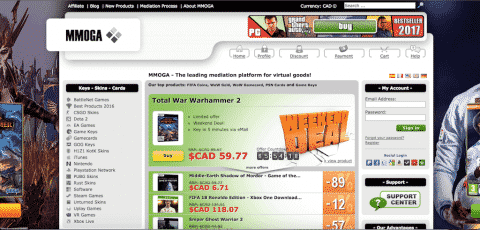 Official Site
MMOGA must be added to our list of websites like OpSkins. This site works with FIFA and WoW. You can sell and buy game keys, FIFA coins, Wow gold, and more on the MMOGA site. MMOGA is 100% safe and each deal is monitored to ensure the best results. On this site, you can find discounted items up to 70% off and just about anything you're searching for. MMOGA has over 100 available games with items for trade on their site. The commission rates vary on this site depending on what you're offering. With MMOGA everything is quick, safe and secure. Start searching your favorite games now to add more to your arsenal.
---
back to menu ↑
Kinguin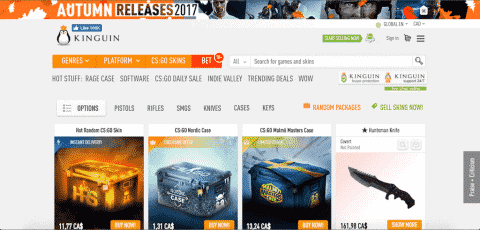 Official Site
Kinguin has been around since 2013 and its become one of the largest alternatives to OpSkins since its launch. This site sells skins, games, collectibles, points, and more directly on their site. You can sell your own too and earn cash to use towards new game items and new games. Kinguin offers a 30 day money back guarantee on all items with its buyer protection program. There are over 4 million yearly customers on this site, which also gives you an opportunity to meet other passionate players to play online with. Kinguin charges an 11% commission fee on all sales.
---
back to menu ↑
SkinXchange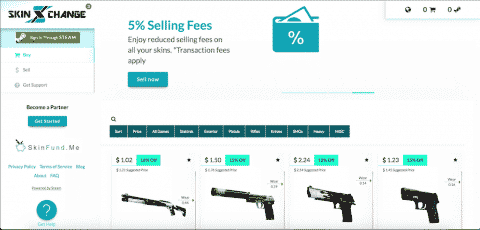 Official Site
SkinXchange is another one of the top sites like OpSkins. On this site, you can trade, sell, and buy guns, access passes, keys, wearables, and more for all your favorite Steam games. All you need is a valid Steam account to start trading on this site. SkinXchange has discounts up to 30% off and new items are added all the time. SkinXchange charges 5% on all sales and your money can be instantly deposited into various accounts. PayPay, Skrill, Bitcoin, Giropay, iDeal, VTPay, and Allpay are just a few. You can also use major credit cards on this site. SkinXchange validates each sale, making every transaction secure. Selling an item on this site is super simple. Select the items you have for sale, add a price, and wait for someone to purchase them. Prices can be changed as often or as little as you want.
---
back to menu ↑
PlayerAuctions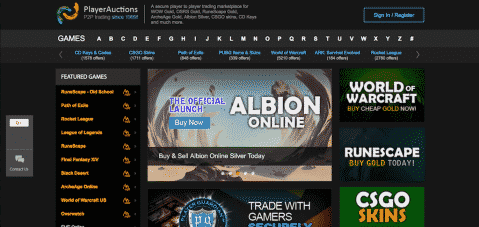 Official Site
PlayerAuctions is another one of the best sites like OpSkins to sell skins and more online. This secure marketplace caters to major games like Wow, OSRS, RuneScape, ArcheAge, and CSGO, and you can also find numerous keys, collectibles, and more. If an item exists in a game, chances are you can resell it on this site. PlayerAcutions is also a great site to order new releases for less. This site has the lowest fees worldwide. PlayerAuctions only asks for a 4.99% fee on all sales. Like OpSkins, PlayerAuctions gives you two minutes to make the trade this ensures safe transactions with reliable and serious buyers. If you have a ton of items that you don't use on your favorite games, start trading them on this site now.