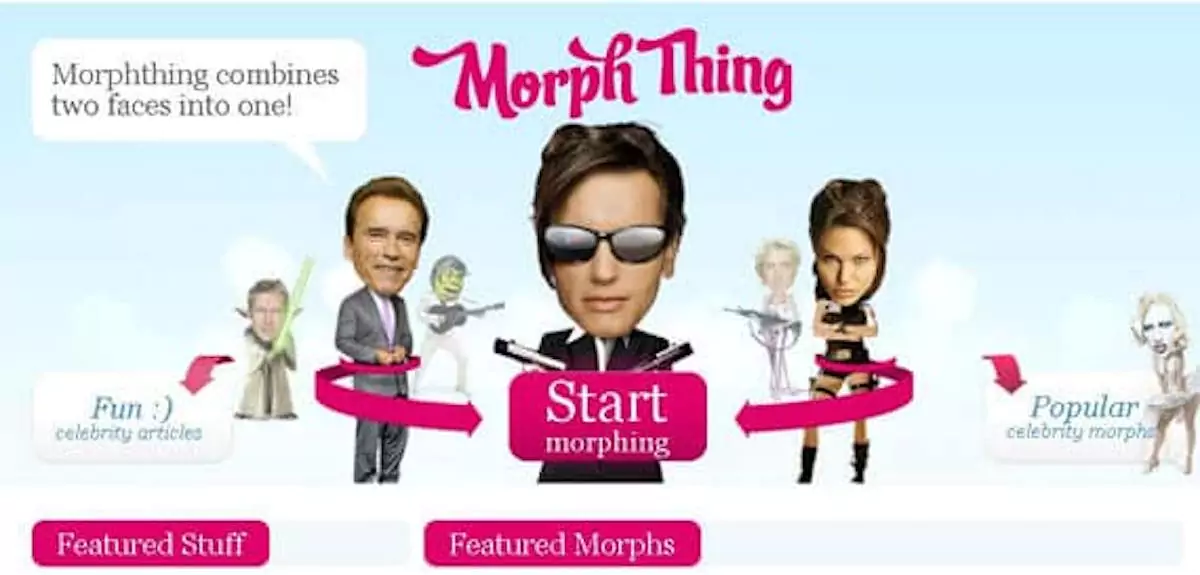 Sometimes you just want to let loose and have fun. MorphThing lets you do just that and more. This site lets you use any photo you want and mash it up with others to create something new. Use this as a future baby face maker to see what you and your significant other's baby might look like using both of your faces.
You can also use a celebrity image or if you're feeling daring, use an animal to really make something weird. Share you results on all your social media sites to receive compliments and shocking comments. There will also be a lot of LOL's. If you don't want to go through the short mixing process you can browse the popular creations and the month's newest faces. Each one will surprise you and make you laugh. We guarantee.
MorphThing is free and a lot of fun. Sit down with your friends and try everyone's picture with someone else. This is more than a what will my kids look like generator, it's a creating website that combines two faces to give you a hilarious result. If you've enjoyed the results on MorphThing and want more silly face generators just like it, here is a great list of websites like MorphThing. Have fun and use your imagination when it comes to choosing the pics to use.
The Plastic Surgery Simulator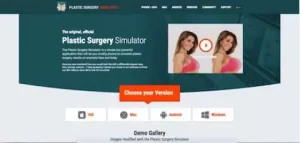 Official Site
A great addition to our list of sites like MorphThing is called The Plastic Surgery Simulator. This site lets you upload a picture of yourself, or anyone else, and play doctor. Use all the easy-to-use tools and try all sorts of surgeries. You can fix eyebrows, remove double chins, and even go from and A cup to a double D. If you've ever wondered what you'd look like with different body shape, freckles, or a new nose, use this site to find out.
---
FaceMorpher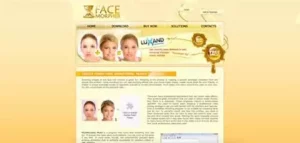 Official Site
FaceMorpher is a lot like the other sites like MorphThing. This cool creation website lets you manipulate pictures as much as you want, for free. FaceMorpher can be used as a baby morph generator or a tool to create visual jokes. You can even use this website to make a unique and funny avatar for all your online communities and forums. There are a lot of professional and paid sites like MorphThing, FaceMorpher lets you do everything you can do on those sites, for free. Log on now to start having a lot of fun manipulating pictures to your imagination.
---
Abrasoft FantaMorph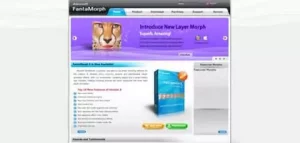 Official Site
If you want a superb and amazing site that lets you create a morphing masterpiece easily and freely, you've come to the right place with this addition to our list of MorphThing alternatives. Abrasoft FantaMorph has a ton of features for you to use. You don't have to have any skils with Photoshop to begin. Just upload a picture and start clicking until you've creating something of beauty, or not. When you're done, download your creation to share all over the web.
---
Photofunia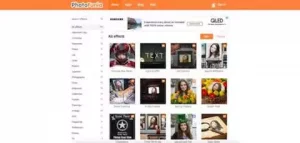 Official Site
Photofunia lets you have a lot of fun with your picutes. There's a ton of backgrounds and cutouts to superimpose your picture and design something out of the ordinary. Photofunia is also a free site like all the other websites like MorphThing on our list. Do you want to look like your sky diving or having tea with the queen? You can do that with a few simple clicks on this cool site. Photofunia is a lot of fun a super easy to use. Click on the link above to make a new profile pic or a cover for a holiday card.
---
Morpheus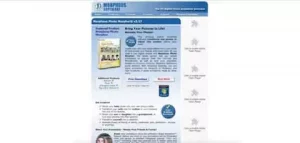 Official Site
Morpheus is another one of the top sites like MorphThing to bring your pictures to life. This design website also lets you add animation to your pictures. You can easily transfer an object from one picture to another. Turn your husband into Brad Pitt or your mother into a Cabbage Patch Doll. There are no limitations on Morpheus. You can also use this silly site as a future baby face maker and see what your lover's genes will create when they mash with yours. Share all your animations and designs with the simple "one-click" share button. No technical skills required.
---
FaceinHole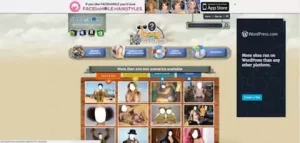 Official Site
Ask yourself one question when you log onto this site, who do you want to be today? FaceinHole is one of the funniest sites like MorphThing. On this site, you can add your face to a ton of user created images that already have a hole for your face. Do you want to be a bodybuilder, a rock star, or a sexy playboy? The choice is up to you. All you need is a profile pic to use this cool site. Try to line up your face exactly to stump your friends as you show them a pic of your new body. They might actually believe it's you.