When you need new gear and clothing for the outdoors, Moosejaw can help with everything. You can buy camping supplies, wool socks, down coats, boots, and all the other essentials to stay warm and comfortable during any outdoor activity. Moosejaw is one of the best outdoor clothing websites for anyone who has to stock up for an adventure in the wilderness. You'll even be able to find trekking poles.
Moosejaw has a lot of brands like Marmot, Black Diamond, ARCTERYX, and The North Face, they also have a household brand called Moosejaw. There's a ton of deals on this site. Start by filling out a 5 minute survey for a $10 price reduction, add free shipping on all orders over $35 and lastly, take advantage of all the added discounts in every category. Don't forget to sign up for their email subscription for another 10% off.
Water sports, biking, climbing, snowboarding, Moosejaw has stuff for anything can be done outdoors. Sometimes you need to stay cool, sometimes you have to fight frigid temperatures, whatever your needs are, Moosejaw can help to start your next adventures off right. If you love all the great gear and apparel you can find on this site, you'll love these other sites like Moosejaw that all have competitive prices and awesome stuff too. Enjoy!
BackCountry 
Official Site
One of the best stores like Moosejaw is called BackCountry. This site has great reviews for you to browse before choosing what's right for you. A lot of rare European brands can be found on BackCountry like, Helly Hensen, Berghaus, and Rab. Keep an eye open for last season's apparel, the discounts are amazing when the seasons change. You can also get free 2-day shipping on all orders over $50. Our list of outdoor clothing sites must include BackCountry, take a look for yourself, you won't be disappointed.
---
back to menu ↑
OMCgear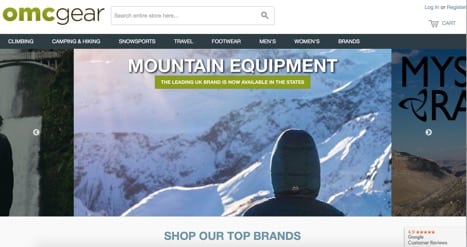 Official Site
OMCgear isn't the most stocked site on our list of outdoor online retailers but it does have a lot of choice. Since OMCgear doesn't keep a lot of inventory you have to be quick if you want to buy something. It could run out fast. This site has most of the same brands as Moosejaw and offers free shipping on orders over $75. The best thing about this addition to websites like Moosejaw, is that they will price match any item up to 14 days after purchase, from any site.
---
back to menu ↑
Campmor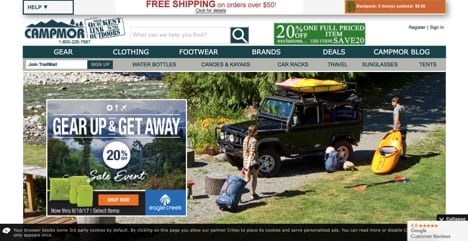 Official Site
Campmor is pretty cool. This site has all the great items you'd find in high-end stores, and sells them for thrift store prices. If you want to save more to have more to spend during your vacation, you'll love Campmor. This site has a lot of recurring coupon codes up to 60% off and always offers free shipping on orders over $50. Because of the low prices and great gear and apparel selections, Campmor must be added to our list of sites like Moosejaw.
---
back to menu ↑
Altrec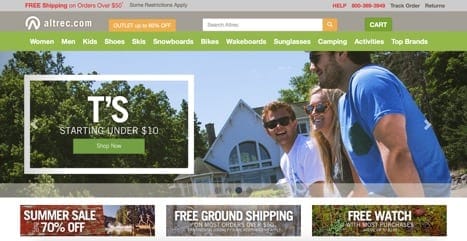 Official Site
Altrec is another site similar to Moosejaw that has outlet deals on everything from mountain bikes to rubber boots for kids. There really is everything on this site. It's huge. Everything you can find on Altrec is discounted up to 60% off and you can get additional perks like coupon codes, seasonal sales, and free ground shipping on all orders over $50. You can even get free gifts with certain purchases. Altrec is one of the top sites for deals and outdoor gear. Enjoy!
---
back to menu ↑
Sierra Trading Post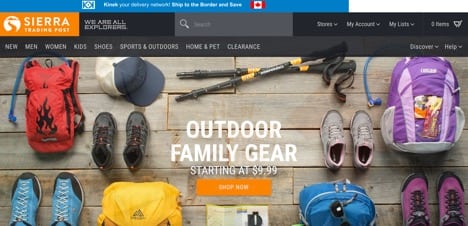 Official Site
Sierra Trading Post knows that everyone who loves the outdoors has an explorer soul. That's why they want to you be fitted with the best gear and the best apparel for the wilderness. Sandy beaches or dangerous mountaintops, whatever you're about to face, you'll be ready with your purchases from Sierra Trading Post. Don't miss out on the 24 picks every 24 hours. There are amazing deals to be found in these picks but they run out quick. Click on the link above to check out this great addition to our list of sites like Moosejaw to see for yourself.
---
back to menu ↑
TrekkINN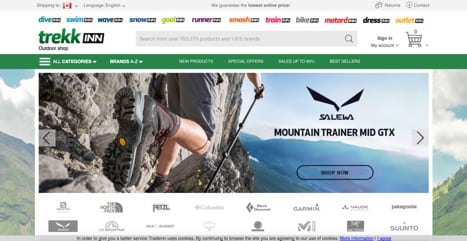 Official Site
TrekkINN must be found among outdoor online retailers like Moosejaw. This site has over 1,800 brands and over 700,000 products for you to choose from. TrekkINN is massive. There are sales up to 60% off, special offers, cool new products you can't find anywhere else, and popular products everyone wants to get their hands on. TrekkINN guarantees that you'll find the best prices on the internet. This is a one stop shop for anything you might ever need to spend time outdoors.
---
back to menu ↑
Live Out There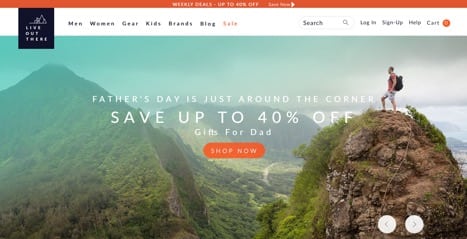 Official Site
Lastly, we must add Live Out There to our list of sites like Moosejaw. Live Out There has gear, clothing, footwear, and sports equipment for men, women, and children. There are weekly deals that can save you a ton off the final price and the "sale" tab is a smorgasbord of clearance stock, coupons, and discounts. Shipping is always free within Canada and the U.S.A. on any order and Live Out There also offers a price match service, if you find the exact same product at a lower price, anywhere on the net, they'll let you have it for the lowest price.