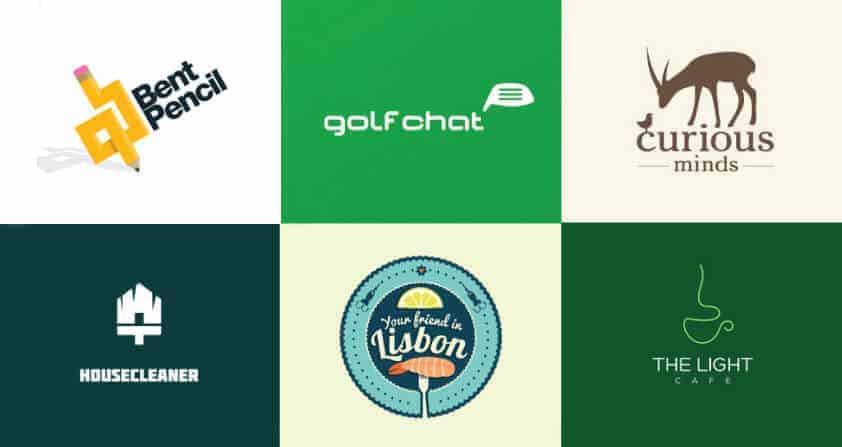 You don't have to be a professional to create your own logo, all you need is a logo design site and a little time. LogoPond has a lot of examples for you to choose from, created by professional designers, to jumpstart your own inspiration. This logo design gallery is a free site to scroll through when you want to find new ideas for logos and brands. LogoPond exists specifically for logo art.
You can like or dislike the best logos and comment your critiques. Join the community to chat with others for inspiration and knowledge before creating your own professional design that will be used with your company or personal blog. You can also share your own work on LogoPond for others to judge and help you tweak it to perfection.
There are a lot of inspiration and creative boosting sites on the internet. We've searched the web to find the best that will allow you to view a collection of logos, share your work, and gain knowledge on making your logo the best in the business. For more logo design inspiration sites like LogoPond browse our list below.
Carbonmade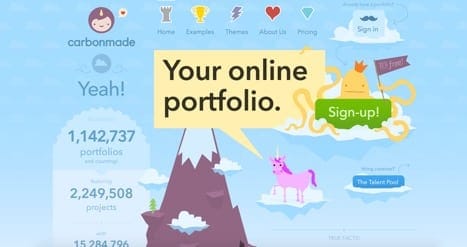 Official Site
Carbonmade is a website that lets everyone create an online portfolio to show off their artwork. If you have a library of logos or a plethora of pictures you want to share, you should be using Carbonmade. This site is one of the best additions on our list of websites like LogoPond that lets you view others work and gain insight into the world of creating. It's always free to use, easy to understand, and there's a ton of features to make your portfolio pop.
---
back to menu ↑
Graphics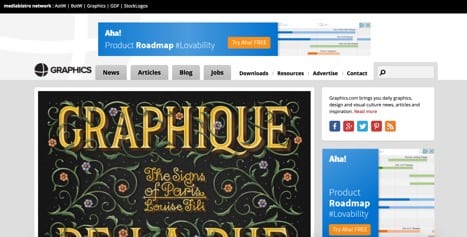 Official Site
If you're looking for an online community to share you work and find inspiration for future projects, Graphics is the place to go. This is one of the best logo reference websites for anyone who wants to see what a perfect logo looks like new ones are added each day. Use Graphics to promote your work and show off your own skills. If you're looking for a site similar to LogoPond, you've found a great one with Graphics.
---
back to menu ↑
Brand New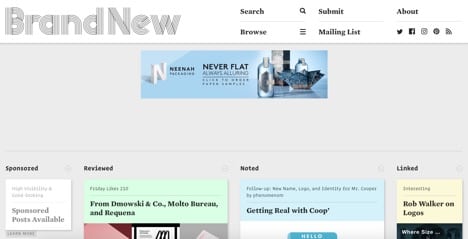 Official Site
Brand New is the corporate addition to our list of sites like LogoPond. This website is much more than a logo design gallery, you can also read articles that give tips and tricks on running a business, branding advice, and more. Brand New keeps up with the latest trends and styles, which can help you be inspired to create something that is "in the now". If you're someone who likes to keep up with the latest trends and needs to work on your brand, you'll love Brand New.
---
back to menu ↑
LogoSauce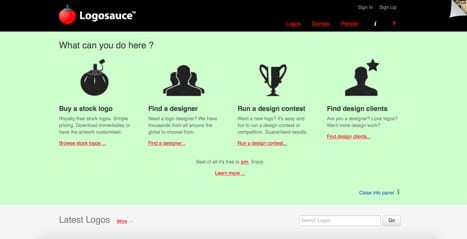 Official Site
One of the top sites for logo inspiration, sharing, and discussions about creating is called LogoSauce. This LogoPond alternative is great for finding design clients and advertising what you can do. There are also recurring contests to show off your talents, win prizes, and be known as the best logo designer. There are hundreds of thousands of designs on this site from amateurs and professionals that will get your creative juices flowing, we guarantee.
---
back to menu ↑
LogoEd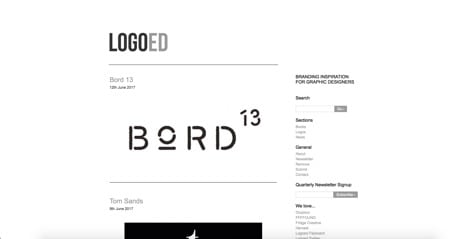 Official Site
LogoEd is another great logo reference website to find new ideas the next time you need to be inspired. LogoEd is a showcase for talent. Have you created something cool and want to share it with the world? Simply submit it to LogoEd and let others see just how talented you are. This site like LogoPond has been around for a very long time and has a very extensive collection of logos that vary from simple to intricate. Start browsing the archives to see all the amazing creations.
---
back to menu ↑
LogoDesignLove 
Official Site
If you love logo designs you'll love LogoDesignLove. This site was made for people who work with logos and art. This website similar to LogoPond also has a book that is devoted to logos and visual identities. Usually, LogoDesignLove is updated each week. If you want to see something special featured, just ask them, they love for people to let them know about what they want to see next. If you want to learn how to create an iconic brand and identity, you should be using LogoDesignLove for inspiration.