The Lifehacker website is full of useful information. It is a weblog about software and life hacks, with all sorts of tricks and tips for getting things done.
The blog posts cover a broad range of topics. It is mainly focused on tech news, stuff related to Microsoft, Apple, Linux, video games, and cell phones. However, you will also find many handy how-tos and trending news articles.
There are a few other good websites like Lifehacker where you can learn tips to get things done faster. Here is a list of some of the best how-to websites you should visit. Not only will they help you make things easier for you, but some of them also have lots of interesting videos to watch.
Lifehack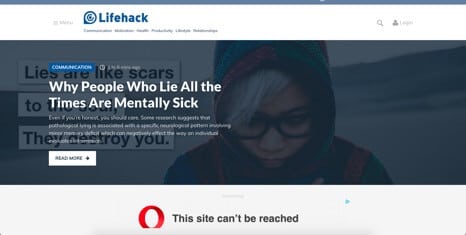 Official Site
This Lifehacker website offers tips to help improve all aspects of your life. There are many exciting lifestyle and productivity articles to read, and most of the posts offer advice that can help you finish your tasks in a more efficient and effective way. Everything is grouped into six categories – Communication, Motivation, Health, Productivity, Lifestyle, and Relationships – so finding something exciting to read is quite simple.
---
back to menu ↑
MakeUseOf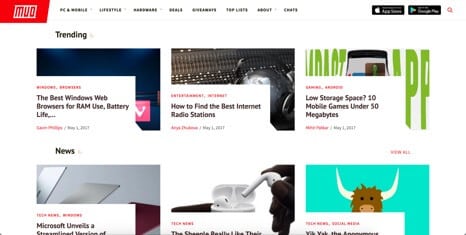 Official Site
Another great life hack website is makeuseof.com. Their motto is "We teach technology," and you can read all about the latest tech and gadgets. On their Top Lists page, you can find out which are the best VPN services, while the DIY section lets you create tech instead of just using it. This is where you will find articles with titles like "7 things to do with old RAM modules" or "How to take apart a hard drive and what to do with the magnets."
---
back to menu ↑
Wired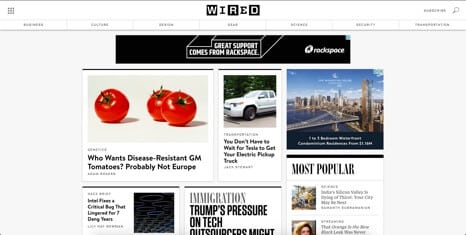 Official Site
Anyone that's searching for sites like Lifehacker should consider Wired as a good option. It started as a magazine which called itself the "Rolling Stone of technology" and then launched a website that is visited by millions every day. Business, design, science and culture are a few of the topics you can read about here. There is also a video section that can show you everything from how to take a great photo to how to make a latte without milk.
---
back to menu ↑
How-To Geek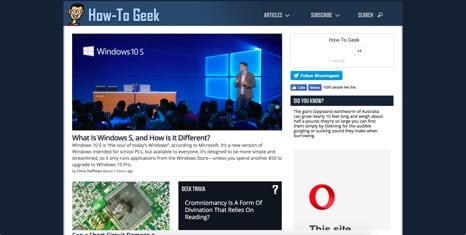 Official Site
A favorite among the how to sites, How-To Geek is dedicated to providing fun trivia, interesting articles, and, of course, the best how-tos. The posts are written in a way that any tech-savvy person would find them interesting, but even if you are not really into geeky stuff you will still understand and be able to follow them. For example, the article about how to negotiate your cable, cell phone, and other bills has been shared thousands of times.
---
back to menu ↑
Ghacks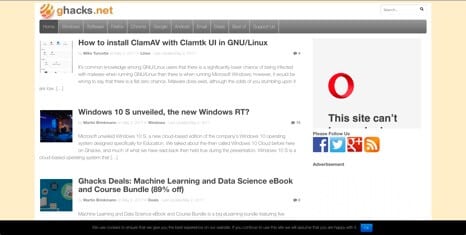 Official Site
Many other sites like Lifehacker will have content about all kind of topics, but Ghacks is all about technology. With a very simple layout, is the perfect site to visit if you are very comfortable with the newest tech. Some articles can be a bit complicated, such as one that talks about 502 Bad Gateway Error solutions, but the majority are very straightforward and easy to understand.
---
back to menu ↑
Instructables
Official Site
If you're a DIY person, check this site out. Users upload their creations, with step-by-step instructions about how they did it. Other users can rate and comment on those articles so there is a lot of interaction. There are projects about almost anything you can imagine, from complicated stuff like building a platform bed with floating nightstands to simple ones like a recipe for cream puffs.