iSketch is a website where you can draw and chat online. This website is an interactive game of Pictionary with people around the world. Using any artistic method, you can think of, you must get others to figure out what your chosen word was. Just be sure to respect iSketch's do's and don'ts, or you will be banned from the site.
The game is simple. First you pick a word. Then you try to draw it. Others can join in and try to guess what you've just drawn. You can use an ear symbol to represent a sound, numbers to for clues, and tell the guessers how many words are in your chosen phrase. iSketch even has specialty rooms like Tandem, two people work together on the drawing and famous faces, this one is self-explained.
Pictionary has been around for ages for good reason, it's a fun game to play. That's why we've decided to create a list of sites like iSketch that all revolve around the same game. Some versions may differ but the basis is all the same, join others, draw together and have a lot of fun doing it.
Doodle Or Die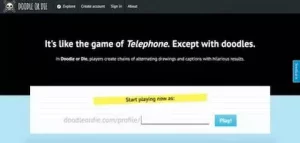 Official Site
When you were young did you ever play the telephone game? If you did then you'll understand how Doodle or Die works. This addition to online drawing sites like iSketch is a game of telephone with drawings and captions. Doodle or Die works by having people join in on the chain. Users can add whatever they want if it fits the theme and phrase, it all depends on the individual's interpretations. When the doodle reaches the end of the chain, the results can be completely hilarious. Start playing now to join in on the fun too.
---
XSketch 
Official Site
XSketch is another fun addition to our list of multiplayer drawing games. This fast-paced game is also like Pictionary, you sketch a drawing, and hope others can figure out what it is before the timer runs out. People take turns being the sketcher and the guesser. XSketch also has monthly competitions for the competitive artists in their community. Every competition and game you win gives you points. The top 10 scorers are listed on XSketch's website, will you make it to the top?
---
Anondraw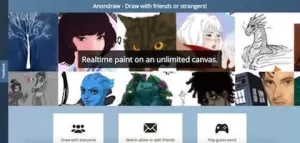 Official Site
We must add Anondraw to our list of iSketch alternatives. This site is pretty cool. With Anondraw you can join your friends or complete strangers and participate in drawing competitions and games. Your canvases are unlimited on Anondraw and everything is painted in real time. If you don't feel like drawing you can choose to watch someone else as they create. Who knows? This might inspire you to make the best design you've ever made. You can use any device you might have like pc or phone to draw alone or jump in on other drawings. The choice is up to you. If you're ready to create, check out Anondraw's artistic website.
---
Quick, Draw!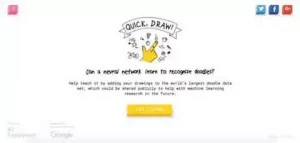 Official Site
Quick, Draw! Is cool if you're bored or want to take a break from life. This one must be added to our list of websites like iSketch. Quick, Draw! Is a one player game against the computer. The game is easy. You are given something to draw and have 20 seconds to make it come to life. As you draw, the computer guesses. When you've drawn 6 things you get your final score. Click on the link above to start drawing and see how many you can get before the timer runs out. Quick, Draw! Is a real fun game to play if you have a few minutes to spare.
---
Guess A Sketch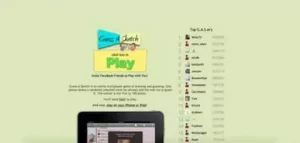 Official Site
Guess a Sketch is another online Pictionary-like drawing game for multiplayer fun. This game is played with all your Facebook friends. The first person to reach 100 points is the winner. All the words and phrases used to play Guess a Sketch's game are random, you won't be able to predict what's coming next. You need flash to play Guess a Sketch and this game now has an iPhone and iPad app. Start inviting all your friends for a hilarious game of guessing. You'll get addicted in no time, we're sure of it. Guess a Sketch must be added to our list of sites like iSketch.