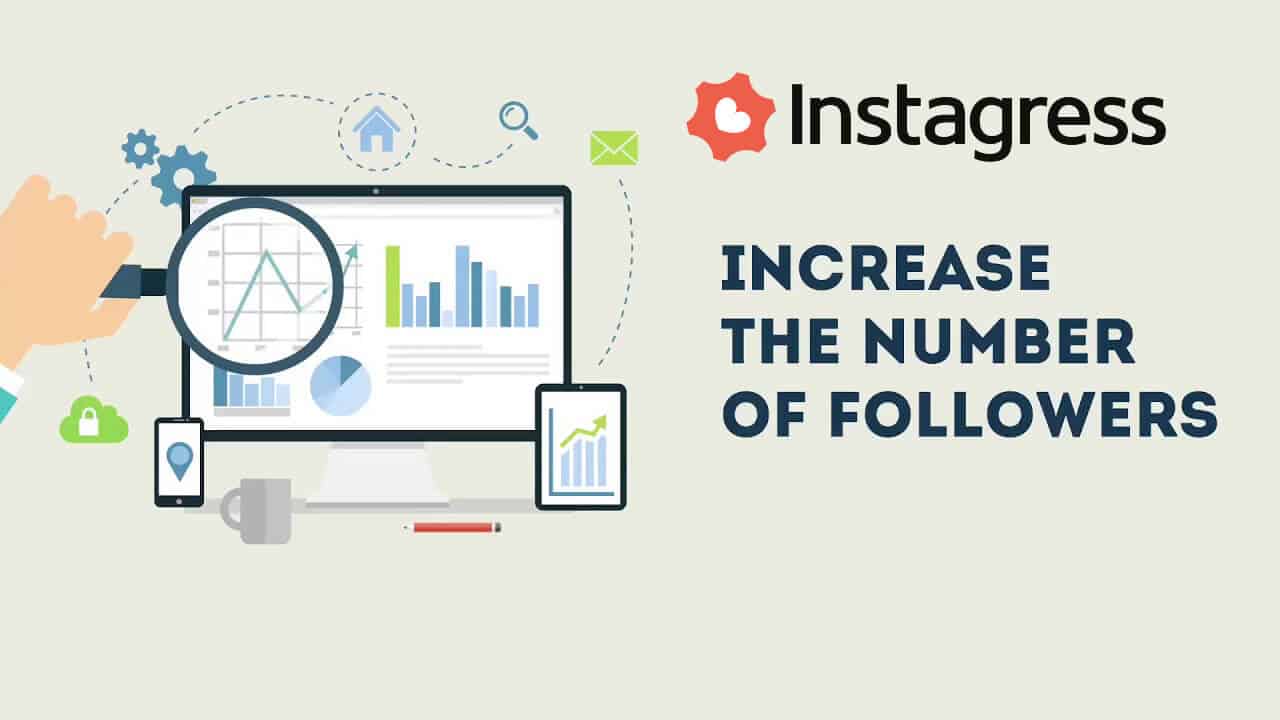 Instagress used to be one of the most powerful bot automation tools for Instagram. It allowed you to automatically gain followers, thus creating an active profile with thousands of followers within no time. With Instagress, you could automate the entire process and decide how often as well as how many followers you wished to add. You could then choose even more specific details such as the amount of followers added daily, specific time of day when you wished to have new followers added and more. You could even go as far as having automated likes and comments.
Instagress was a powerful tool for Instagram marketing.
Why Did Instagress Shut Down?
It's important to keep in mind that Instagram bot automation tools are not always the best solution. In fact, they are frowned upon by social media platforms, since their sole purpose is to "hack" the system by adding fake followers. This means you're trying to game the system in your favor in order to gain more real followers and ultimately get more exposure for your brand.
Instagress actually shut down after being asked by Instagram themselves. Instagram contacted Instagress asking them to shut down their services in order to avoid diluting their social media platform with millions of fake accounts.
Find the Best Instagress Alternative
While we do not necessarily recommend using Instagress alternatives, we are still going to provide a list of available solutions for those of you who do wish to proceed.
Below you will find more sites like Instagress that are still live and fully functional. We've tried all of these websites like Instagress in order to provide you with useful information such as pricing and features. This should allow you to quickly be able to find the Instagram automation tools that cater to your specific needs. Grow your Instagram followers and get more brand exposure by finding a quality Instagress alternative below.
ViralUpgrade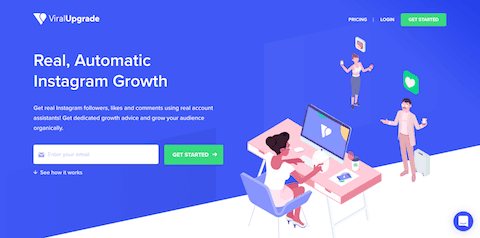 Official Site
ViralUpgrade is one of the few high quality platforms that lets you grow your Instagram account with pure organic traffic. The way this service works is you pay a monthly fee and you get a personal assistant assigned to work on your Instagram account. This assistant is a human, not an Instagram bot – who will manage your account as if it were their own. You will quickly begin noticing more followers, more likes, more comments and an all-around higher engagement level. This massive growth can be automated with monthly payments and there is no limit as to how big you can grow your Instagram following using ViralUpgrade. It's one of the best alternatives to Instagress and is actually legit.
Quick facts about ViralUpgrade:
All members get assigned a human personal assistant
Smartboost uses artificial intelligence to grow your account even further
Full analytics are provided for complete reporting
Everything is automated for you – just make the payment and sit back
Pricing starts at $39 per month
---
back to menu ↑
SocialDrift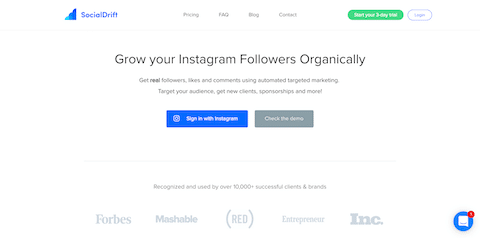 Official Site
SocialDrift is another one of the top websites like Instagress to bring you quality Instagram growth in a legit manner. SocialDrift allows you to purchase monthly packages and they manage your entire Instagram account on your behalf. While you still retain the ability to publish posts of your choosing and engage with your followers as you like, SocialDrift makes it a perk rather than a necessity. They use smart filters, hashtags and other such features to bring you targeted followers for your specific brand. Get likes, comments, shares and more and bring your Instagram account to the next level.
Quick facts about SocialDrift:
All of your Instagram activities are automated
Grow your following base 24/7
Targeted audiences for a quality Instagram following
Turbo mode lets you grow even faster
Prices start at $13 per week
---
back to menu ↑
Instaheap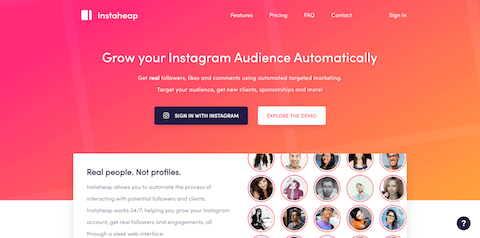 Official Site
Getting new clients for your business is much easier when you use Instagram automation tools like Instaheap. As one of the leading Instagress alternatives, Instaheap allows you to get real followers with the press of a button. With an impressive web interface, you will quickly be able to automate posts and get more engagements for the posts that you've published with pure simplicity. Just connect your Instagram account, manage your settings in order to choose the best targeted audience and watch your Instagram account grow within hours.
Quick facts about Instaheap:
Start seeing first results in 10 minutes
Choose targeted audiences by location, interests and more
Every step is fully automated by Instaheap
Pricing starts at $9 per week
---
back to menu ↑
Kicksta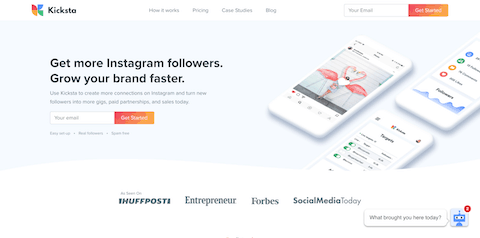 Official Site
With Kicksta by your side, you will quickly be able to up your game with your social media marketing tasks. Kicksta not only helps you gain more Instagram followers, but they also help you convert better, generate more leads and create more sales. One of the cool features found at Kicksta is being able to grow a following similar to other Instagram accounts. Simply tell the Kicksta team about a few other accounts that you would like to have a similar following to and they will automate the process of growing your own Instagram account to make it similar.
Quick facts about Kicksta:
Mimic other popular Instagram accounts in terms of follower types
Kicksta likes photos from followers of the accounts that you want to be similar to
Most accounts see real results in under 24 hours
Pricing plans start at $99 per month
---
back to menu ↑
Upleap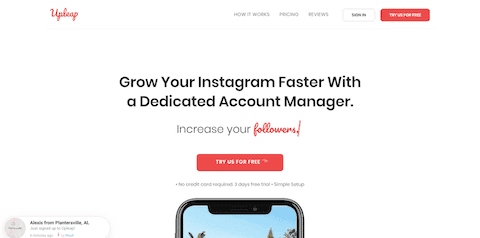 Official Site
Upleap is a powerful Instagram growth tool that will help you jump up to the next level with your social media marketing tasks. Upleap brings you a dedicated account manager that will handle all of your tasks for you in order to keep your account active and highly useful for your followers. Not only does this keep your current followers more inclined to engage with your posts, but it also helps you attract tons of new followers as well. Simply tell your account manager about the type of followers that you would like to attract and they will handle the rest.
Quick facts about Upleap:
Get a dedicated account manager to handle all your tasks
Target specific audience types via hashtags & more
Everything is 100% automated
Benefit from a 3-day free trial period
Pricing starts at $39 per month
---
back to menu ↑
Combin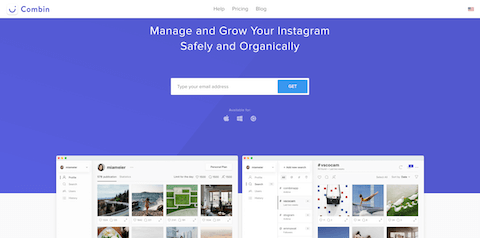 Official Site
Last but not least in our list of Instagress alternatives is Combin. One of the most impressive features of Combin is their graphical user interface that is out of this world. Along with incredibly simple features, you will have a blast using this service due to its ease of use and beautiful interface. Use advanced Instagram search filters, find specific audiences according to your goals, enjoy multiple account management and much more. With Combin by your side, getting more Instagram followers and engagement is easier than ever before.
Quick facts about Combin:
Use advanced search filters to find the best followers
Manage multiple Instagram accounts in one platform
Beautiful GUI with easy to use platform
Application available for Windows, Mac & Linux
Pricing starts at $10 per month, but a free account is available with limited features