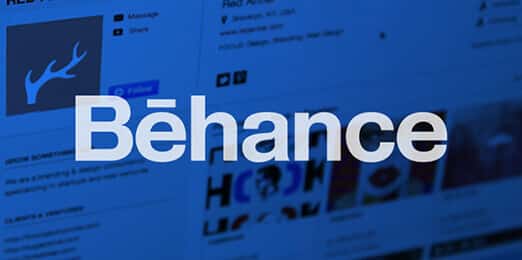 If you want to showcase and discover creative work, you should be using an online portfolio. This is one of the best ways to show your talents to the world and keep everything in pristine condition and well organized. If you want to add a professional touch to your creative talents, you should be using one of these best free portfolio websites.
Behance is the crème-de-la-crème of websites for portfolios. You can use this cool website to portray your work to find a new job in a creative field or just to keep a collection of your art. Schools also have personal pages to display all their student's artwork, which could lead to a new career. The best way to get noticed is to share what you have created with the world.
Use your Behance portfolio to show off your photography skills, digital designs, collages, paintings, and more. All you need to do is scan or upload your creation to add it to your portfolio. If you loved sharing all your artwork with this site, you'll love all these other websites like Behance that let you put together your own free portfolio to display all your hard work.
Dribble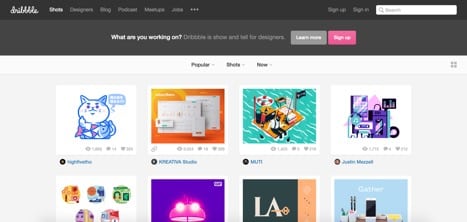 Official Site
Do you remember when you were young and had times to Show and Tell? Dribble is Show and Tell for adults. With this addition to sites like Behance you show everyone all the things you've created and tell them all about each piece. A huge community of users are already sharing screenshots of their works, photos of the process it takes to make their creations, and pictures of their finished projects. Browse the thousands of Dribble users to get inspired and meet people who love to art just as much as you do.
---
back to menu ↑
1x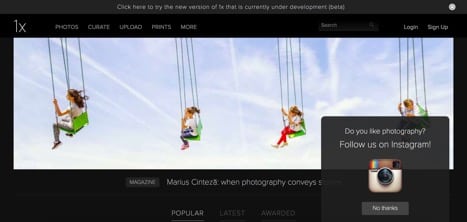 Official Site
1x is one of the best sites like Behance for photographers. This portfolio website is clean, classic, and simple to use. 1x is for photographers, if you use another crafting medium this site won't be the right one for you but if you love to take pictures, you'll love 1x and all that it can do for your career. The photos displayed on 1x's homepage have been curated by professionals. If you add something to your portfolio that catches their eye you might make it to the homepage too. This is great exposure for your brand. Become a free member on 1x, add to your portfolio and hope to be better than the rest. You can also connect with other photographers and find new clients with this site found among our list of best online portfolio sites. Good luck on making it to the homepage.
---
back to menu ↑
Flavors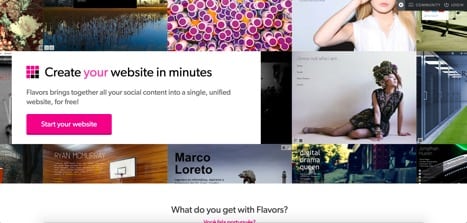 Official Site
With Flavors, you can make your own artistic website in minutes. You can also unify all your uploads from your social media accounts in a few clicks. Flavors is always 100% free and with all it has to offer we'd actually be willing to pay. You can use your mobile phone or tablet to add content with no additional effort. Flavors also has a ton of layouts, themes, and additional tools to create stunning content on your website without learning a single thing about coding. This website is one of the top Behance alternatives on our list to show off everything that inspires you in our beautiful world.
---
back to menu ↑
Carbonmade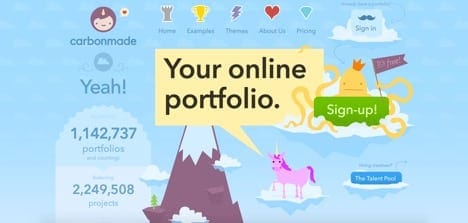 Official Site
Carbonmade must be added to our list of best free portfolio websites. This site similar to Behance lets you have fun with your portfolio. Everything about Carbonmade is hassle-free and easy to use. Don't let that fool you though, each page you add to will look professional and creative. Art has no limits and it's proven with Carbonmade. All their themes, templates, and added features will give you unlimited options to make your portfolio shine. You don't even need to know anything about HTML to use Carbonmade. Creating and sharing has never been easier, check out Carbonmade's website to see for yourself.
---
back to menu ↑
Krop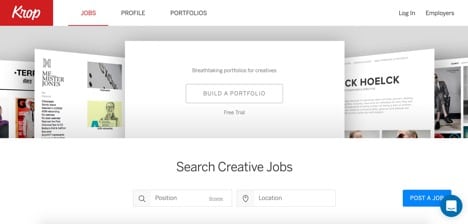 Official Site
This addition to our list of sites like Behance is the most professional tool you'll ever need to become a big shot in your artistic field. Top designers and major companies search through the portfolios on Krop each day to find new talent for their companies. If you're looking for a design job, start making your portfolio on Krop. The more you add, the more chances you have to be discovered. There's even a job board and a list of suggested jobs for you to browse and leave your resume. Krop truly is a design database to show off your work and get discovered for your creative talent.
---
back to menu ↑
Cargo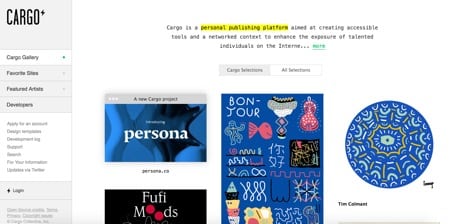 Official Site
Cargo is another personal publishing platform to expose your artwork to others. You also get free access to a wide variety of tools to make your designs, photos, and artwork "pop". This addition to our list of Behance recommendations is all about exposure through the internet. With Cargo you get 100MB of free cloud storage so you'll always be able to access your work anywhere you go. If you decide to upgrade, you'll receive your own custom URL and unlimited storage. Cargo is all about customization and unique designs, click on the link above to join in on the fun.
---
back to menu ↑
Coroflot 
Official Site
Coroflot uses personal portfolios to inspire new talent and show off exceptional work. Design driven companies from around the world log into Coroflot each day to recruit new artists to their team. Post your work on Coroflot and see how fast you receive an invitation for a new job. All it takes is about 20 original pieces to get noticed. If you dream of working with a top design company like CreativePro, The Dieline, or ArtsThread, you just have to start posting your stuff for maximum exposure. Coroflot has all the connections you'll need to find the creative proffesion of your dreams.