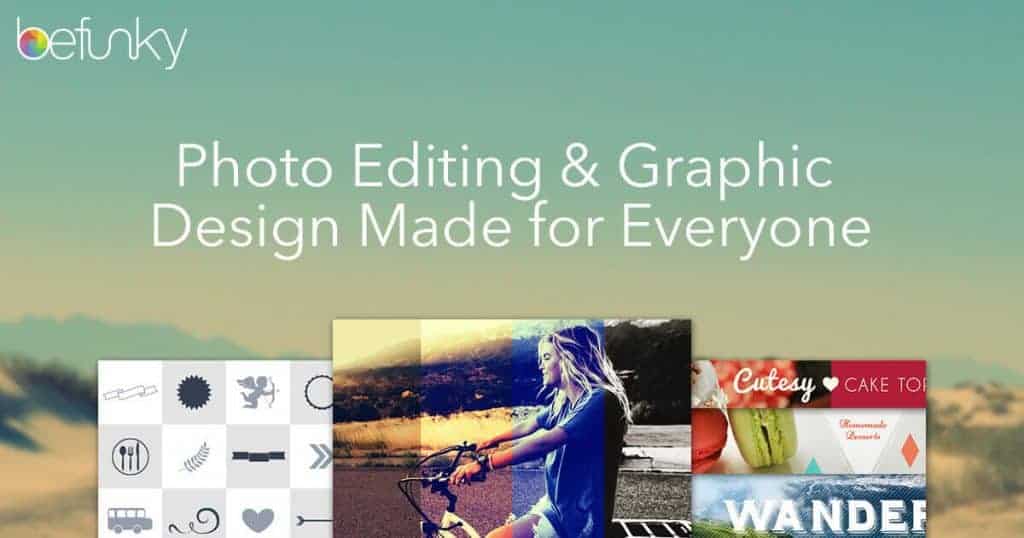 Creating collages, fixing photos, making beautiful invitations, these are all things you can do with BeFunky. There's also a lot more too. You don't need to have years of experience in graphic design or install complicated software. All you need to use BeFunky is some inspiration and an idea.
Take a look at all BeFunky can do to help you edit a picture or turn it into an oil painting. Why not add a lens flare for an illuminating touch? You can even make a special card for someone you love. With all the templates and tools that BeFunky has to offer, there's nothing you can't do with this easy online picture editor.
You don't even need to know how to use complicated programs like Photoshop to use BeFunky, the tools are perfect for beginners and will please the most experienced graphic designers. If you loved creating collages and photo effects with this website, you'll love these other sites like BeFunky that all let you be as creative as you can possibly be, with ease.
PicMonkey 
Official Site
If you want to make your ideas come to life, use PicMonkey to edit pictures online free. This photo editor is one of the best on our list of websites like BeFunky. Sometimes the creative beast inside you needs to be released and PicMonkey is a great place to let it loose. Use their exclusive features like mirror and ombre effects that will take your picture the next level. If you don't like your beauty shot you can use touch ups like wrinkle removers, eye tints, and mascara to brighten up your already, beautiful face. There's a lot more to discover with this addition to photo editing sites, you just have to follow the monkey to see it all.
---
back to menu ↑
Ribbet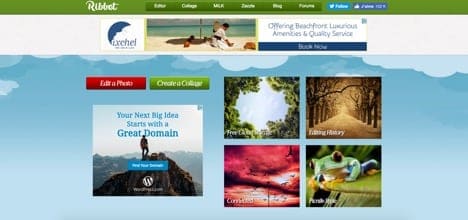 Official Site
Some picture editing sites use complicated tools, Ribbet was made to give anyone the capability to edit photos. In a few simple clicks you can fix photos, add effects, fonts, shapes, and more. This addition to our list of photo editor sites can be done from your browser without the hassle of installing software. You can use Ribbet on Mac, Linux, or Windows. If the simple tools are too easy for you, Ribbet has you covered with the advanced options. Start editing your pictures the fun and easy way with Ribbet.
---
back to menu ↑
iPiccy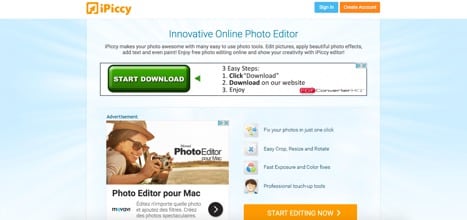 Official Site
Our list of photo editor sites wouldn't be complete without iPiccy. This photo editing website helps you make awesome pictures with the most simplistic tools. It only takes a few steps to create a beautiful work of art. Start by uploading the picture you want to use as a base and then get creative. Let the artistic inspiration flow through you. You can add effects, text, paint, and a whole lot more to make something that will dazzle everyone that you show it to. Don't forget to download and save your masterpiece when you're done.
---
back to menu ↑
Sumo Paint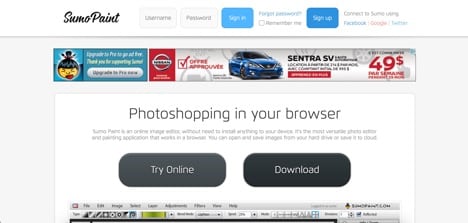 Official Site
Sumo Paint is a photoshopping platform for your browser. There's no need to install anything with this addition to sites like BeFunky, just follow the link above. You need a flash player to use Sumo Paint, if you don't have it the link can be found when you click on Sumo Paint's website. Once you're ready to style your picture, all you must do is upload something to begin with. You can even start with a blank page. The rest is up to you. Take a look at Sumo Paint's toolbar to see all it has to offer. You might be confused at first, but with a little practice you'll master the art of photoshopping.
---
back to menu ↑
FotoTrix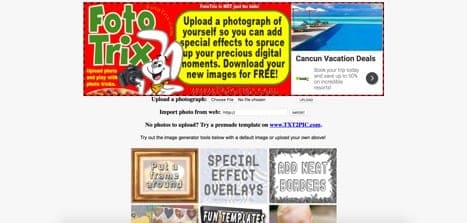 Official Site
This is the silliest addition to our BeFunky alternatives. FotoTrix lets you manipulate your own pictures and make them funny and questionable. You can use over 2500 funny templates to make it look like your hanging out with a celebrity or holding a goofy prop. If your feeling bold, use a snazzy pic and add an Emmy or an Oscar to feel like a star. Does your family vacation picture look a little dull? Add hilarious hats to every member of the family, even the dog. Every picture you'll create with this funny website will make you laugh out loud. Enjoy this easy online photo editor to the max!
---
back to menu ↑
FaceinHole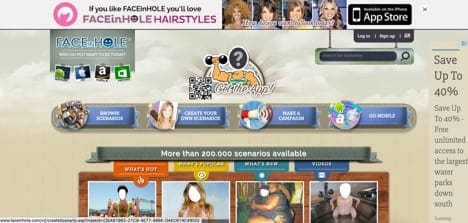 Official Site
The only question you have to ask yourself before using FaceinHole, is who do you want to be today? This hilarious addition to our list of picture editing sites is fun for all ages. FaceinHole is one of the easiest sites like BeFunky to use. All you have to do is upload a picture of your face and add it to the one of the celebrity templates. Each template has a pre-cut hole to adjust your face, once you've placed it to perfection, you can save and download your image. The new "you" can then be shared however you want. FaceinHole also has other templates like animals and silly poses. If you want to edit a picture in a very funny way, you should use FaceinHole. You won't be disappointed.
---
back to menu ↑
PHIXR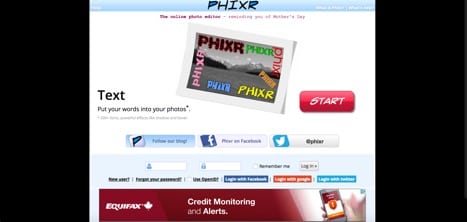 Official Site
If you have some pictures that don't exactly make you 100% happy, you can use PHIXR to upgrade them to perfection. With this site found on our list of BeFunky alternatives you can resize, add stickers, words, borders, and a ton of cool effects. Everything is done in just a few clicks and your final creations will either be beautiful or hilarious. The photos you upload on PHIXR aren't saved on their server for very long so you have to remember to download your completed work. Another thing you can use PHIXR for is to "fix" your more sensitive pictures. Click on the link above to start fixing all your picture collection.
---
back to menu ↑
LunaPic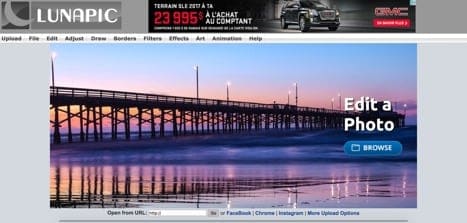 Official Site
Lastly, on our list of sites like BeFunky, we must add LunaPic. LunaPic can be quite breathtaking once you discover all that it has to offer. With this cool photo editing website, you can add fire and water effects to make your pictures come to life. There are over 200 realistic effects to choose from. LunaPic also has all the traditional tools you might need but with an extra flair. All your final results will look like you've paid a professional to do the work. No one needs to know you created this work of art, with only a few clicks. The best thing about LunaPic is that it's absolutely free!