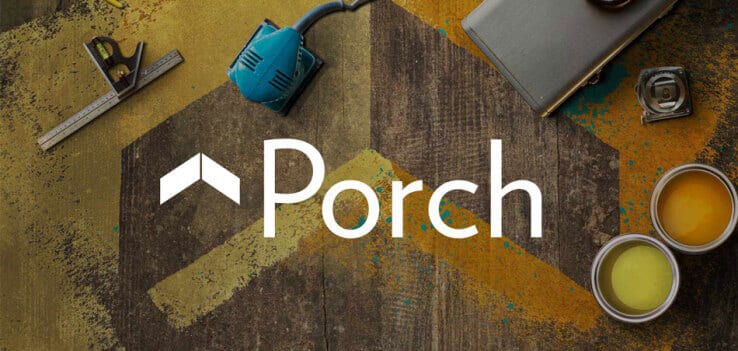 Official Site
Some people have the gift of being able to create, repair or design almost anything they need to get done in their home. It seems that the DIY abilities flow in their veins and virtually any task can be completed. I, on the other hand, can barely change a lightbulb. So you can imagine how I suffer when I get back home one day and see that my sink is leaking, or notice that my roof needs to be patched.  That means that I need to find someone to do it, but where to start? How do I find a contractor?
Usually, you end up doing one of two things: you either ask your friends and relatives for recommendations or start searching online for contractor referral sites. This can be a nightmare. How can you be sure that you won't end up with a bigger problem? Is that contractor actually qualified? Does he have the proper tools? This used to be total guesswork, and you ended up crossing your fingers hoping that all went well.

This is why Porch.com was launched. It was designed to be a website where you could find inspiration, gain access to professionals, and read customer reviews. All in one place.
What is Porch.com?
Porch.com is meant to be the place where you can search for contractors that can help you with almost any home improvement task. Porch pros are independent contractors, and each one sets his own price and schedule. In 2013 this site partnered with Lowe's, which helped it expand nationally and gain a huge number of users.
There are now over 3 million professionals listed on the website, and over 130 million projects have been completed.  Not bad for a site that was launched just five years ago. And best of all, it is a free contractor referral service. It has been featured on The New York Times, CNN, and even Oprah has talked about it!
Do they have the type of contractor I need?
No matter what home improvement task you need to get done, I'm sure there is someone that can do it. Professionals are grouped into 15 main categories –
HVAC Contractors
Remodeling Contractors
Handyman Services
Electricians
Painters
Plumbers
Roofing Contractors
Landscaping Companies
Flooring Contractors
Carpenters
General Contractors
Architects
Home Cleaners
Pest Control Experts
Interior Designers
But each of these is divided into many other subcategories. For example, when searching for an electrician you might need someone that is really good in cable installation, or deck lighting, or who can fix broken outlets. At Porch.com you can find a repairman that can get it done.
How do I find a contractor?
It would be very time-consuming if you had to browse through all sort of categories before you were able to find a contractor. That's why all you need to do is to type in the project you need help with into the search box.  It will then show you a list of professionals that are nearby.
As you see, it is really easy to find contractors in your area. No need to ask around for plumber recommendations, this website will show you many of them who are ready to help you.
How do I choose a good contractor?
Once you search for the kind of project you need help with, a list of several professionals is shown. When you click on any of them you will be taken to their listing page, where you can find lots of valuable information that can help you pick the best one.
In the About section you can read a brief description of the contractor. It might list their website, and shows you the specific services they offer and any licenses they might have. Some contractors have a BBB rating and a median project cost shown. You can also check out their contact information, and there is a large service area map, so if your home is included in it you can almost be sure that they will work with you.

Contractors at Porch can earn badges that make them stand out against their competitors. These badges are given to professionals that have demonstrated excellent quality of work, responsiveness, and who have been background checked.
All this information should be more than enough to help you make a good selection.
Submitting a Project
Another great way to find pros that can help you is by submitting a project on the website. Registration as a user on the website is free of charge and will allow you to post a project where you specify what you need. Contractors will then contact you by phone, email or text to ask questions, gather more details about your needs, and talk about pricing and schedules.
This contractor was great! Now what?
The primary purpose of Porch is to help people find good contractors, and the best way to do this is by leaving reviews about their work. These are similar to the ratings you see on Amazon, where you leave a star rating and some feedback, which can be as detailed as you want to. Ratings show up on the contractor's profile page and are a great way for other potential customers to get a general idea of how satisfied people are with the service provided.
This contractor was not great at all! Now what?
Things happen. Even if you tried to narrow down your options and picked a contractor who you thought would be a really good one, it can end up being a negative experience. For example, what happens is there is property damage as a direct result of the contractor's work on your original Porch project? Or what if he takes your deposit and then just doesn't complete any work?
That's why there is a Porch Guarantee.  Porch will assist you while you try to resolve the problem and recoup your loss. If you need to get any damaged items repaired or replaced, or if you wish to pursue the contractor in court, they will provide you with up to $1,000 to help offset the costs.
There are, of course, certain requirements you need to meet. It is always a good idea to check out the terms and conditions of this guarantee so you can understand exactly what it does and doesn't cover. You can find these T&Cs posted on the Porch website.
Final Thoughts 
As the saying goes, there's no better price than free. Having a website available that is free to use, has hundreds of contractors and repairmen available to do practically any home improvement job, and being able to read about them and check out other customer's reviews is great. There is no need to browse one site after another trying to figure out who can help you; Porch.com has everything in one place. It is an excellent tool that also gives you piece of mind with its Porch Guarantee.
Give it a try, and don't forget to leave some feedback for the contractor after your job is done!
Official Site