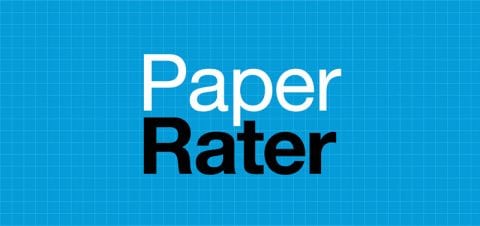 PaperRater is one of the first places you'll want to visit before handing in an essay or publishing an article online. We used it while writing this PaperRater review and we can vouch for its accuracy and speed. If you're looking for a free online grammar checker that doesn't require you to download software or create an account, you're going to love Paper Rater.
After testing out just 3 of our posts for grammar mistakes, we found a total of 4 errors. That's huge since we actually proofread all content before it gets published. PaperRater makes it easy for you to catch spelling mistakes that you've missed. No matter how amazing your grammar skills are, you're bound to miss something eventually and that's where PaperRater comes in. With a simple scan, you can literally catch all of the spelling mistakes within seconds.
Amazing Speed
One of the greatest things about PaperRater is its outstanding speed. You will only have to wait a few seconds to access the spelling and grammar check results. We copy and pasted roughly 1,000 words of content and it took roughly 10 seconds to scan the entire thing. We then proceeded by uploading a 5-page Word document for this PaperRater review and it took under a minute to scan the entire thing.
Many online grammar checking tools take several minutes to scan documents, but PaperRater is incredibly fast. While the results are not instant, this is easily among the fastest sentence correction services available on the internet.
Grammar and Spell Check Accuracy
Another huge perk of Paper Rater is their outstanding accuracy. While you expect English grammar checker tools to be perfect, not all of them are. Many other services miss out on tons of errors and some even provide suggestions for properly written content. While testing for our PaperRater review, we were very impressed to see near perfection. In fact, our tests did show perfection. We tested a total of 10 documents/articles and all spelling errors were found, then fixed with proper suggestions.
Premium PaperRater Features
PaperRater is entirely free to use. However, you may want to upgrade to their premium plan if you have a ton of lengthy documents to check. With the free plan, you will only be able to check 5-page documents at a time. This means if you're document has 20 pages, you will have to perform 4 checks. While this isn't all that annoying, it can get time-consuming for some. Below is a chart displaying all of the additional premium features.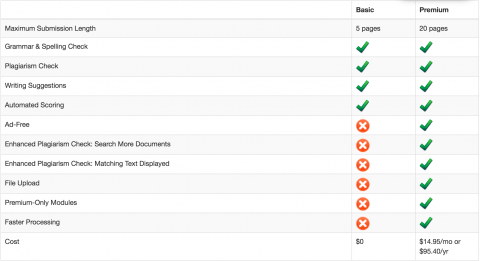 Upgrading to their premium plan costs $14.95 per month or $95.40 per year, which is very affordable. This is especially affordable for teachers or students who have to perform plagiarism checks on a weekly basis. We highly recommend upgrading if you plan on using this tool on a regular basis, otherwise the free plan will do just fine.
Vocabulary Suggestions and Feedback
PaperRater provides you with excellent feedback and vocabulary suggestions. When uploading your content, you can pick the schooling level of the writer. They then provide you with information about the vocabulary you should be using according to that level and whether you're using enough academic vocabulary words. You will also be shown whether your content is inferior or superior to other writers of the same level.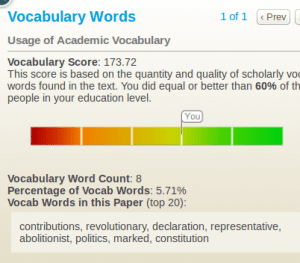 Final Verdict
If you're looking for an easy to use grammar checker online, PaperRater is the way to go. They don't use a software program, so there's nothing to download. You can use it without having to sign up and you can enjoy unlimited spell checks for free. We absolutely loved using it for this PaperRater review and we know you will too, regardless of whether you're a teacher, student, blogger or simply want to proofread your social media posts!
Official Site