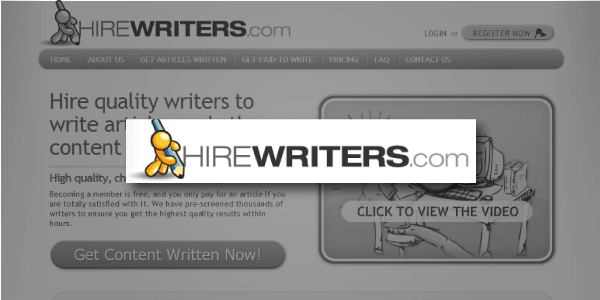 Whether you want to hire writers online or even if you want to get paid to write content, HireWriters is one of the best places to visit. Our HireWriters review covers this content service that lets you buy content for as little as $1.50 per article, making it a really cheap content service. While their prices are low, the quality is high and you retain full control over whether you want to accept the delivered content or not.
HireWriters for Clients
As a client, you will get to buy really cheap articles of high quality. However, not all content will be of high quality. That may sound contradictive, but bear with me. You get to refuse content if you feel that it's not up to your standards. When you refuse to pay for content, the job gets automatically relisted and other writers can then write it. The good thing is that you can keep refusing articles until you feel the quality is amazing, which allows you to really get awesome content written for cheap.
When writing this HireWriters review, we noticed that their prices are incredibly low. You can have a 1,000+ word article written for just $4.25 and many of the writers are excellent. In fact, you can choose a skill level to have even more control over who writes your content.

There are 4 levels of writers; beginner, general, skilled and expert. If you really want to make sure that the content is well written the first time around, spend a little extra and go for an expert writer. This means writers need to have a minimum of 4.6 stars out of 5, at least 14 feedback reviews and a minimum "on-time percentage" of 88%.
Whether you want to hire bloggers or even if you want cheap translation services, HireWriters is one of the top sites online.
HireWriters for Writers
If you're a writer or even if you want to make some extra money on the side, you'll want to check out HireWriters. All you need to do is build a free account and you will instantly be able to start making money online. You will start off as a beginner, but if you write quality content, you will be able to climb the ranks rather quickly. As you climb the ranks, you will be able to accept better paid online writing jobs.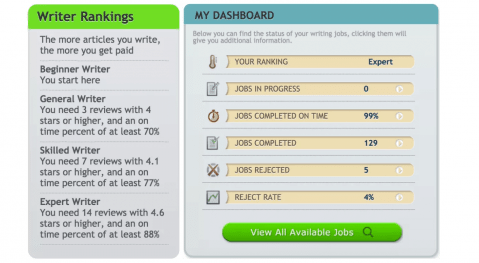 The writer's dashboard is very well built, allowing you to quickly keep track of all your stats. As you can see, this HireWriters review wasn't falsified; we have actually used HireWriters in the past. If you constantly write quality content, your rejection rate will normally be quite low, allowing you to make quite a bit of money. One of the great things about working at HireWriters is that you'll often be able to find long-term clients who offer repeat work on a regular basis. This offers some sort of stability.
Writers are also protected. Clients will only be able to see the work as an image with a watermark, making it impossible for them to steal it and not pay. Of course, they could also retype the entire thing, but for a few dollars per article, that rarely ever happens. In general, the clients on HireWriters are trustworthy. They actually have to fund their accounts before listing jobs, so you know the funds are there.
Payments are sent out every Friday via PayPal. We've noticed that they tend to pay every Friday at noon (12pm) EST, but this could vary from one writer to another. Nonetheless, we have always been paid on Fridays without any exception, making them a reliable company.
Final Verdict
Overall, HireWriters is an excellent content writing service for clients and is an amazing place to work as a content writer online. If you want to access an unlimited pool of writing jobs, this is the place to be. There are great opportunities for serious writers and this can easily double as a cheap translation service for clients. Our HireWriters review is completely unbiased, so check it out and work online or hire content writers today!
Official Site