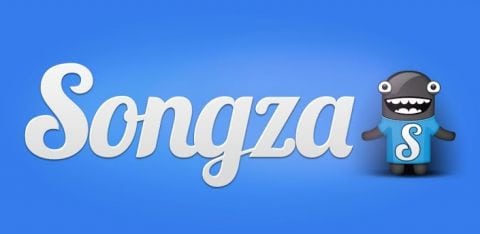 Songza was a great place for music lovers to get their music fix on a daily basis. This site was a free music streaming site that allowed users from the USA and Canada to stream music all day long without ever having to pay anything.
The music at Songza was curated by music experts and playlists were created so you could easily listen to great songs and discover new music all at the same time. The playlists at Songza would change according to the time of day, your mood and much more. It was easily one of the best music streaming sites online.
Songza was recently shut down in December 2015 and has left a lot of users looking for Songza alternatives. Fortunately, we have sourced the best free sites like Songza so you can quickly and easily get back to listening to the music you love. Scroll down to browse our list.
Spotify
Official Site
Spotify is one of the leading music streaming services online. This Songza alternative is entirely free to use with ads or you can pay to have the ads removed. The best thing about Spotify is that it has an endless collection of music and all of the music can be streamed for free from all of your devices including your tablet, mobile phone and even your computer.
---
back to menu ↑
8tracks
Official Site
8tracks is a music streaming site that lets you listen to full length songs via their online music cloud. This free Songza alternative allows you to enjoy playlists that were created by other users from all over the world. Discover new songs and enjoy pre-built playlists for a simple way to enjoy streaming music. You can also create your very own playlists and share them with the world. 8tracks is one of the top rated sites like Songza online.
---
back to menu ↑
Deezer
Official Site
Deezer is another great place to listen to unlimited music online, be it rock hits, metal or even R&B. The radio music is completely personalized according to your specific tastes in music so you can press play and enjoy a curated selection. You can enjoy music playlists and you can quickly sign up by using your Facebook or Google credentials. If you're looking for a Songza alternative that costs nothing and brings you millions of radio stations, you're going to love Deezer.
---
back to menu ↑
Slacker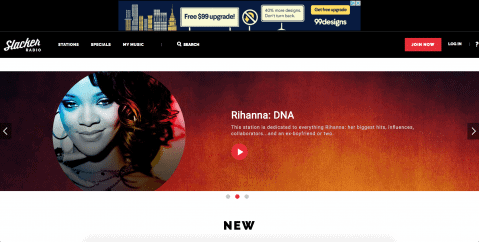 Official Site
Slacker is going to change the way you listen to music online. Every song in every playlist is handpicked on this free radio platform, providing you with quality audio entertainment. This music streaming service is available for free with ads or you can pay to have the ads removed. They have over 13 million songs in their catalog and they make it easy for you by providing you with categories of all music genres that you can sort by artist, albums or even hits.
---
back to menu ↑
Tidal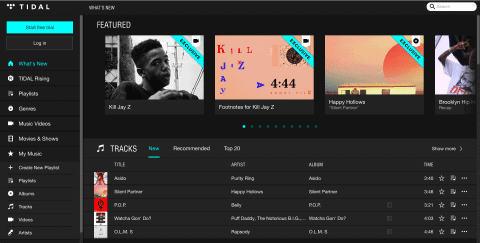 Official Site
Tidal is a premium music streaming service online that lets you enjoy high quality tracks from your computer or Android and iOS devices. You will have to pay $9.99 per month to use their music streaming platform, but they offer over 25 million full length songs on demand. One of the perks of using Tidal is that they offer lossless songs so you can enjoy music at its purest form. They have a station for all genres including rock, rap, metal, country and much more.