Men's Fitness is the ultimate men's magazine online – it has workout tips, fitness news and sexy girls. As one of the top rated fitness magazines in the world, Men's Fitness is extremely popular. Their website is one of the most bookmarked sites by men on the internet. Whether you're looking for men gifts, live news video report or even ways to combine diet, fitness and foods to create a better lifestyle for yourself, this men's magazine has it all.
Whether you're looking for new workout ideas to beat obesity or even if you want to find out about the latest news in the NFL, you're going to find it at mensfitness.com. Along with great sports articles, gift ideas and fitness routines, you'll get to find out about the latest supplements, browse hot girl pics and much more. Live exercise fitness tips are also provided, as their policy is to bring you the best exercise information online.
If you're a fan of Men's Fitness, you're certainly going to want to check out these fitness news alternatives. We curated a list of the best sites like Men's Fitness so you can access even more awesome articles. Get ready to bookmark the following sites because they're amazing!
Bodybuilding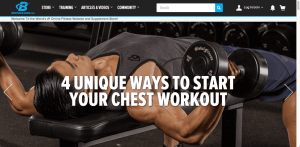 Official Site
Bodybuilding.com is one of the essential websites to have in your arsenal if your goal is to put on some mass. Bodybuilding has numerous articles, workout guides and tips on getting bigger, stronger muscles. Bodybuilding also has a ton of articles, videos and a full community of users who share their own personal tips and stories. They also have their own store.
---
back to menu ↑
Men's Health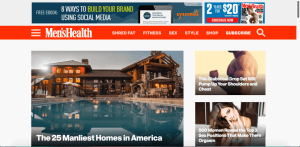 Official Site
Men's Health is probably the fitness magazine that most resembles Men's Fitness. This website brings you all sorts of great articles such as workout plans, articles about sex and even grooming tips for men. If you're looking for an all-around men's magazine with a primary focus around health and fitness, you're going to love having Men's Health in your bookmarks.
---
back to menu ↑
Runner's World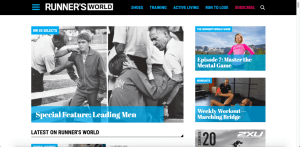 Official Site
Runner's World is a little different than the two magazine sites above, but it does appeal to guys who love fitness. This online magazine covers all topics that revolve around running. You'll find great articles on how to lose weight while running, reviews of the best running shoes available and much more. If you're a runner of even if you have a treadmill, you'll want to visit Runner's World!
---
back to menu ↑
Iron Man Magazine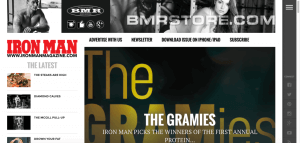 Official Site
Iron Man Magazine is one of the hot new fitness sites for men online. It covers the newer types of training that include strength, resistance and other untraditional training sessions. You'll also get to look at some hot girls in bikinis and learn how to make healthy and tasty recipes for weight loss. Check out Iron Man Magazine right now for tons of great fitness articles!
---
back to menu ↑
Muscle & Fitness
Official Site
Another amazing men's magazine online is the Muscle & Fitness website. This site covers nutrition, weight loss, workout sessions and even shows you tips on how celebrities lose weight so quickly. Muscle and Fitness is one of the leading men's fitness magazines online and is definitely worth checking out if you're in the process of losing weight or building mass.
---
back to menu ↑
Muscle & Strength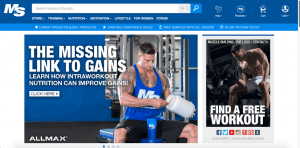 Official Site
Muscle and Strength is another great website for men and women. It has a forum section that allows its users to interact with one another. They also have their own online supplement store, so whether you're looking for whey protein, creatine or weight loss pills, you can find it all in one place. Check out Muscle & Strength for great articles and amazing products!