Alexa is probably the most used website ranking service in the world. Alexa ranks the top 30 million websites on the internet and provides data according to users who visit each website. However, in order for Alexa to gather data, users must have the Alexa toolbar installed in their browser, which you can download here: Get Alexa Toolbar
Alexa is useful for webmasters who want to know their website's worldwide rank. It's also useful for finding backlinks, main keywords used, sites visited before and after visiting the website in question and much more. Alexa can even gather specific details about your website's visitors such as their level of education, their age and more.
One of the downsides of Alexa is that it only gathers information from people who have the toolbar install and you need to pay for a monthly membership in order to unlock all of the stats. We've located the best Alexa alternatives so you can get the same information for free. These free sites like Alexa are great for webmasters and curious visitors – browse the list now!
SEMrush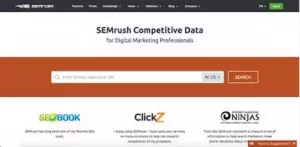 Alexa alternatives are few, but SEMrush is one of the only tools you should add to your arsenal that is actually worth paying for. Along with having numerous keyword research tools available, SEMrush also allows you browse website rankings and find valuable information about your competitors. You will be able to quickly locate all of your backlinks, set up brand monitoring and determine which of your competitors have similar keywords. SEMrush also has their own built-in ranking system for websites, which is very similar to Alexa. Find the best tools for ranking your website at SEMrush and you won't ever need any other webmaster tools ever again.
---
SimilarWeb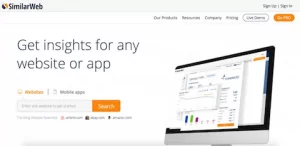 SimilarWeb is one of the best alternatives to Alexa online. This free site lets you gather website data much more accurately, because users don't need a toolbar in order to provide data. SimilarWeb is easy to use and has pro tools available for those looking for deeper stats. SimilarWeb also gathers and compares data for mobile apps as well.
---
Quantcast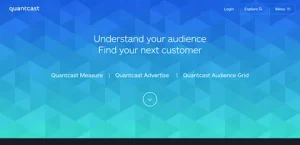 Quantcast is one of the leading metrics tools for webmasters online. This site lets you understand all of your traffic and the exact type of audience that visits your website. In order to use Quantcast to calculate metrics for your site, you will need to first sign up, but the entire process is free to use for everyone. Quantcast is a truly free site like Alexa, but better.
---
Website Informer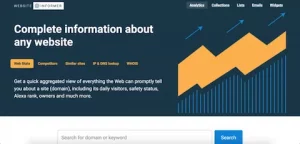 With Website Informer, you will be able to gather important stats about your website within moments. WebsiteInformer is completely free to use and it also provides you with details about the owners of each site. This site is quite similar to Alexa and also comes with a widget that you can easily integrate directly into your own website.
---
Ahrefs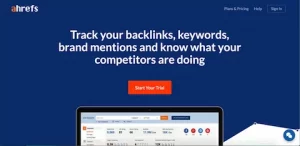 Ahrefs is one of the best ways to find insights about your website other than Alexa. This site provides you with accurate data about backlinks, visitor stats, anchor keywords and much more. Ahrefs has a free trial that you can sign up for. Ahrefs also provides webmasters with a bunch of SEO tools so you can fix up your website and make it the best it can possibly be.
---
Compete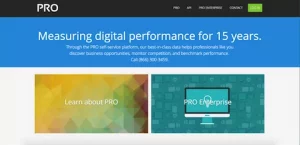 Compete is one of the oldest sites like Alexa online. It provides you with accurate data about your site's visitors and you can also compare data with other sites. Compete has a beautiful dashboard that makes it simple for you to quickly find all of the stats you're looking for. Compete also has outstanding SEO tools so you can research quality keywords that work perfectly with your website.
---
Why You Should View Web Statistics
Traffic sites that show you website statistics such as Alexa, SimilarWeb and more, are extremely important to any webmaster who take analytics seriously. Whether your ultimate goal is to optimize each page on your site to improve searches in Google or even if you just want to build a site as a hobby, keeping an eye on your traffic is crucial. Site statistics allow you to figure out a whole lot of information about how others view website pages, how long they remain on your site, what they do, what they look at and much more.
Getting to know your audience will allow you to serve them better across all of your domains. Whether you're trying to gain new customers or even if you're building traffic sites for ad income, knowing your audience is crucial. With Alexa alternatives, you can easily figure out where your visitors are from, how much time they spend on each link, which search engine they originated from and much more. This data allows you to tweak the user experience to maximize revenues and really make the most out of your traffic.
Make the Most Out of Your Website Traffic
You could have 1 million daily visitors on your site, but if the engine that's running your site is of poor quality and if the content is all wrong for your audience, you will never make a dime. You have to be the best host possible and in return, you will make tons of sales and earn maximum revenue from ads. Make sure to check the report on each one of the sites listed above every single day. These reports often include tips on how you can specifically better your website. Whether that's choosing a new host, adding in specific keywords, writing specific content or building banklinks, these sites like Alexa should certainly help increase your website traffic.