There's a lot of ways to travel. Planes and trains can be expensive and driving can be exhausting. Taking a bus to go somewhere near or far can be a great option. The best thing about bus travel is the fact that it's pretty cheap. You can travel halfway across the country for under $100 and relax in a comfortable seat as you view the scenery set before you. Greyhound is a well-known transport company that has a ton of buses rolling around North America, all the time. You can travel by bus in the USA and Canada with Greyhound. You can even cross the borders.
Greyhound's website is very easy to use. All you must do is enter your location and destination, the date of your travels, and how many people are travelling with you. There's even a place to add extra discounts and promotional codes. A new page will then pop up for you to select the best deal for your budget. If you book online you'll get an added discount and if you choose to buy your ticket in advance, you can take advantage of deals up to 50% off.
This bus travel service is one of the best, and most comfortable, for long-distance travels and it's also great for daily commutes. Greyhound also has a number of other services which include, charters, tours, and group rates for numerous events. Browse their website now to see everything you can get from this popular travel service. If you like travelling by bus you'll be happy to know Greyhound isn't the only one available to you. There's a lot more bus services you can use, we've listed only the best bus companies like Greyhound below that all offer comfort, savings, and additional perks. Enjoy!
CheckMyBus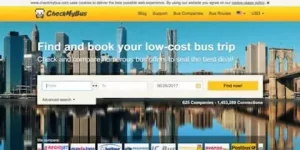 Official Site
CheckMyBus is a service offered to anyone who wants to know more about bus travel. On this site you can verify schedules, book tickets, or simply compare prices. Download the app to know everything on the go. Use CheckMyBus to verify if there will be Wi-Fi or extra leg room on the next bus you'll take. There's a lot you can do on this site, CheckMyBus is a very useful addition to our list of bus travel companies.
---
Wanderu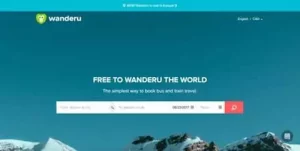 Official Site
If you prefer ground transportation like buses, you'll love Wanderu. This site has a lot of buses like Greyhound, Boltbus, and Megabus, waiting for you to book a ticket and experience an adventure in comfort. Wanderu can compare prices and find all the additional features you're looking for. This site can also get you a great deal on train tickets via Amtrak and regional rails. Click on the link above to learn more about Wanderu.
---
Megabus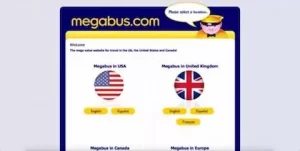 Official Site
Megabus is a one of the cheapest additions to our list of bus companies like Greyhound. This company serves the Eastern and Midwest of the USA. You'll always get free Wi-Fi and reclining chairs on their buses. If you're lucky you can find $1 tickets on this site and free rides. If you missed out on these deals, don't worry, Megabus has a lot of additional discounts and deals added all the time. Waiting until the last minute is one of the best ways to snag the lowest deals on this site.
---
GoToBus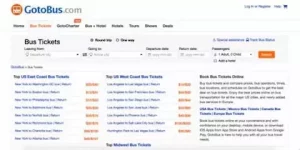 Official Site
GoToBus is a bus transportation website that travels through all the major cities in the United States. One this site you can buy buses tickets, compare prices, find operators, view times, determine locations, and verify schedules. You'll also be able to find a lot of great deals that can be used towards your next ticket purchase. Download the app to know all this on the go. GoToBus has a lot of buses like Greyhound that offer total comfort, spacious seats, and free Wi-Fi.
---
Bolt Bus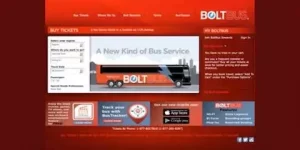 Official Site
The Bolt Bus is a new kind of bus service. This company has a lot of extra features like free Wi-Fi, extra legroom, plug ins, reserved seating, group discounts, and the occasional $1 ticket. Bolt Bus travels across the Pacific Northwest and passes by some of the most beautiful sceneries in the United States. If you want a luxury ride, for cheap, with an amazing view, you'll love this addition to our list of bus companies like Greyhound.
---
Busbud 
Official Site
Another addition to our list of buses similar to Greyhound is called Busbud. Busbud is one of the best ways to book bus tickets online. Enter your information like destination and times and watch the results appear. From there you can choose to ride simple or upgrade to luxurious buses that have reclineable seats, individuals tvs, and even onboard catering services. With Busbud you can ride low class or first class, it all depends on your budget. Whichever one you choose, you can save money by buying your ticket online.
---
Coach Canada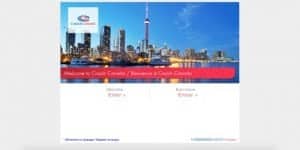 Official Site
This addition to our list of sites like Greyhound is a Canadian based service for bus transportation. Coach Canada offers a reliable and comfortable service through Eastern Canada. Coach Canada also works with third-party transports to extend the service through the borders and to the East Coast. Coach Canada is great for once-in-a-while travelers and avid tourists. To learn more about Coach Canada, click on the link above.