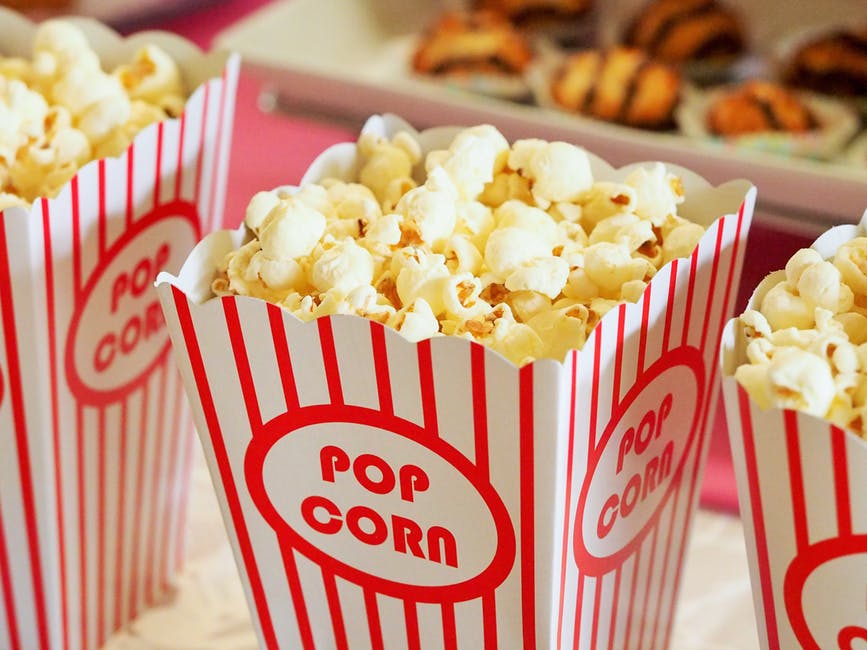 With many outdoor events and activities canceled at the moment due to COVID-19, staying in is the new going out!
And what better way to enjoy your night in by hosting a movie night?! This is a fun-filled activity that the whole family can enjoy!
So how do you go about hosting a movie night at home? Well, don't worry this article has you covered. We will tell you exactly how to prepare and host the best movie night around!
Read on to find out how to turn your living room into a makeshift movie theatre!
Get Creative with Your Props!
If you have young children at home, you can make it a really fun preparation activity by getting them to design movie posters and movie tickets for you and everyone who is attending!
Get out the arts and crafts box and make it into a competition of who can design the best movie posters and tickets. You can then stick these on the walls and have the movie tickets taken as a pretend entrance fee. 
It gives your children something to look forward to and makes it seem extra special than just watching a movie at home. Treat it as a special occasion and they will respond in a similar way. 
This is also a great activity if you are wanting to get them to practice drawing and coloring, and keeps them entertained for an afternoon!
Build a Sweets Stand and Snacks Table 
Just like at the cinema, you can have your own pick and mix stand and snacks for people to 'buy'. If this is for young children, it could be done in the form of tokens for helping with chores or good behavior throughout the week.
If it's for adults, you can make some novelty currency or tokens as a form of fun when dishing out snacks for the movie. It doesn't need to be elaborate or expensive, just reuse some Tupperware or old mason jars and fill them with candy.
If you buy some paper bags, guests can fill up their candy bags all ready for movie night watching. You could even make milkshakes or coke floats to really give it a retro vibe!
Snacking Essentials: Nachos and Hot Dogs 
No trip to the movies is complete without tucking into some nachos or a hot dog. Go upmarket and make a large sharing nachos plate, complete with homemade guacamole and salsa. You can even make your own nachos by baking or frying corn tortilla bread in the oven. 
With your homemade hot dogs, buy some quality sausages, some buns, fry up some onions and make sure you have plenty of mustard, chili, and ketchup for everyone's preferences!
Movie Themed Cocktails
If it's an adult affair, come up with some fun play on words cocktails that you can serve to your guests. You can premix all of the ingredients beforehand and place a large jug of it in the fridge so you don't need to worry about leaving your guests unattended. 
Get some margarita glasses, some cocktail umbrellas, a few slices of fruit and ice and you are ready to serve! The only job you will need to do is come up with a fitting name.
So fancy sipping on a Black Widow-tini? Or maybe a Return of the Jedi Sidecar? Whatever your movie preferences, there will be a cocktail for you and your friends to toast with!
Select Your Film or Films
Choosing your film can be half the battle. You want to ensure that it will be a film that a range of people will enjoy and haven't seen. Check out the best movie options for you and your movie group online.
You can even get a comprehensive guide and trailers for various different movies to trial them out. If you are watching more than one movie, it's usually best to stick to a similar genre such as action, comedy, or musicals.
You will need to try and work out what type of films will be most suitable for your guests and whether they are age-appropriate. Check with any parents if its for young children whether they are happy with your film choices. 
Transform Your Living Room
This is the easiest way to make it feel like a movie theatre. If you have a projection screen or a large television this is the best substitute for a cinema screen. 
Now you want to make it comfortable. So get as many beanbags and pillows and duvet covers and arrange them on the floor so it's like a big den. Stick up your movie posters and turn off the lights. This will give it a cozy and movie theatre vibe and means that more people can comfortably fit in the space. 
If you want you could bring in a few fairy lights to light up the room before the movies to give it a bit of an atmosphere. You could also put on a playlist of movie soundtracks, but put the volume on low so your guests can talk amongst themselves.
And that should be it for your movie night checklist! The only thing left to do now is to welcome your guests, grab your snacks and drinks, and enjoy the movie!
Host a Movie Night at Home: Where Can I Find Out More?
We hope this article on how to host a movie night at home has given you plenty of great ideas for your own movie night!
Adding in a bit of creativity and fun is the best way to maximize everyone's enjoyment. Things like movie posters, movie cocktails, and a little candy stand will make people feel like they are really in the movie theatre. Just make sure to save some candy for yourself!
If you enjoyed this article, why not check out our previous blog posts?