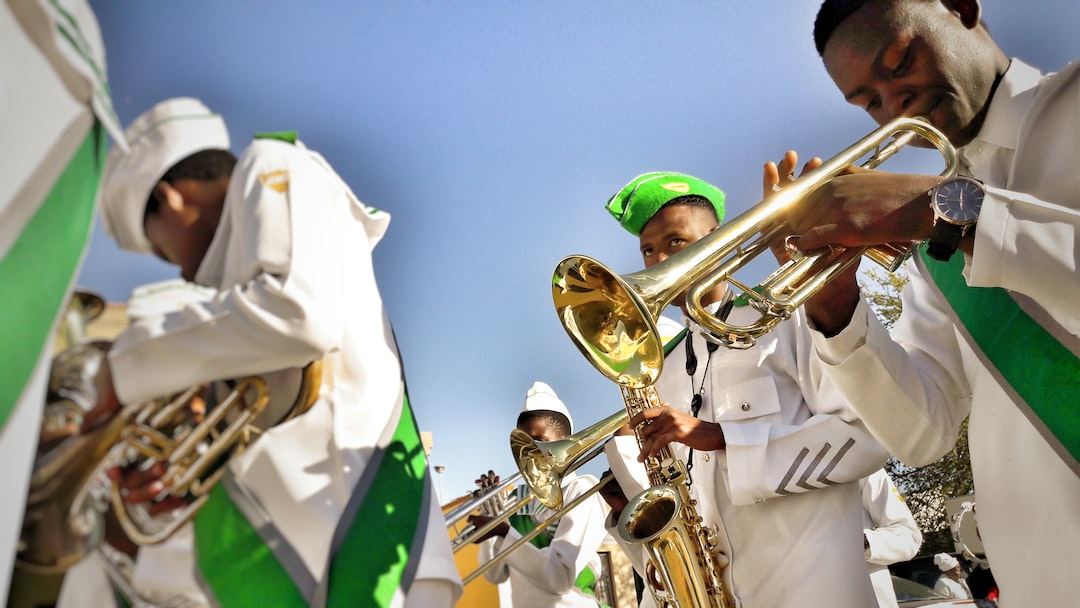 As a kid, did you ever dream of being in the Harry Potter films? Or in a Beyonce video? Or are you a creative soul who always wants to make your music?
Instrumentalists can use their playing as a springboard for achieving greatness. The benefits of being involved in marching bands extend far beyond the field.
Marching bands can be made up of a range of people trying to find their place in the world. Although they all come from different walks of life, they all have one thing in common: the march.
If you dream of the marching band lifestyle, read our guide to the benefits of this unique hobby, and let's explore everything you can achieve by joining the marching band.
Camaraderie: It Fosters Friendship
Joining a marching band is a great way to make friends and be part of a team. Participating in a marching band can also help you develop teamwork skills and build social skills, to learn how to work with others towards a common goal.
The camaraderie among band members is strong and fosters friendship. It is also a great way to get involved in your school band and community. You'll make new friends, learn new skills, and have a great time!
Strengthening the Discipline of Learning to Play an Instrument
When you join a marching band, you are signing up for more than just parades and football games. You are also signing up for hours of practice, learning new music, nurturing your creativity, and perfecting your marching technique.
While this may sound like a lot of work, the benefits of joining a marching band are well worth the effort. One of the most important benefits is that it strengthens the discipline of learning to play an instrument.
Playing in a marching band requires precision and teamwork, and this can only be achieved through hours of practice. In addition to strengthening your discipline, marching band also teaches you teamwork, responsibility, and dedication. These are all important life skills that will benefit you long after you graduate from high school.
So if you are looking for a challenging and rewarding activity, consider joining your school's marching band. It just might be the best decision you ever make.
Develops Character and Boosts Self Confidence
Being a part of a marching band can help teach responsibility and dedication. It can help to improve your character and time management skills. Marching bands require commitment and members learn to work together as a team.
This can also boost self-confidence, as members feel proud to be part of something bigger than themselves.
The marching band also provides an outlet for creative expression. Even with your marching band uniforms, you can check out Color Guard Uniforms for reference in being creative. 
Performing in front of an audience can be a great way to overcome shyness and build confidence. Being a part of a marching band can also give you a sense of pride and accomplishment. 
Job Opportunities in the Future
A marching band is a great way to get involved in music while also staying physically active. Joining can help you develop leadership skills and can also give you a sense of discipline and responsibility. These are all qualities that will be beneficial to you in the future when you are looking for jobs.
In addition, being a member can help you network with other people who are interested in music. This can give you an advantage when you are applying for jobs in the music industry.
It has many benefits, both for the individual and for the school. For the individual, marching band provides an outlet for creativity and self-expression. It also promotes teamwork, discipline, and dedication.
For the school, marching band provides a way to build school spirit and pride. It also helps to raise funds for the school, as marching band performances often generate donations from spectators.
Help You Stay Physically Fit and Active
Physically fit and active lifestyles are essential for students. Joining marching bands is a fun way to help students stay physically fit and active. It's also great for your health. Studies have shown that playing an instrument can improve your mental health, and marching bands are a great way to get some exercise.
He or she will learn musical skills, teamwork, and discipline while performing in parades and other events. Marching band is also a great way to make friends and be a part of a positive and supportive community.
Prepare for a Career in the Music Industry 
Joining a marching band is a great way to prepare for a career in the music industry. Marching band allows you to learn how to work with other musicians, develop your musicianship, and perfect your performance skills. 
Be Part of a Marching Band 
Joining a marching band can improve your teamwork skills, social life, and physical fitness and appreciate music more. It can also be a great way to relieve stress and have fun.
You can grow so much as a person and will have a lot of wonderful experiences that will benefit you in all aspects. If you're considering joining a marching band, talk to your band director or another member of the band to learn more about what it's like.
And consider the benefits you read in this article. Be a part of one today. 
If you enjoyed reading about the benefits of joining a marching band, please feel free to explore the rest of our site.