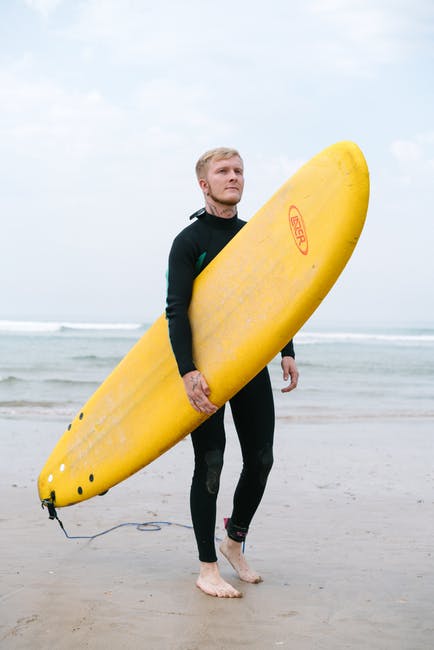 You see professional surfers wearing their surf wetsuits on the TV. You see divers and other professionals who work in water wear them as well. They're both beneficial, but there's a difference between surf wetsuits and diver suits, however. 
Surf wetsuits are made to be more flexible and are lighting than dive suits. This doesn't make them any less difficult to get into, though. If you thought getting a pair of tight skinny jeans on was a challenge, then get ready for a real treat. 
Getting into wetsuit fabric is complicated at times, but the process can be made much simpler when following a few helpful tips. Don't fall over while trying to get into your wetsuit. Continue reading below to learn a few helpful tips for putting on your wetsuit today!
1. Find a Good Spot
Before you begin to even try to put your wetsuit on, you first need to find a good spot. You might feel tempted to drop your surf gear once arriving at your surf location and jump right into your suit, but you need to find a spot where you can get into the suit carefully. 
The wetsuit material can easily rip or become damaged if you're near rocks or other objects. Instead, you need to find a flat surface where you can sit if needed. Another thing to look out for is any jewelry that might snag on the wetsuit material. 
The best thing to do is to remove all jewelry before putting on your wetsuit. 
2. Put Your Feet First
Now that you've found a safe place to put your wetsuit on, you can begin the process. You'll want to start by putting your feet in first. Get one foot in at a time rather than trying to slide both feet in and pull up.
Take your time getting each foot in on its own. You don't want to ruin the wetsuit material by trying to rush. Once you get your foot in the suit, bring the suit up and around your foot until it's right above your ankle. 
Now it's time to move onto the other foot. If you have trouble getting your feet into the suit, you can try wearing socks so your skin won't stick to the material. 
3. Place Stitching Correctly
Once you've got both feet in and have pulled the wetsuit up and above your waist, you can now start putting your arms into the sleeves. One thing you should check for before putting your arms in is if the stitching is lined up correctly. 
Have you ever tried to put on a long-sleeve shirt and felt the arm of it was twisted? When the stitching doesn't line up correctly, it can pull the sleeve tighter and make it uncomfortable. The same is true with your wetsuit. 
When ready, put your arm in and inch the material up your arm until your arm is completely through. Once in, raise your arm and bring the material under your armpit up as high as you can for a tight fit. 
Do the same with the other arm and then move both arms around in full motion. This will ensure you have the right amount of flexibility.
4. Roll It Up
Following these steps will make getting into your wetsuit easier, but that doesn't mean it still won't be somewhat of a challenge. If you're still experiencing issues getting it on, you can try the roll method. What you'll want to do is place the wetsuit's leg or arm sleeve and roll it inside out.
Leave only a couple of inches at the cuff not inside out. Slide your wrist or foot into the sleeve and then unroll the material gently. 
5. Bring Loose or Extra Material Up
When you get into your wetsuit, you may notice there's some loose material at the arms or legs. You'll want to bring any loose material up. This will ensure a nice tight fit.
When working the loose material up, you'll want to direct it to your chest area. If there's still some loose material left, this is normal. You can bend your legs and arms and move around a bit until the wetsuit has formed to your body properly. 
You want the wetsuit to fit correctly so it can do its job. If you feel tempted to wear a larger wetsuit or a men's wetsuit as a woman to make getting into it easier, then be sure to read this article.
6. Try a Water-Based Lubricant 
Another trick you can try, to make the wetsuit fit easier, is to use a water-based lubricant. The material of the wetsuit will stick to your skin, which makes the process difficult. If you place a water-based lubricant on your skin, you can easily slip in and out of the wetsuit. 
You need to be sure, however, that the lubricant you use is, in fact, water-based. Other lubricants, soaps, or oil-based products could damage the wetsuit.
7. Ask for a Helping Hand
When all else fails, you can always ask for a helping hand. It's always a good idea to go on your surfing adventures with a friend. The buddy system is beneficial in several ways. 
Not only will a buddy be there in case something were to happen, but he or she can help you get into your wetsuit as well. It's much easier when you have someone to help.
Can You Get Into Your Surf Wetsuits? 
Using these tips above, we hope you're now able to get into your own surf wetsuits! Remember to take your time and be careful with the material to not cause rips or damage. 
For other posts as informative as this one, check back with us daily!